2012 MCULLAF Grand Raffle Campaign Raises New Record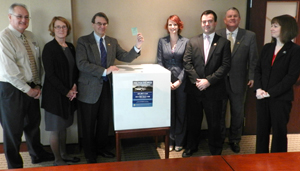 Jim Kirk of University of Michigan CU shows the winning ticket while Don Yuvan of Eaton County Educational CU, left, Karen Wietzke of Option 1 CU, Melissa Osborn, Kieran Marion, Drew Egan and Kathryn Hall, all of MCUL & Affiliates, watch.
The drawing for the MCULLAF (federal PAC) Grand Raffle was held at the MCUL & Affiliates Lansing headquarters on Monday, Nov. 19, and the 2012 Grand Raffle winner is ticket number 44273.
The ticket was sold from Lake Michigan CU in Grand Rapids to a Kentwood woman. The 2012 Grand Raffle raised the highest amount in the history of the program, bringing in $200,460 for the MCULLAF (federal) PAC. This is an increase of $31,470 over the previous year. In 2012, all 45,000 tickets were distributed, a record 144 credit unions participated and the total dollars raised surpassed $200,000 for the first time.
Jim Kirk of the MCULLAF board said raising money for the PAC is critical for credit unions' success.
"It is extremely important because those people in Washington are the ones that are making the rules and regulations that we have to operate under and if we don't have access and input into those decisions we are at their mercy. Most of the people in DC are at least willing to sit down and listen to our side of the story. But it helps to have friends in congress and the senate, so we try to get people elected to those offices that already understand CU's and know what we are about, know why were different, and if we have friends in DC is it certainly helpful when it comes to legislative issues. The raffle is one of the largest fundraisers for the PAC and is extremely important for MI CU's to support that."
Thank you to all of our member credit unions which participated in this program this year. The raffle has been held every year but one since its inception in 1991.
Submissions to Monitor may be
emailed
. Bryan Laviolette is the editor of Monitor. Contact him
by email
or call (800) 262-6285, ext. 233. The newsletter of the Michigan Credit Union League is published Monday mornings or Tuesday mornings when Monday is a holiday. There is no Monitor the week after Christmas and the week after the Annual Convention and Exposition. The MCUL reserves the right to edit submissions for clarity and space.