Grand Raffle Winner Grateful for $20,000 Prize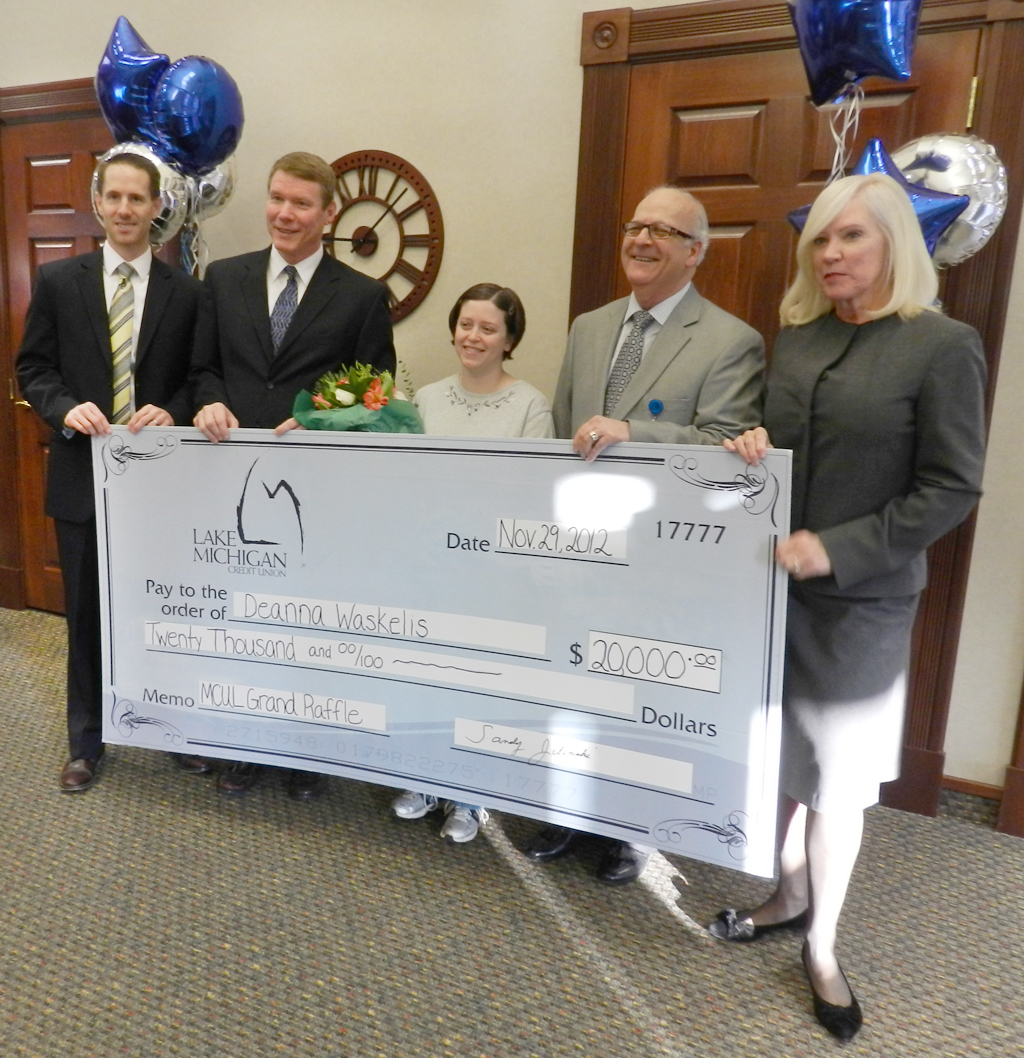 Deanna Waskelis, center won the 2012 MCULLAF Grand Raffle. Along with her are Bill Clancy, vice president of retail strategy; Don Bratt, vice president of marketing; Waskelis; Leo Vicari, vice president of facilities, and CEO Sandy Jelinski.
GRAND RAPIDS – Deanna Waskelis of Kentwood had the reaction typical of most people when Lake Michigan CU CEO Sandy Jelinski called her and said she had won this year's MCUL & Affiliates Grand Raffle.
"I thought it was a joke and I repeated that on the phone," Waskelis said. But Waskelis, who works in a Grand Rapids dental lab, was happy when Amanda Fox, who sold her the winning ticket handed her the real check for winning the $20,000 raffle.
Fox said she had forgotten about the Grand Raffle tickets she had sold she was also surprised when told she would also share in the winnings.
"I thought it was really exciting that Lake Michigan Credit Union of all the credit unions sold it and it is even a bigger deal that my branch sold it and it was a HUGE deal that I sold it," Fox said.
Fox said she will be making a very practical purchase with her winnings.
"Well, I just got a house I am going to buy a stove, going to be practical, ha-ha," Fox said.
Waskelis said her plans for the money include re-siding her garage, buying her dad a few things and putting some money away for herself as well as for her four-year-old daughter. She said the money is a huge blessing for her.
"Enormous," Waskelis said. "I'm not sure if there are enough words to describe how much I can use this right now."
Jelinski said she enjoyed making the phone call to tell a member that she had won.
Even though asking members to make a contribution for a political cause can be somewhat uncomfortable at times, Jelinski said the money supports a worthy cause, the MCULLAF (federal PAC).
"We are always needing help with legislation, and right now in Washington, we are there for MBL, there is always something and it takes a lot of money to get (legislators') attention," Jelinski said.
This year's raffle took in a record $200,460.
Jelinski and members of the LMCU staff who gathered for the presentation were brainstorming ideas to improve the credit union's marketing in hopes it could sell another winning ticket in 2013. Ideas included putting Grand Raffle "buck slips" in the tubes going out to members going through the drive-thru and advertising the raffle on ATMs.
Submissions to Monitor may be
emailed
. Bryan Laviolette is the editor of Monitor. Contact him
by email
or call (800) 262-6285, ext. 233. The newsletter of the Michigan Credit Union League is published Monday mornings or Tuesday mornings when Monday is a holiday. There is no Monitor the week after Christmas and the week after the Annual Convention and Exposition. The MCUL reserves the right to edit submissions for clarity and space.