... CASE CU and Option 1 CU have announced that they will share a branch facility in East Lansing beginning in early in 2013. By sharing this branch, CASE will maintain its presence near the Meijer store on Lake Lansing Road, and Option 1 has found the right business to fill space too large for its needs. Option 1 CU will open two new branch locations, one on Lake Lansing Road, near the West Road facility, and one on Hagadorn and Lake Lansing Road. Option 1 will share the West Road branch with CASE until its move to the new locations. As of Dec. 31, 2012, CASE will relocate from its Meijer locations to expanded space throughout the Greater Lansing region. This transition has been initiated because of Meijer's decision to move a national bank chain into its stores. CASE President and CEO Jeffrey Benson said "Our Meijer branches are not large enough to facilitate the growth that we've been experiencing. It gives us the opportunity to focus on obtaining larger branches for our members—with drive-ups, something we've wanted to do for a long time." CASE will buy the West Road property from Option 1. "This collaboration and sharing is a great opportunity for CASE and Option 1 members," Option 1 President and CEO Andrew List said. "Together we will be able to provide our members with accessible, convenient service while we transition to new locations. We are delighted to be able to work side by side with CASE Credit Union."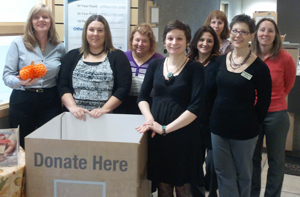 Consumers CU is collecting donations for local food banks.
… Consumers CU launched its Holiday Food Drive to run through Dec. 15 and has partnered with local food pantries to ensure all donations stay in local areas. "Consumers Credit Union members are tremendously engaged in their neighborhoods and communities," Consumers President and CEO Kit Snyder said. "It's one of the reasons they have chosen to bank with us, a local credit union. With that engagement comes concern for the needs of the community. Through our members' generosity, each year we are able to organize this collection of donations to meet local needs. Our employees have just as much spirit for giving, and we're proud of being able to impact local needs." This year, Consumers' 14 offices in Kalamazoo, Portage, Mattawan, Lawton, Coldwater, Holland and South Haven chose to focus their holiday donation efforts on supporting local food banks. All member donations stay local, with offices in the greater Kalamazoo area partnering with the Food Bank of South Central Michigan. In South Haven, contributions will be made to We Care I.N.C., while donations at the Holland offices will go to the Holland Rescue Mission. "During the winter months, when some families have to choose between paying the heat bill and buying groceries, they choose groceries. Hopefully our food donations will allow more families to not have to make the tough choices," South Haven Office Manager Ken Overholser.

… After an extended period of discussion and due diligence, the boards of MSUFCU and Eaton County Educational CU have approved a merger, contingent on approval from both regulatory agencies and a majority of ECECU's members. MSUFCU's President/CEO Patrick McPharlin said the credit unions have much in common. "MSUFCU and ECECU have a shared commitment to helping members achieve financial success, and I am excited for the new opportunities this proposed merger provides for members of both credit unions. ECECU members will gain expanded account access and services along with greater financial strength and stability for their accounts, and the 11,000 MSUFCU members already residing in Eaton County will receive the added convenience of an established branch in Charlotte." Ken Huber, ECECU's treasurer/manager added, "Due to the current economic climate and recent financial legislation, many smaller credit unions are finding it impossible to earn income and grow financially. In order to best serve our members, ECECU's board of directors recognized that we needed to partner with another credit union. We specifically approached MSUFCU as they are very sound and secure and will provide our members with exceptional service plus a wide variety of additional services and conveniences." Huber is retiring next year. Eaton County Educational CU serves employees and pensioners of educational institutions located in Eaton County and employees of a number of companies and organizations. ECECU has more than 5,000 members, more than $30 million in assets and nine employees.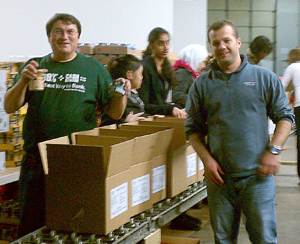 James Safian, left, vice president of member business relations, and Nic Cela, member service specialist, take a break from packing food at the Kiwanis Club of Clinton Township.
… American 1 CU's Clinton Twp. branch staff members spent three hours boxing up food for families in need. The Kiwanis Club of Clinton Township gathers food items, and volunteer groups spend three hours at a time to help box it up. The Clinton Township staff members packed 500 boxes weighing 50 pounds each. "It gave us all a good feeling to know that our efforts helped these 500 families have a nicer holiday season," said James Safian, American 1 CU vice president of member business development.
… Lake Trust CU sponsored a Lake-to-Lake Food Drive on Nov. 16 to collect nonperishable food items at its 21 branch offices located throughout Michigan. The Lake-to-Lake Food Drive is an effort to help fill pantry shelves at local food banks and feed deserving families in Michigan this season. "Lake Trust Credit Union wants to make a difference in the many communities, from Lake-to-Lake, that we serve," President and CEO David Snodgrass said. Lake Trust was planning to distribute the food to a number of local charitable food distribution agencies around Michigan that are partnering with Lake Trust, including the Greater Lansing Food Bank, West Michigan Food Bank, Food Gatherers, Gleaners Community Food Bank of Southeastern Michigan and Feeding America. "Our goal is to help bring awareness to what we can all do to make a difference, and to help feed as many people as we possibly can, by collecting food during this daylong, all-out effort," Snodgrass said.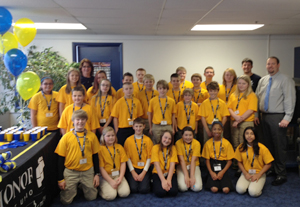 Students at Eastside Connections School in Niles recently celebrated the opening of its student-run credit union.
… Nov. 14 marked the grand opening of the Honor CU's Eastside Connections Student CU in Niles. Sixth-grade teacher Mr. Payne and his students celebrated the grand opening with a ribbon cutting ceremony at the school. Teachers, students and parents can make deposits once a week during lunch to student branch managers and tellers under the supervision of an Honor team member. "We are proud to partner with Eastside Connections School in order to increase financial literacy in the Niles community," Niles Branch Manager Jason Dillenbeck said. Also present at the ribbon cutting were Honor CEO Scott McFarland and Kent Figy, vice president of member service. Eastside Connections is Honor's 17th student credit union.

… Detroit Metropolitan CU and Clawson Community CU have jointly announced that the two financial institutions are merging, with Detroit Metropolitan remaining as the surviving credit union. The membership of Clawson Community CU approved the merger in a vote on Oct. 25. The organization announced that all Clawson Community employees have been offered and accepted positions in the surviving credit union. The merger will allow Clawson's members to have access to the combined credit unions' full line of financial services and locations. Clawson Community's location at 625 N. Main St. in Clawson will remain open and serve as a strategic Oakland County location for the combined credit union. The Clawson location will be known as Clawson Financial, a branch of Detroit Metropolitan CU. "We're thrilled at the opportunity to serve more members who live, work and worship in Oakland County, and we're committed to providing them with outstanding service that credit unions are known for," Detroit Metropolitan CEO Kathie Trembath said. "Most importantly, Detroit Metropolitan Credit Union shares our commitment to supporting the local communities and their size, strength and stability offer the best opportunity for the growth of our membership and our employees," said Clawson Community CEO Char Larson. The merger has received regulatory approval and is expected to be finalized by year's end.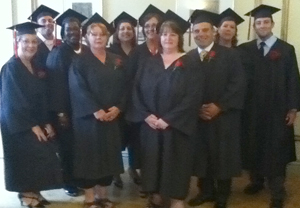 Michigan's 10 graduates of CUNA Management School are: Patti Bergstresser, Marshall Community CU; TJ Kempf, Honor CU; Lisha Lanehart, FM Financial CU; Cathy Freberg of Chatham Eben CO OP FCU; Anna Marie Zielinski of FedCom CU; Tammy O'Lear of Wanigas CU; Stephanie Kidd of UP Catholic CU; Jeremiah Kossen of Lake Michigan CU; Gerri Timonen of Trenary Coperative CU, and David Black, Michigan Tech Employees FCU.
… Ten Michigan credit union leaders were recently recognized as certified credit union executives. Each year, the University of Wisconsin hosts CUNA Management School. This high-level educational program builds dynamic leaders with a rigorous blend of classes and experiential learning activities. Since 1954, CUNA Management School has a well-earned reputation as an outstanding three-year executive education program designed specifically for credit union management personnel who aspire to achieve senior level management and leadership positions in the credit union system.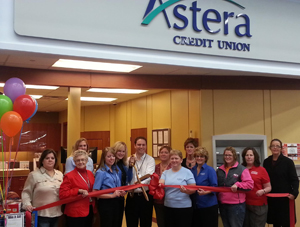 Employees at Astera CU's Ionia branch cut the ribbon for the new location inside Wal-Mart.
… Astera CU has moved to a new location in Ionia. On Oct, 1, Astera opened inside the WalMart SuperCenter located at 3062 S. State Road. This location allows Astera to expand its services to members with a full-service 24 hour ATM and expanded hours. "We're looking forward to the increased visibility," said Jeff Croff, Astera's vice president of marketing. "This is our second in-store branch and both offer an opportunity to significantly grow membership through our convenient location and hours."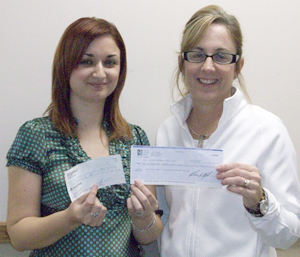 Tamara Peters of the Oscoda Backpack Program, accepts a check for $1,228.52 from Jessy Ott, AAACU fundraising chairwoman.
… Alpena Alcona Area CU's Oscoda Branch helped 12 children for the entire school year through its fundraising efforts in the third quarter of 2012. They raised over $1,200 for the Oscoda Backpack Program. This volunteer-based program is an undertaking of the Food Bank of Eastern Michigan, which attempts to reduce child hunger and promotes nutrition and healthy eating habits. They provide backpacks with enough food for the weekends when children are not receiving meals at school. This ensures their nutritional needs are being met at home. While children receive nutritious meals at school, many go hungry over the weekend. Volunteers place the backpacks in the children's lockers each Friday.
Submissions to Monitor may be
emailed
. Bryan Laviolette is the editor of Monitor. Contact him
by email
or call (800) 262-6285, ext. 233. The newsletter of the Michigan Credit Union League is published Monday mornings or Tuesday mornings when Monday is a holiday. There is no Monitor the week after Christmas and the week after the Annual Convention and Exposition. The MCUL reserves the right to edit submissions for clarity and space.