... Michigan CU Foundation education scholarships are available to staff and volunteers from credit unions with assets of $50 million or less. It is easy to apply for financial assistance to attend MCUL & Affiliates training events by simply indicating such a request by checking the MCUF Scholarship box while registering online for an event. For more information about MCUF, click here.

... A Reg CC audio session is Feb. 14 from 11 a.m. to 1 p.m. (ET) for $169 per connection. Delivered in cooperation with the Illinois CU League, the session will address how losses from check fraud continue to cause losses in the credit union industry and look at how to use Federal Reserve Regulation CC to protect against check fraud losses. This session will also address check return rights for items that are returned unpaid to the credit union. To learn more and register, click here.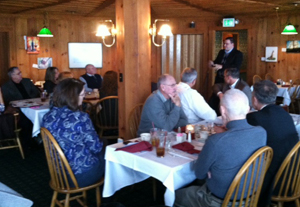 … The Paul Bunyan Chapter hosted a legislative luncheon in Cadillac On Monday, Jan. 14. The chapter kicked off the new year by hosting the luncheon with special guest Patrick Tiedt, senior advisor to Senate Banking Chairman Darwin Booher, R-Evart. CU leaders from the region discussed a myriad of issues, including the recent extension of the 90-day pre-foreclosure communication law. Tiedt shared Chairman Booher's interest in comparing new federal requirements from the pending CFPB foreclosure rule to Michigan's current 90 day communication law. CU leaders expressed concern about the mounting costs incurred from foreclosures and proposed several ideas for consideration in the coming year. Chapter legislative events are a great way to engage your local lawmakers and credit union leaders on issues of importance. Jordan Kingdon, MCUL & Affiliates' director of government affairs, participated in the luncheon. For information on hosting a chapter legislative event, contact Ashley Ligon at Ashley.Ligon@mcul.org.

… The Credit Union Collection Consortium has no monthly meeting scheduled for January 2013. Regular monthly meetings will resume in February. The February meeting will be on Wednesday, Feb. 13, from 2 p.m. to 4 p.m. at Michigan Schools and Government CU, 4555 Investment Drive, Troy. The speakers will be Ken Martin, vice president of servicing administration and Member Solutions Manager Alina White, both from the Mortgage Center. The topic will be foreclosures and pending issues in mortgage servicing. Attendance is free and all are welcome.

Submissions to Monitor may be
emailed
. Bryan Laviolette is the editor of Monitor. Contact him
by email
or call (800) 262-6285, ext. 233. The newsletter of the Michigan Credit Union League is published Monday mornings or Tuesday mornings when Monday is a holiday. There is no Monitor the week after Christmas and the week after the Annual Convention and Exposition. The MCUL reserves the right to edit submissions for clarity and space.