… A group of local Muskegon area credit unions joined together for the fourth year to conduct a food drive and fundraising campaign to benefit the LOVE INC. and Muskegon Rescue Mission Food Pantries. The credit union community collected more than 9,700 pounds of food donations, which went directly to the two local pantries. "The food collected during the credit union food drive is going to feed a lot of individuals and families," said Paula Scott, warehouse coordinator at LOVE INC. of Muskegon. Community members helped provide needy families with food by dropping off any nonperishable items to the following 14 participating credit unions of the Moon Chapter in November and December: Community Schools CU, Family Financial CU, First General CU, Harborlight CU, Lakeshore FCU, Michigan Coastal CU, Muskegon Consumers Power Employees FCU, Muskegon Co-op FCU, Muskegon Governmental CU, SB Community FCU, Port City FCU, Service 1 FCU, Shoreline FCU, and Tri-Cities CU. The partnering credit unions thanked the community for its outstanding support of the 2012 Credit Union Food Drive. Team members of each credit union enjoyed working together on this cooperative campaign to help feed adults and children in West Michigan.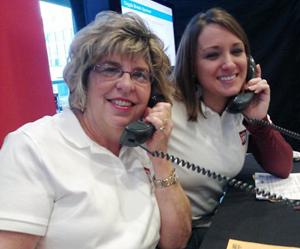 Credit Union ONE Grand Rapids employees Lynne Albers, left, and Erica Smith take pledges from generous donors.
... Earlier this month, Credit Union ONE and its' Grand Rapids employees supported the T.O.Y (Think Outside Yourself) Radiothon sponsored by the Helen DeVos Children's Hospital Foundation in Grand Rapids. The 13th Annual Radiothon was broadcast live by STAR 105.7 WSRW-FM from the lobby of Helen DeVos Children's Hospital. Funds pledged during the event are used to provide services and programs at the Children's Hospital, with a goal this year of $200,000. In addition to their sponsorship, Credit Union ONE employees had the opportunity to take phone pledges during the radiothon. "We were honored to be a part of the T.O.Y Radiothon this year," said Sharon Blower, Grand Rapids Credit Union ONE branch manager. "Knowing that we are helping children and families that are going through a difficult time in their lives is so worthwhile. It's all part of being a community and coming together to help one another."

… As an educational credit union, Michigan Schools and Government CU understands that education plays a pivotal role in the development of tomorrow's leaders. That's why MSGCU established its fourth scholarship, the Larry Swantek Scholarship, which was created to assist college and university students who are currently enrolled in their institution's school of education and are taking courses toward becoming an educator. MSGCU is offering its members who are current college students studying education the opportunity to earn one of five Larry Swantek Scholarship awards. Each student chosen will receive a one-time scholarship valued at $1,000 to help them reach their educational goals. "Our educators do much more than teach our students," MSGCU President and CEO Pete Gates said. "They also turn today's children into tomorrow's leaders with lessons that can be applied both in and out of the classroom. The Larry Swantek Scholarship is designed to provide assistance to our members who are studying to enter this influential career path and we are honored to help our future educators." Recipients of the Larry Swantek Scholarships are selected based on a number of criteria, including credit union membership, a critical thinking essay, academic achievement, community involvement, school involvement, work history and other outstanding achievements. Scholarship applications will be available on MSGCU's website homepage or at any of its locations through Friday, March 8. The Larry Swantek Scholarship program is one of four offered by MSGCU. Each year, the credit union awards nearly $50,000 worth of scholarships to deserving high school students and adults alike. For more information about MSGCU's scholarship programs, visit www.msgcu.org or call the credit union at (866) 674-2848, option 0.

… In the credit union industry, "loss" isn't usually a positive term. But three Michigan credit unions are all hoping to win the title of Biggest Loser. E&A CU in Port Huron, Central Macomb Community CU in Clinton Township and Community Choice CU in Livonia are taking part in the 12-week challenge. The winning credit union will know that they are promoting healthier team members and possibly reducing benefit costs. The contest will also promote team engagement. The non-winning credit unions will make donations to a charity of the winner's choosing. And, of course, the winner gets bragging rights. The CEOs of the non-winning credit unions will also don logo wear from the winner for a day.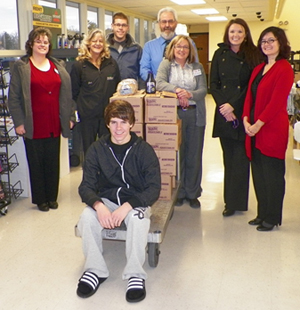 From left in back are Kelly Trainor, Tina McNally and Brandon Taylor, all of Northland FCU, Bob Barber and Mary Jo Marciniak (Family Fare), Megan Langley and Suzan Witt (P&L Development). In front is Patrick Maher, coordinator of the Oscoda Backpack Program.
… Northland Area FCU once again joined in the efforts of Oscoda High School senior Patrick Maher to champion the cause for struggling families. For the last two years, Patrick has shown leaderships skills by coordinating a winter break peanut butter drive for the Oscoda Backpack Program. The program discretely provides children who are at risk of hunger with a backpack filled with food every weekend during the school year. This year's Backpack Program provided food for nearly 200 children. Patrick decided to raise the bar this year with a goal of 1,000 jars of peanut butter, which he exceeded by about 400 jars. Northland came together with Family Fare Grocery to provide the children of the Backpack Program with 192 jars of jam and 192 loaves of bread to complete the PB&J sandwiches. Also to aid his efforts, P&L Development and Manufacturing donated a large box of peanut butter and $1,100 to the Oscoda Backpack Program.


… American 1 CU's Grass Lake branch recently donated $70 worth of nonperishable food items to the Grass Lake Food Pantry. The Grass Lake branch had money saved away in a branch incentive account, which they could use on whatever they wanted. American 1 CU is proud to have staff members that are willing to donate to charity on their own.

… As teenagers age from children to adults, they become exposed to a whole new set of financial responsibilities: managing a budget, paying bills, using debit and credit cards and saving money just to name a few. If they don't know much about money management, all of this can be overwhelming. That's why Michigan Schools and Government CU offers Youth Checking and Lending workshops to educate teens about financial management principles in an engaging and interactive format. "Fifty-three percent of American high school seniors use debit cards but many don't understand the variety of ways a debit card can be used," MSGCU Consumer Education Specialist Shannon McIntosh said. "Our Youth Checking and Lending workshop is a valuable refresher course designed to open up the lines of communication between teens and their parents about financial management." Topics discussed in the workshop include balancing a budget, choosing a financial institution, using a credit card, building credit history and the use of the debit card in its debit, credit and ATM functions. After attending the educational workshop, teens with a parent present may be eligible to open a checking account and apply for a low-interest, low-limit credit card with parental consent. "As with all of our other workshops, we hope our Youth Checking and Lending sessions offer advice and programs that instill good money management habits for teens and reinforce the good habits for parents as well," McIntosh said. The next Youth Checking and Lending workshops will be Tuesday, March 19, starting at 6 p.m. in the Community Room of MSGCU's Main branch in Clinton Township.

… Co-op Services CU encourages credit union members who are graduating high school seniors in the class of 2013 to apply for its annual scholarship program. The scholarships, ranging from $500 to $4,000 each, honor seven of Co-op Services' longtime leaders and volunteers. Since the scholarship program was initiated in 1995, Co-op Services has awarded approximately $170,000 in scholarships to students in the metro Detroit area. The deadline for submitting an application and all supporting documentation is Friday, Feb. 15. Winners and their families will receive special recognition at the credit union's annual meeting in March. Scholarship applications and requirements are available at www.cscu.org, or at any of its eight full-service branch locations. Applicants must be members of Co-op Services CU, where anyone can join.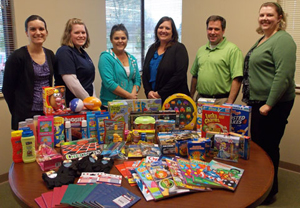 Lisa Foley of Inasmuch House, third from left, accepts donations from Marshall Community CU's Emmett Twp. branch. From left are Becky DeFabio and Andrea Tucker of MCCU, Foley, Nicole Thomas, Joel Proietti and Lori Burcaw of MCCU.
… On Dec. 19, staff members from Marshall Community CU's Emmett Twp. branch presented donations from the staff to Battle Creek's Inasmuch House. The Inasmuch House is a way for women, children and families of the homeless to receive vital care and services. These women, children and families are involved in classes that teach life skills such as budgeting, time management, how to be a good tenant and much more. "As some families struggle to provide even the basics for their family, it is nice to know that as a credit union, our generous staff is willing to assist members of our community in their time of need" said Nicole Thomas, branch manager of MCCU's Emmett Township office.


… Michigan First CU and Young & Free Michigan, its young adult financial education program, has given away more than $650,000 in scholarships to metro Detroit students during the past nine years. The community financial institution has expanded scholarship programs for 2013 to include a $10,000 grand prize in each of three categories. The three scholarship categories include: a high school video contest, a high school essay contest and a college video contest. Applicants can create their response with a 60-second video or a 300-word essay. For each category, this year's question is "What would you do with $50,000?" The three winners will receive a $10,000 scholarship, and runners up will receive $5,000 and $3,000 scholarships. The top 10 applicants in each category will be selected by online voting and a panel of judges will select the winners. "By expanding our scholarships this year, we'll be able to make an even greater impact in the lives and futures of local students," said Michael Poulos, Michigan First's president & CEO. "This credit union was founded by Detroit teachers and education is something we believe in doing our part to support. We'll continue to work with local schools, educators and communities through our scholarships, student-run credit union branches and the Young & Free Michigan program. Investing in the communities where our members live and work is a critical part of who we are." The Michigan First Foundation – a nonprofit founded in 2012 by the credit union with a focus on youth and education in metro Detroit – funds the scholarships as part of $160,000 in contributions to local charitable organizations and students each year. In addition to the more than $50,000 awarded through the three categories, up to 30 $1,000 scholarships may be awarded to entries from selected high school participants in Wayne, Oakland and Macomb Counties. Applications will be accepted Jan. 15 through Feb. 12 at YoungFreeMichigan.com. All applicants must be high school seniors or current college students as well as Michigan First members, but interested metro Detroit students may join when they apply for the contest. The public voting for the top videos and essays will take place from Feb. 13-19, determining the top 10 finalists in each category. The winners will be selected the week of March 4.

… Community Choice CU, with seven branches located throughout Michigan, announced today that its nonprofit foundation has made $100,000 available in scholarships to students in Michigan. The scholarships, which are available to high school seniors, are part of the credit union's charitable commitment to its communities. In a letter to the credit union's foundation, 2010 scholarship winner Alexis Brady said, "Your scholarship has given me a great start in achieving my dreams of becoming a teacher. Please accept my continued thanks and appreciation for the Community Choice scholarship. Someday I hope to give back to the community as you have generously done for me." Brady, 19, is a native of Warren and attends Grand Valley State University. Like many past Community Choice Scholarship winners, Brady recognizes the value in an organization that is committed to helping the future of Michigan. "Five years ago, Community Choice Credit Union launched the Community Choice Foundation. At the time, we were looking for a solution to help stop the brain drain in Michigan," said Robert Bava, Community Choice president and CEO. "Since 2008, we have helped encourage the best and brightest to stay in Michigan and to utilize their education to give big to our communities." Eligibility to receive a scholarship is based on numerous factors including a commitment to attend an accredited college in Michigan, a pledge to utilize each individual's education to give back to Michigan communities, sufficient academic performance and county of residence. Membership at the credit union is not required to apply for the scholarship. The deadline to apply for scholarships is March 5. For additional information, or to apply, visit bit.ly/cccuscholarships.

… Scholarships are just one part of a larger charitable effort by the Community Choice CU. The credit union concluded 2012 by providing more than $135,000 to community programs, while team members contributed more than 2,443 volunteer hours to local communities. In 2005, the credit union introduced a volunteer reimbursement program, effectively providing each team member the opportunity volunteer 24 paid hours in their local communities. "Team members are excited when they learn they have the backing of the credit union to make a difference in local communities," said Jennifer Dickey, Community Choice's vice president of human resources. "When you tell them (team members) that we are also going to pay them for their community service, a giant smile usually cracks across their face. It's a wonderful program and team members' love the idea of getting rewarded for doing good."

… Kellogg Community FCU announces they will award five $1,000 scholarships to local 2013 high school graduates. The scholarships will help cover tuition and admission fees to any community college or university within Michigan. Offering scholarships is just one way KCFCU is assisting young members with the increasing cost of higher education and reinforcing its commitment to the financial success of our members. Scholarship applicants must be a graduating high school senior, planning to attend college on a full-time basis with a minimum of 12 credit hours. Applicants must be KCFCU members. Students within KCFCU's field of membership who are not yet members are welcome to join. Students may obtain a copy of the scholarship application and requirements at www.kelloggcfcu.org. Completed applications must be postmarked no later than April 30. Send all applications to: Attn: Scholarship Committee, KCFCU, P.O. Box 140, Battle Creek, MI 49016. "2013 marks KCFCU's 11th year of providing scholarships to local students," KCFCU CEO Tracy Miller said. "We are proud to be able to support the educational goals of our members. Through the KCFCU scholarship program, we are able to assist local students to achieve a higher education and help them obtain their goals." If you have any questions please contact Wendy Ballast at wballast@kelloggcfcu.org or by phone at (269) 441-5777.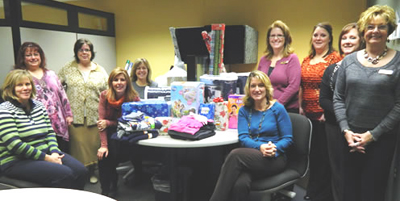 Team One Employees donate to Underground Railroad Adopt a Family program.
… Employees at Team One CU in Saginaw recently sponsored three families for Christmas through the Underground Railroad Holiday Giving Program. Families in this program are survivors of domestic violence, sexual assault and stalking and many have children who may not otherwise receive gifts during the holiday season. All throughout the year, Team One employees volunteer their time and donate to many worthwhile causes in the community so when they found out about the Holiday Giving Program, they wanted to help in any way they could. The Underground Railroad provided Team One with each family's wish list and the staff donated items including sheets and comforters, clothes, pajamas, mittens, games and toys to the families in time for Christmas. "We are very thankful for the AMAZING job the Team One staff did to make sure that survivors working with Underground Railroad had a wonderful holiday," said Kari Tanney, residential lead advocate with the Underground Railroad. Annually, Underground Railroad provides shelter for more than 400 women and children, and more than 4,000 families in Saginaw County access one or more of its services.

… Community West CU will host national student lending expert Janet Barger, manager of client relations and education at CU Student Choice, on Jan. 28, for a free College Planning Seminar. With more than 30 years of experience in the financial aid industry, Barger brings a wealth of knowledge about student lending and higher education. She is prepared to offer her perspective on industry changes in the student lending market, as well as how students and families can prepare themselves for the higher cost of education by using their credit union. This FREE College Planning Seminar is open to the public and will give families the tools and information they need to reach graduation with the least amount of debt possible. The seminar will be Jan. 28 starting at 6:45 p.m. at the Kentwood Public Library, 4950 Breton Road SE in Kentwood. Registration is not needed, but for more information, email Jillian Gajtka at jgajtka@communitywestcu.org.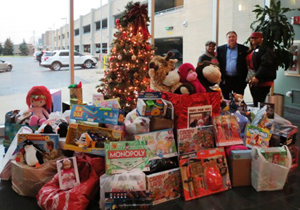 John Kozich, Credit Union ONE executive director of community relations, stands with SE Michigan Toys for Tots representatives Celeste Ellington (left) and Clothetta McWhite.
… Two thousand twelve proved successful for the Credit Union ONE toy drive benefiting the U.S. Marine Corps Reserve Toys For Tots Program. Toys were collected at all 18 Credit Union ONE locations in Michigan. The collection totaled approximately 600 toys, with members and employees of the credit union being very generous. "Year after year, we find ourselves overwhelmed with how our employees and members support this cause," said Gary Moody, Credit Union ONE president/CEO. "We are proud to help an organization that has been bringing joy to needy children nationwide for sixty five years."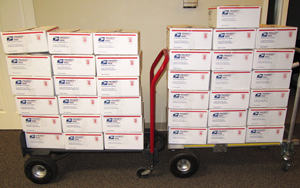 American 1 CU assembled care packages for soldiers serving overseas.
… American 1 CU supported many people and charities this Christmas season including 41 soldiers, two adopted families, and 15 homeless teens. American 1 adopted two units of soldiers for Christmas. Staff members donated money and filled boxes. Forty-one boxes were filled and sent to soldiers overseas. American 1 covered of all of the shipping costs. American 1 also coordinated the decorating of 600 Christmas cards by students at Townsend Elementary in Vandercook. The cards were sent to troops overseas in hopes to make sure as many soldiers as possible received at least a card for Christmas. American 1 also adopted two National Guard families. One family was from Jackson County and one was from Washtenaw County. The credit union provided each family with necessary cold-weather items such as boots, coats, sweaters, etc., and also were able to provide each family with a gas card. The home office location in Jackson did a coin drive to raise money to purchase Consumers Energy gift certificates as well for the Jackson family. American 1 gathered a "wish list" from 15 teens for Christmas at the Do'chas II shelter and purchased gifts for them. "We appreciate the opportunity to help those in need, especially at Christmas time," American 1 Event Coordinator Jayme Bicknell said. "Our staff and our membership really know how to pull together and make a difference." The Battle Creek branch collected winter clothing such as mittens, scarves and hats during the month of December for the Battle Creek S.A.F.E. Place. More than 50 items were collected during the mitten drive.

… Dow Chemical Employees' CU, which wrapped up its yearlong 75th anniversary, announced $11.5 million in Member Giveback for 2012. The percentages of year-end rebates and rewards on loans and share/deposit accounts given back to the members are the highest in the credit union's history. DCECU members received these givebacks via: the year-end Loan Interest Rebate, which rebated borrowers in good standing 50 percent of the total interest they paid on all eligible DCECU loans during 2012; Member Saver Reward, which gave depositors in good standing an additional 50 percent of the dividends/interest they earned on DCECU shares/deposits in 2012, and DCECU VISA® Check Card rebates of 0.125 percent of all signature-based transactions during 2012 and $0.01 for each PIN-based transaction during 2012. "At DCECU, we believe in giving back. We return part of the credit union's earnings back to our members because they are the owners of the credit union," DCECU President/CEO Dennis Hanson said. "We are pleased to wrap up our 75th anniversary on such a high note."

Submissions to Monitor may be
emailed
. Bryan Laviolette is the editor of Monitor. Contact him
by email
or call (800) 262-6285, ext. 233. The newsletter of the Michigan Credit Union League is published Monday mornings or Tuesday mornings when Monday is a holiday. There is no Monitor the week after Christmas and the week after the Annual Convention and Exposition. The MCUL reserves the right to edit submissions for clarity and space.