Rep. Huizenga Named Vice Chair of Monetary Policy and Trade Subcommittee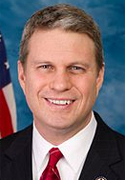 Huizenga
U.S. Rep. Bill Huizenga, R-Zeeland, was recently nominated vice chairman of the Subcommittee on Monetary Policy and Trade.

MPT is one of five subcommittees of the Financial Services Committee. As vice chair, Congressman Huizenga will work closely with Subcommittee Chairman John Campbell, R-Calif.

The Subcommittee on Monetary Policy and Trade has jurisdiction over legislation pertaining to economic growth and stabilization; domestic monetary policy, including the effect of such policy and other financial actions on interest rates, the allocation of credit, and the structure and functioning of domestic financial institutions; international trade; the International Monetary Fund (IMF); international investment policies, both as they relate to U.S. investments for trade purposes by citizens and investments made by all foreign entities in the United States; and coins and currency (including counterfeiting).

Congressman Huizenga has also been appointed to serve on the Subcommittee on Capital Markets and Government Sponsored Enterprises this year, which has jurisdiction over the SEC, capital markets, secondary mortgage markets, the FHFA and the Federal Home Loan Banks.
Submissions to Monitor may be
emailed
. Bryan Laviolette is the editor of Monitor. Contact him
by email
or call (800) 262-6285, ext. 233. The newsletter of the Michigan Credit Union League is published Monday mornings or Tuesday mornings when Monday is a holiday. There is no Monitor the week after Christmas and the week after the Annual Convention and Exposition. The MCUL reserves the right to edit submissions for clarity and space.