MSUFCU Announces $1 Million Gift to MSUís College of Music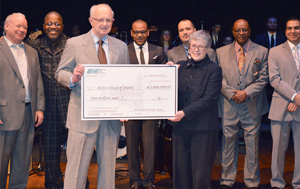 Dr. John R. Brick, chairman of MSUFCU's Board of Directors, presents MSUFCU's donation to MSU President Lou Anna K. Simon.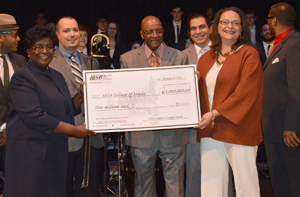 Angela W. Brown, vice chairwoman of the MSUFCU's board, left, presents the donation to Dr. Paulette Granberry Russell, senior advisor to the president for diversity and director of the Office for Inclusion & Intercultural Initiatives at MSU.
MSUFCU has created an endowment to support an artist-in-residence program within MSU's Jazz Studies program in the MSU College of Music. Called the MSUFCU Jazz Studies Guest Artist Residency Endowment, this gift will bring world-renowned jazz artists to Michigan to provide students and the Greater Lansing, Detroit, and Traverse City communities with exciting musical and cultural experiences.

With this new residency program, national and international artists will visit schools throughout Michigan, focusing on diverse communities and urban areas. Students in these schools will enjoy hands-on music education and teachers will receive assistance enriching their music curriculum. MSU students in the jazz studies program will spend time with these artists as well, learning from the best in the industry. The endowment will also provide the local community with access to musical performances offered by visiting artists-in-residence.

MSUFCU President and CEO Patrick McPharlin said contributing to the program is a way for the credit union to contribute to the community.

"Contributing to our local community is one way MSUFCU fulfills our mission statement and the 'people helping people' philosophy on which credit unions were founded," McPharlin said. "We are proud to announce the MSU Federal Credit Union Jazz Studies Guest Artist Residency Endowment and to support programs that help ensure Mid-Michigan is a place full of vibrant arts and entertainment."

"At MSUFCU, we strive to help create a community where people want to live, work and visit, and where businesses can thrive," he added. "Integrating arts and culture along with economic development helps to create an enriched community, and I am excited to see the lasting impact of the MSU College of Music's new residency program."
Submissions to Monitor may be
emailed
. Bryan Laviolette is the editor of Monitor. Contact him
by email
or call (800) 262-6285, ext. 233. The newsletter of the Michigan Credit Union League is published Monday mornings or Tuesday mornings when Monday is a holiday. There is no Monitor the week after Christmas and the week after the Annual Convention and Exposition. The MCUL reserves the right to edit submissions for clarity and space.