Youth Week 2013 Campaign Materials Available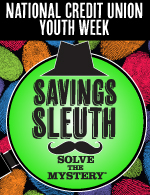 Credit unions can now begin preparations for National CU Youth Week™ with online campaign art, articles, celebration materials and promotional products.
"Savings Sleuth—Solve the Mystery™" will present youth with the mystery of how to save their money to purchase the things they want. By visiting credit unions, they'll be able to find clues toward solving that mystery and learn about managing money and credit unions in the process.
The goal of Youth Week is to start children on the path to lifelong credit union membership by educating them about their money, setting up savings accounts and rewarding them with topical prizes, all the while putting in the effort that increases loyalty in the parents of those youth.
While Youth Week is officially celebrated April 21-27, credit unions are encouraged to take part in CUNA's National Youth Saving Challenge™ throughout the entire month of April. The National Youth Saving Challenge jumpstarts smart saving habits in youth and rewards ten lucky participants for their hard work with cash prizes.
Campaign materials include financial education content, fun items to reward young members and bright, neon-colored apparel to dress the part in April. Several popular items from last year's campaign are included in the 2013 lineup, including the magic color-changing mood cup and the Quarter Saver Folder, which holds $5 in quarters and boasts a positive message on saving.
For updates and additional information, visit cuna.org/youthweek and sign up for a free e-newsletter.
Submissions to Monitor may be
emailed
. Bryan Laviolette is the editor of Monitor. Contact him
by email
or call (800) 262-6285, ext. 233. The newsletter of the Michigan Credit Union League is published Monday mornings or Tuesday mornings when Monday is a holiday. There is no Monitor the week after Christmas and the week after the Annual Convention and Exposition. The MCUL reserves the right to edit submissions for clarity and space.