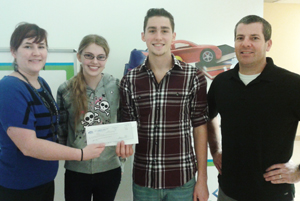 EECU Branch Manager Rebekah Risner, left, presents a check for $750 to student members of the East Jackson Blue Ops robotics team, Brooke Warren and Zachery Schramm and coach Stephen Doerr.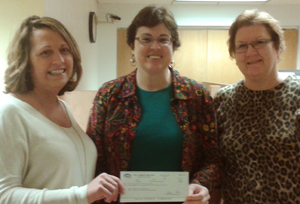 Becca White, left, of EECU presents $750 to Sara Tackett and May Cunningham DeLuca of CAA/Imagination Library of Jackson County.
... EECU announced that its quarterly Forward Thinking Partnership Program grant has been awarded to the East Jackson High School Blue Ops Robotics Team and the Community Action Agency/Imagination Library of Jackson County. The East Jackson High School Blue Ops Robotics Team received $750 to help fund the equipment needed for the F.I.R.S.T. robotics team. F.I.R.S.T. (For Inspiration and Recognition of Science and Technology) is an international robotics organization that encourages students to learn about science and engineering by holding a robotics competition every year. CAA/Imagination Library of Jackson County received $750 to help fund their cause. All funds that this organization has raised since 2008 have been used solely to purchase books for young children enrolled in the program. The program provides monthly books to approximately 4,000 children in Jackson County, age birth to five years. "The single most valuable thing a parent can do for their young child is to encourage them to read," according to Kevin Oxley, superintendent of the Jackson County Intermediate School District. "There is no other activity that will ever have the kind of return on investment that reading will have on a child's life. Children are the future of our community, so it only makes sense to support programs like the Imagination Library." Donations to the Imagination Library of Jackson County are managed through a fund at the Jackson Community Foundation at One Jackson Square, Suite 308, Jackson, MI 49201. For an application or to learn more about EECU's Forward Thinking Partnership Program, contact EECU's Marketing Department at (517) 787-2060, ext. 3731, or email liz@eecu.us. Completed applications may be returned via email or postal mail. Deadlines for consideration are the end of each fiscal quarter: March 31, June 30, Sept. 30 and Dec. 31.

… Since Dow Chemical Employees' CU introduced mobile banking, more than 10,000 members have enrolled in the service. In January, DCECU launched a new, highly requested mobile banking feature: mobile check deposit. "We constantly seek ways to improve service for our members," DCECU President/CEO Dennis Hanson said. Mobile check deposit lets members snap pictures of the front and back of an endorsed check and submit it for deposit using DCECU's mobile banking app on supported devices. Members can deposit up to $3,000 daily or $10,000 monthly with the mobile check deposit feature. DCECU members who currently use the credit union's Cyber Connection Internet Banking are eligible for self-enrollment in mobile banking to view account balances, transfer funds between accounts, pay bills to existing payees and find the nearest surcharge-free ATM. Susan Valley, DCECU's manager of remote services, said the credit union's mobile banking addresses member needs and desires in terms of accessibility and convenience. "Our members want access to their finances quickly and easily, wherever they may be," Valley said. "With only one office location and members spread across the United States, we knew that Mobile Banking would be a great addition. And now, Mobile Check Deposit has made Mobile Banking even better for our members." Click here to see a series of videos explaining how to use DCECU's mobile banking features.

… As part of American 1 CU's new Instant Issue program, American 1 members are given the option of choosing the card image for their debit or Visa cards for an additional fee. Five of the card images available are focused on charity with 50% of the card image fee going to a specific charity. Charity cards support the Michigan Humane Society, National Breast Cancer Foundation, Autism Society of Michigan, C.S. Mott Children's Hospital and Wounded Warrior Project. More than1,550 American 1 members chose to upgrade their card image to a charity card, donating $4,759.50 to the charities.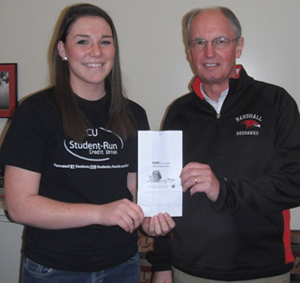 MCCU student employee Laura VanDyke presents a popcorn bag to MHS Athletic Director Tom Duffey.
… Marshall Community CU recently donated 2,500 popcorn bags to the Marshall High School Athletic Department by. The bags will be used at school athletic events in the concession stands. This past October, MCCU opened its first high school student-run credit union branch at MHS and has since been open and available for staff and students use each Friday during both lunch periods. The MHS student-run branch is operated by student employees and over seen by MCCU Financial Education Coordinator Andrea Tucker. "We appreciate the recent donation from MCCU," says MHS Athletic Director Tom Duffey. "The bags will be put to use immediately at both our girls and boys home basketball games. It was a generous donation that we as a school fully appreciate."


… American 1 CU donated $300 to the Martin Luther King Diversity Breakfast put on by the Jackson Chamber of Commerce. The money was used to pay for eight students from a local middle school to attend the M.L.K. Diversity Breakfast on Jan. 18. The keynote speaker for the event was John F. Drake, founder and president of the Lingap Center, which helps children in the Philippines who have suffered from child abuse, abandonment, neglect and exploitation.

… Educational Community CU will award 21 scholarships totaling $24,000 in its 2013 scholarship program. The scholarship awards include 18 $1,000 scholarships and three $2,000 scholarships. The $2,000 scholarship awards were created and named the Donna vanWestrienen Scholarship and the Robert E. Treloar Scholarship in honor of two individuals for their dedicated service on ECCU's board of directors for more than 20 years and the Robert S. Hunt Scholarship in honor of ECCU's retired president/CEO who led the credit union for 30 years. ECCU is committed to education and its scholarship program was established to enhance the educational opportunities and advancement of our member-owners. Since the program's inception in 1999, ECCU has awarded $292,000 in scholarship money. High school freshmen, sophomores and juniors are encouraged to become ECCU members right away to ensure eligibility for the scholarship program once they become seniors. ECCU scholarships are based on academic achievement, financial need, extracurricular activities, community involvement and a written essay. To be eligible, students must be: a primary ECCU member in good standing for at least one year; a high school senior with a minimum 3.0 gpa; and accepted and enrolled in an accredited post-secondary school for the fall semester of 2013. For more information and to download a scholarship application, visit eccu1.org. You may also call ECCU at (800) 442-7340. Scholarship applications must be postmarked by April 1.
Submissions to Monitor may be
emailed
. Bryan Laviolette is the editor of Monitor. Contact him
by email
or call (800) 262-6285, ext. 233. The newsletter of the Michigan Credit Union League is published Monday mornings or Tuesday mornings when Monday is a holiday. There is no Monitor the week after Christmas and the week after the Annual Convention and Exposition. The MCUL reserves the right to edit submissions for clarity and space.