... John Burnell, former board chairman and director for Community Choice CU, has passed away. Burnell served Community Choice for more than 30 years with sincere and genuine enthusiasm for the credit union movement. He began as a volunteer on the board at Redford Township CU, one of Community Choice's founding credit unions, beginning in 1976. From 2001 through 2004 and 2006 through 2007, John served as chairman of the volunteer Board of Directors at Community Choice. "John battled cancer over the last couple of years, but you wouldn't know it from his enthusiasm and active interest in knowing how the credit union was performing and serving its members, said Community Choice board Chairman Gary Klotz. "I'm saddened by this great loss, but I know John's legacy and the positive work he did to improve the experience for members will live on." Rob Bava, Community Choice president and CEO, said Burnell was deeply involved in his community. "John was a strong family man and actively involved with his church as well as the credit union. Always looking out for the best interest of others, John epitomized the values of credit unions. He had boundless compassion and love for the people in his life." Burnell was the first inductee into the Community Choice Volunteer Wall of Fame. There will be visitation at the Charles R. Step Funeral Home in Redford on Friday, Feb. 15, from 2 p.m. to 8 p.m. The memorial service will take place at Covenant Baptist Church located in West Bloomfield on Saturday, Feb. 16, at 11 a.m. The Burnell family has requested any donations in honor of John go to Crosspointe Meadows Church, 29000 Meadowbrook Road, Novi, MI 48377.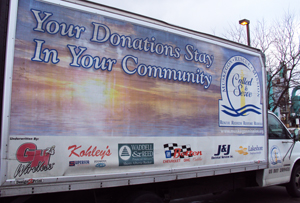 The Moon Chapter donated more than 9,700 pounds of food to Muskegon Rescue Mission Food Pantries.
…. Moon Chapter credit unions joined together for the fourth year to conduct a food drive and fundraising campaign to benefit the LOVE, INC. and Muskegon Rescue Mission Food Pantries. The credit union community collected more than 9,700 pounds of food donations, which went directly to the two local pantries. "The food collected during the Credit Union Food Drive is going to feed a lot of individuals and families," said Paula Scott, warehouse coordinator, at LOVE, INC. of Muskegon. Community members helped provide needy families with food by dropping off any nonperishable items to the following 14 participating credit unions of the MOON Chapter during November and December: Community Schools CU, Family Financial CU, First General CU, Harborlight CU, Lakeshore FCU, Michigan Coastal CU, Muskegon Consumers Power Employees FCU, Muskegon Co-op FCU, Muskegon Governmental CU, SB Community FCU, Port City FCU, Service 1 FCU, Shoreline FCU, and Tri-Cities CU. The partnering credit unions would like to thank the community for their outstanding support of the 2012 Credit Union Food Drive. Team members of each credit union enjoyed working together on this cooperative campaign to help feed adults and children in West Michigan.

… Through its ongoing Teacher Grant Program, Team One CU recently awarded ten $100 Teacher Grants to area educators. The purpose of these grants is to provide some financial assistance in helping teachers accomplish their goals or complete a special classroom project. Grant requests are varied—from requests for needed science department supplies to updated fiction and non-fiction reading books. Other grant requests include bringing updated technology into the classroom through the use of video cameras, purchasing graphing calculators and obtaining teaching materials to help students with learning disabilities. Recently, grants were awarded to teachers at the following schools: Arthur Hill High School, Arthur Eddy Academy, Millington Jr/Sr High School, Huron Area Technical Center, Deckerville Elementary, Central Elementary in Tuscola County, Swan Valley High School, North Huron Schools, Washington Elementary and John Glen High School in Bay City. "I will be using the Team One Teacher Grant funds to buy reading books and reading materials that are targeted toward my student's ability levels," states Wendy Wruble, special education teacher at Central Elementary in Vassar. "Thank you Team One, with this grant I can help to give my students the opportunity to learn and succeed and also spark excitement and interest in reading." Pamela Bays, an instructor at Deckerville Elementary, will use the funds to purchase a Web program to help her students learn about letters, letter sounds, reading and math concepts. "I really appreciate Team One's support of education," Bays said. "With the help of this grant money, the children will gain such great knowledge and at the same time build their computer skills using this new program." Throughout the year, educators at public, private, parochial, and charter schools in Saginaw, Bay, Huron, Sanilac and Tuscola counties are encouraged to apply for a Team One Educational Grant. To apply, teachers can visit teamonecu.org or submit an application in writing including teacher name, school name, address, phone number, grade level and purpose of the grant to: Team One Credit Union, Attn: Marketing Department, 520 Hayden St., Saginaw, MI 48607.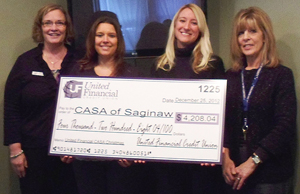 From left are Suzanne Greenberg, president/CEO of CAN Council; Brianne Fournier, marketing assistant for United Financial CU; Jessica Gwizdala, director of marketing for United Financial and Randy Roberts, program director for CASA.
… United Financial CU made the holidays a little brighter for the CAN Council and CASA of Saginaw County. The credit union raised $4,208 for its first-annual CASA Christmas. The money and items that were donated helped 120 kids who are currently in the CASA program. United Financial collected donations and wish list items at all six of its locations; and at the Saginaw and Bay City offices of the CAN Council. The CAN – Child Abuse and Neglect – Council Great Lakes Bay Region helps children who have been abused. CASA – Court Appointed Special Advocates – of Saginaw County are specially trained volunteers who provide a voice in the Saginaw County court system for children who have been removed from their home because of abuse or neglect.

… MSUFCU's new Sparrow Branch, located within the Sparrow Professional Building in Lansing, opened for business on Jan. 16. The branch offers a full suite of financial services including ATM access, teller services, loans, mortgages, and checking and savings accounts. In September 2012, MSUFCU and six other financial institutions submitted proposals at the request of Sparrow Health System to be considered as the financial services provider within the Sparrow Professional Building. A committee of Sparrow's management, union representatives, and Caregiver representatives selected MSUFCU and offered the credit union the opportunity to open a branch at the Sparrow Professional Building. "MSUFCU was honored to be selected as the financial services provider at the Sparrow Professional Building because of our longstanding financial education and community programs and our proven commitment to providing exceptional member service and high-quality products," MSUFCU President and CEO Patrick McPharlin said. "With more than 7,400 caregivers, Sparrow is a significant partner MSUFCU serves. We are thrilled to provide the added convenience of this new branch, and we look forward to working with Sparrow to strengthen our partnership and provide resources to help our local community achieve financial success and security."

… American 1 CU's Parnall Branch donated $100 to the AWARE Shelter in Jackson. The Mission statement of the AWARE Shelter is, "AWARE Inc., strives to eliminate domestic and sexual violence while promoting social change and empowering survivors by offering shelter and services. Visit www.awareshelter.org for more information about the shelter.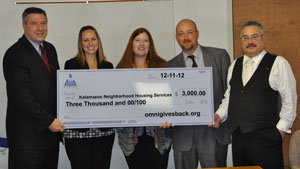 From left are Jim Dougherty and Ashley Gallegos of OMNI Community CU, and Amy Birdsall, Matt Lager and Dennis Yule of Kalamazoo Neighborhood Housing Services.
… Kalamazoo Neighborhood Housing Services has recently received a $3,000 OMNI "Gives Back" Grant from OMNI Community CU. The grant will be used to benefit low- to moderate-income families in Kalamazoo neighborhoods, focusing on those of the Six Community Development Block Grant. The program provides education, counseling, real estate development projects, alternative financial products and housing rehabilitation assistance while working to create vibrant and diverse neighborhoods. "KNHS appreciates the support of OMNI Community Credit Union," KNHS Executive Director Matt Lager said. "Without funding from committed partners like OMNI, we can't continue our work of fostering homeownership and revitalizing neighborhoods. KNHS is honored to be able to provide tools to help low and moderate income families responsibly achieve their homeownership dream." OMNI CEO Ted Parsons said KNHS provides an important service. "Being a financial institution and helping homebuyers, we are fully aware of the overwhelming amount of information this process can throw at people," Parsons said. "We think Kalamazoo Neighborhood Housing Services is providing much needed home-buying education services and are happy to help provide the funding for that."

… American 1 CU was the presenting sponsor of the American 1 Paws & Claws Pet Expo at the Jackson County Fairgrounds. This event is a fundraiser for the Cascades Humane Society. Donations such as pet food, cat litter, animal treats, monetary donations, etc. were accepted on behalf of CHS. Events at the show included a Pet Fashion Show, where local vendors brought adorable pet outfits to compete for the coveted "Top Dog" award. Also featured at this event was a "Smooch the Pooch" kissing booth, a dog treat-making area and a catnip pillow decorating area. For a $1 donation per photo you can enter your favorite pet photo into our "Cutest Pet" Photo contest.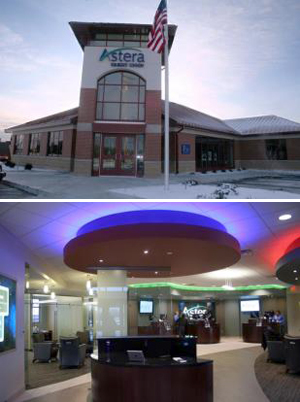 Astera CU has replaced its oldest branch with a new one on Saginaw Highway in Lansing.
… Astera CU opened its newest branch located at 5615 W. Saginaw Highway in Lansing on Jan. 22. The new branch represents a significant transformation of the member experience and market positioning for Astera. "From the ground up, this branch was designed to enhance the member's experience and to raise awareness of our full product offering," Vice President of Marketing Jeff Croff said. "The exterior was designed to take advantage of our high-visibility location and draw potential members, even when the lobby is closed. " The Saginaw Highway location replaces Astera's oldest branch, which was at Waverly and Michigan Avenue. It also allows Astera to expand its hours and services to include a three-lane drive-up, 24 hour ATM and Saturday hours. "We're most excited about the transformation of how our services will be delivered," President/CEO Margo Kleinfelt said. "We've moved from a traditional teller line to a concierge model. Now, the person helping members with basic transactions is the same person that can help them apply for a loan or credit card. Serving our members' needs has always been our focus. We hope the open and welcoming environment encourages the member to stay and possibly find out more about his or her credit union."

… First Community FCU in Kalamazoo is celebrating its 75th anniversary with a $2 million dividend payout to its members. The Member Advantage Dividend was paid on Jan. 28 to the holders of more than 60,000 member accounts, up to $500 each. The dividend equated to nearly half of the credit union's 2012 annual income. The calculation of this dividend was based on the member relationship, including all aggregate loan interest paid plus savings dividends earned throughout 2012 as well as their level of participation with using other services offered by the credit union. "Our members are the owners of our credit union," President and CEO Cheryl A. DeBoer said. "They play a direct role in the successes and growth we experience. The board wanted to give back in the form of a cash deposit to the members' accounts as an additional reward earned by choosing to use our financial services such as personal and business loans, savings, CDs, IRAs, checking and electronic services. This was a very exciting day for our credit union, and for our members." The credit union's not-for-profit financial services model encourages them to look for additional ways to give back to member-owners in the form of better dividend rates on deposits, lower loan rates, and significantly lower transactional service charges. "When talking to our members about our Member Advantage Dividend, they confirmed that this is one more reason why they love First Community FCU", Marketing Manager Nancy Loftis said. "We're hearing from so many members about how exciting this announcement was, and how grateful and surprised they were to receive a letter and phone call about the deposit being made into their account." During 2012, First Community FCU also took part in a major give back to members in more than $172,500 incentives tied to using its debit card, along with a loan transfer offer that calculated more than $5 million in interest savings over the life of transferred loans and high rate credit cards.
With logo

… Community Choice CU has selected Simons Michelson Zieve as its advertising and marketing agency of record. "We are excited to begin a relationship with SMZ to help grow Community Choice Credit Union," said Rob Bava, Community Choice president and CEO. "SMZ will play an important role in communicating to the public the benefits of banking with and becoming a member-owner of Community Choice. Whether it's our charitable programs or our personal service, this is an excellent organization that provides total financial care for our communities." In October, MCUL & Affiliates announced that SMZ would be its agency of record. "Community Choice Credit Union is known and loved by its members for 'Giving Big,' "SMZ President Jamie Michelson said.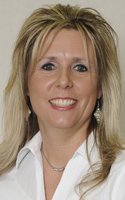 Rupley
… Randy Smith, President & CEO of TLC Community CU, announced that Barb Rupley has been promoted to youth financial education manager. Rupley began her career at TLC in 1997 as a member services representative. Rupley has a bachelor's degree in elementary education from Eastern Michigan University and a master's degree in organizational management from Spring Arbor University. She also completed her certification as a Credit Union Development Educator. Prior to working at TLC, Rupley taught elementary and pre-school education. Using her experience in member service and education, Rupley is working to promote TLC's youth financial literacy initiative in 16 student-run credit union branches located in Adrian, Clinton, Britton, Deerfield, Onsted, Tecumseh and Sand Creek communities, as well as teaching the senior class financial planning at Adrian High School. Her focus is teaching young members the importance of saving and having financial goals.

Submissions to Monitor may be
emailed
. Bryan Laviolette is the editor of Monitor. Contact him
by email
or call (800) 262-6285, ext. 233. The newsletter of the Michigan Credit Union League is published Monday mornings or Tuesday mornings when Monday is a holiday. There is no Monitor the week after Christmas and the week after the Annual Convention and Exposition. The MCUL reserves the right to edit submissions for clarity and space.