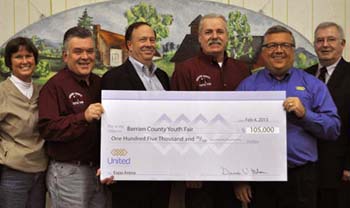 From left are Karen Klug, Bruce Foster, Tim Bennett, Dan Stacey, Duane Nelson, and Jack Strayer.
… The Berrien County Youth Fair Association's $17 million Expo Arena project has received a gift of $105,000 from United FCU. The funds will help sponsor one of 18 classroom/skyboxes that will overlook the arena floor from the mezzanine level. "United Federal Credit Union is partnering with the Expo Arena on this incredible project that will have so much impact on our community," UFCU President/CEO Gary Easterling said. "From new jobs to tourist dollars, this building will bring so many positives to southwest Michigan, and we are pleased to be a part of it." When completed, the Expo Arena will offer a year-round, climate-controlled facility that will be a landmark showcase for energy conservation and sustainable design. The multi-function building will attract equestrian events, circuses, rodeos, farm shows, boat and auto shows, home and garden shows, conventions, concerts, wedding receptions, and proms. "The Berrien County Youth Fair Association and United Federal Credit Union enjoy a long-time partnership thanks to their sponsorship of many events," said Bruce Foster, chairman and president of the Berrien County Youth Fair Association Board. "This latest gift to the Expo Arena project caps off a very successful fundraising effort in the fourth quarter of 2012. We are all deeply grateful that United Federal Credit Union has given us their confidence and support for the construction of the Expo Arena." The proposed Expo Arena will cover 6.1 acres under one roof and will include a 500-stall stable and a unique indoor warm-up ring, a main arena that will seat 4,000 for show events and 7,000 seats for concert events, and a hospitality center that will feature a 14,000 square foot all-purpose exhibition hall with a full-service kitchen, offices, and access to the mezzanine level where the 18 classrooms will be located. The classrooms, ranging in size from 20' x 25' feet to 20' x 45', will featured large picture windows overlooking the arena floor and will be used by young people for fair-sponsored classes, as well as meeting space for nonprofits and other groups. Jack Strayer, director of development and marketing for the Expo Arena at the Berrien County Youth Fair, has been raising funds for the project since the summer of 2009. "Raising money during difficult economic times has been a real challenge, but this timely gift from United Federal Credit Union is certainly well-received by the hundreds of people who have already contributed to the project, and all the young people in Southwestern Michigan who are anxious to see the project through to completion," Strayer said.

… Two west Michigan credit unions are combining in what the players are describing as a "merger of equals." The $51 million Preferred FCU in Greenville will merge into $81 million Grand Valley Co-op CU in Grand Rapids, according to CU Times. While Grand Valley will be the surviving credit union, the united organization will use the Preferred name. It will keep Grand Valley's state charter, said Robert Shane, executive vice president and chief operating officer for Grand Valley Co-op. He said neither credit union is experiencing capital issues or lack of growth. If approved by members and regulators, the 10,289-member Preferred FCU in Greenville will merge into the 14,085-member Grand Valley Co-op CU in Grand Rapids by July 1. Grand Valley's 34 employees and Preferred's 24 employees will retain their jobs and no branches will close.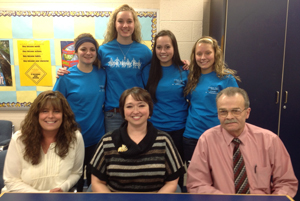 Bottom row from left are KHS business teacher Lorie Pirkola, IMKCFCU school cordinator Sonya Nelson and Larry Hoya, of the IMKCFCU marketing department. Top row are KHS student volunteers Kayla Mier, Laureen Smith, Whitney Wender and Danielle McConnell.
… Iron Mountain-Kingsford Community FCU and Kingsford High School announced the grand opening of the new student-run Kingsford High School CU. The high school credit union is located down the hall from the auditorium. It officially opened on Jan. 22. The student-run credit union will be open Tuesdays and Wednesdays from 11:50 a.m. to 1:15 p.m. Its primary goal is to help students gain real life experience while teaching them the importance of managing their money. Students and teachers will have the opportunity to make deposits and withdrawals from their accounts or open new savings accounts while at school. IMKCFCU and Kingsford High School believe it is vital to teach young people how to manage their money and the value of saving money. These are great habits and skills learned that can be beneficial throughout their daily lives. The school branch is staffed by students from Lorie Pirkola's business class who went through a real-life employment process to become student volunteers. Applicants were required to fill out an application, go through an interview process and take a basic math test. Once chosen for the position, they were trained at the credit union for the student volunteer positions. These students are learning the importance of working and the responsibilities that go along with being an employee. The students are also actively involved in marketing the student branch credit union. They came up with the name and logo of the school branch themselves. "Providing financial literacy education for our students is more important than ever," IMKCFCU school branch Coordinator Sonya Nelson said. "We are excited to bring this new teaching experience to the Kingsford students. They have been a joy to work with."

… LAFCU has expanded its mid-Michigan service territory from three to 11 counties with the approval to replace its federal charter with a state charter. People living, working or attending school in the newly added counties are now able to immediately access LAFCU financial services. The new counties are Barry, Calhoun, Gratiot, Ionia, Jackson, Livingston, Montcalm and Shiawassee. The 77-year-old credit union has been serving members in Ingham, Eaton and Clinton counties where it maintains six locations and an extensive ATM network. "Offering LAFCU financial services to more people was the driving reason to seek the charter change," LAFCU CEO Robin Frucci said. "Becoming a state-chartered credit union allows us to expand our geographical reach." The NCUA approved LAFCU's state-charter request late last week. The change was effective Jan. 31. It was proposed by the LAFCU board of directors and approved by a member vote in mid-January. Deposits continue to be insured by NCUA. "LAFCU had been an acronym for Lansing Automakers Federal Credit Union," Frucci said. "Since a state-chartered institution cannot have the word 'Federal' in its name, LAFCU is now our legal name."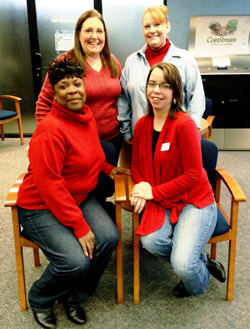 Clockwise from top left are Jodi Smith, Laura Kosiara, Jamie Burgdorf and Branch Manager Vicki Hill from the Cass Avenue branch in Bay City.
… Catholic FCU is passionate about health and wellness. The staff at Catholic Federal enthusiastically participated in the National Wear Red Day®, benefiting the American Heart Association's Go Red For Women movement this year. In honor of the event, Catholic Federal's employees raised more than $225 for the American Heart Association by donating money to wear their favorite jeans and a red top. Employees celebrated the day with drawings for Subway gift cards, massages and lottery cards. Staff also received healthy "goody bags" and celebrated the day with a heart healthy lunch.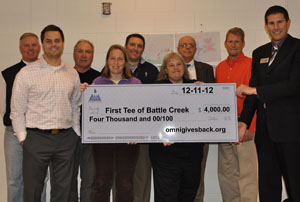 From left are (back row): Ron Osborne, Mike Sequite, Travis May, Mark Garrison, Kevin Smith; (front row) Steve Van Der Heide, Nicole Shugars, Linda Morrison and Chris Overbeek.
… OMNI Community CU has chosen First Tee of Battle Creek as a recipient of a $4,000 OMNI "Gives Back" Grant. The grant will go toward providing 14 Battle Creek schools with localized training, curriculum and onsite mentoring to implement the First Tee Program. In addition, each school will be provided with 10 scholarships to allow selected youth to go on-site to the First Tee program. "Helping out kids in our communities is a top priority for us at OMNI," CEO Ted Parsons said. "It's a great feeling to be able to help fund this program." Steve Van Der Heide of First Tee said, "Everyone at First Tee is extremely grateful for OMNI's overwhelming generosity and we are truly honored to be selected as a grant recipient. At The First Tee we strive to impact the lives of young people by providing educational programs that build character, instill life-enhancing values and promote healthy choices through the game of golf. The support from OMNI will allow our 2013 winter school program to impact over 5,000 kids within Calhoun County, providing them with life-skills education, mentoring, healthy activities and the opportunity to experience a small taste of what The First Tee has to offer. We're thrilled about the new partnership with OMNI and are very excited about the number of youth that the grant will serve. Thank you."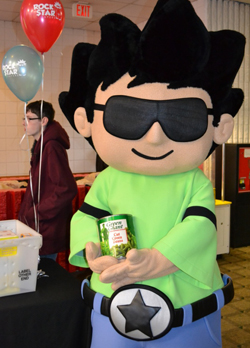 Co-op Services' Rock Star mascot holds one of many canned food donations for Gleaners Community Food Bank, collected at the credit union's fourth annual Rock n' Roller Skate Party.
… Co-op Services CU's members recently donated approximately $175 and nearly 100 pounds of canned food for Gleaners Community Food Bank at the credit union's fourth annual Rock n' Roller Skate Party. It is estimated their donations will provide close to 700 meals to help feed the hungry in the Detroit area. "We're always amazed by our members' generosity," said Jeremy Cybulski, Co-op Services' youth and community development coordinator. Cybulski organized the annual skating party for the credit union's Rock Star Savers and their families. The Rock Star Savers program is designed for children through age 11 to help teach them about saving money. The party was at the Bonaventure Skate Center in Farmington Hills and included free games, skate rentals, prize drawings, pizza and pop. The credit union's popular Rock Star mascot was also on hand to greet the young members and pose with them for individual picture-taking. Rock Star mascot is a frequent visitor to nine local elementary and middle schools that have student credit unions in partnership with Co-op Services. "We are a family-oriented credit union," Cybulski added. "The skating party is a fun event and, by helping Gleaners, the children also learned the importance of giving back to others in need."


… Honor CU is sponsoring the Mean Stinks anti-bullying campaign in the Buchanan school system. Mean Stinks is a national program that promotes joining together to end mean behavior in our schools. "Honor is proud to support the Buchanan High School Do Something Club and Student Council in this great awareness campaign," said Kent Figy, Honor's vice president of member service. "We're happy to help eliminate bullying from our school systems". T-shirts featuring the Mean Stinks logo were sold during the week of Jan. 26 in the Buchanan Public School system.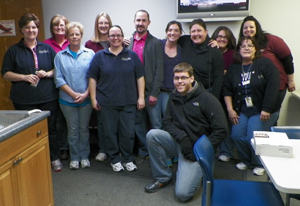 Several Northland Area FCU staffers teamed up for a Pink Warriors Relay for Life team fundraiser at the Oscoda branch with a Chili Cook Off.
…Northland Area FCU's Pink Warriors Relay for Life team was at it again. On Jan. 25, they had a Chili Cook Off contest at the Oscoda branch to raise funds for cancer research. Six employees volunteered to make chili and others donated condiments to help make the fundraiser a success. Employees donated $5 for a bowl of chili and placed their votes. The winners were Kris Hanson and Pamela Schlink, who tied for the best-tasting chili, Brandon Taylor won the hottest chili and Cheryl Burgess won the most unique. During the month of January, the Relay for Life Team raised over $375 for cancer research.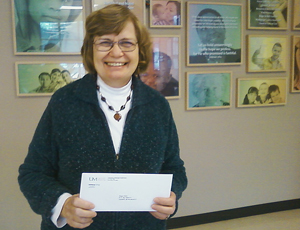 Hope Clinic Executive Director Catherine Robinson receives a check for $1,021 from University of Michigan CU.
… University of Michigan CU employees helped to make an impact in the lives of individuals who rely on the services of the Hope Clinic in Washtenaw County by donating more than $1,000 to the organization. The Hope Clinic is a nonprofit organization which provides free medical and dental care to low-income children and adults who are without medical insurance, and was selected as the credit union's Charity of the Quarter for the last quarter of 2012. The clinic has more than 100 volunteer medical and dental professionals who conduct more than 6,800 patient visits and provide access to more than $2.6 million in prescription medications each year. The clinic also provides hot meals and groceries to families in need. The clinic will disburse the money among its medical and dental clinics, as well as its other social services and educational programs. "UMCU is proud to be able to continue to contribute to community and civic organizations that support the credit union's motto of 'people helping people,' " said Jeff Schillag, UMCU vice president of marketing and community relations.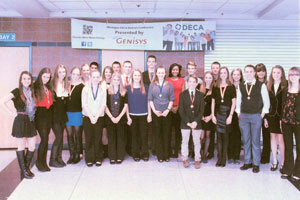 Genisys CU sponsored Michigan DECA club's Career Development Conference where students who competed in the marketing competition.
… Genisys CU recently partnered with the Michigan DECA club to sponsor their third-annual DECA Career Development Conference at Lake Orion High School on Jan. 12. Distributive Education Clubs of America is a professional level organization for high school students interested in marketing. With nearly 600 students and 70 business professionals in attendance, the event was a huge success. The conference was the first level of competition with 26 different marketing categories for students to participate in. "The DECA conference was a great way to introduce high school students to the world of marketing," President/CEO Genisys Jackie Buchanan said. "It prepares them for both higher education and their careers in business." Students who were awarded with the highest honors at the Lake Orion DECA conference will move on to the State Career Development Conference, which takes place in Grand Rapids. Winners from the State conference will advance to the International Career Development conference in Anaheim, Calif. "With all their hard work and dedication, these young adults will be the future of marketing," said Julia Dalrymple, a teacher at Lake Orion High School. "DECA not only teaches marketing, but also lifelong skills, making students successful in any career they choose."

… Marshall Community CU renewed financial support of Junior Achievement of Southwest Michigan with a team sponsorship of $500 for the Titan Challenge. The JA Titan is a web-based simulation which allows high school students to engage in a business strategy tournament. More than 120 students from high schools in Calhoun and nearby counties participated in the tournament held on Jan. 18 at Davenport University. Junior Achievement is the world's largest organization dedicated to inspiring and preparing young people to succeed in a global economy. Programs focus content on three key areas: entrepreneurship, work readiness, and financial literacy. Several of MCCU employees serve as volunteers for JA – teaching students these important skills and lessons. Students then put these lessons into action and learn the value of contributing to their communities. For more information, visit swmichigan.ja.org.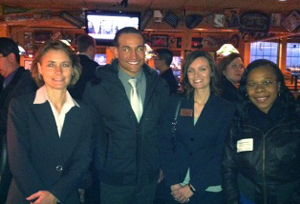 From left are Genisys CU President/CEO Jackie Buchanan; Derrick Smielewski, North Oakland YMCA membership specialist; Jessica Roshek, lending services manager, and Shayla Bennett, North Oakland YMCA membership specialist.
… Genisys CU recently sponsored the Young Professionals Mixer on Jan. 17, 2013, at Applebee's in Auburn Hills. More than 40 people attended the mixer, which was created to connect the millennial generation to the workforce and sharpen their networking skills. "This population is quite connected electronically," said Denise Asker, Auburn Hills Chamber of Commerce executive director. "So we created an opportunity to promote live connections and support the growth of lifelong professional networks." The event was a great success so the chamber plans to offer it again. Three more will be offered in 2013: April 11 at Duffy's Pub, Aug. 22 at BD's Mongolian Grill, and Nov. 26 at Rochester Mills Brewery. "We are very happy to be part of this networking event," Genisys President/CEO Jackie Buchanan said. "The mixer is a great way for our millennial members to connect with others face-to-face." All mixers start at 5:30 p.m. and last until 7:30 p.m. Entry is only $10. You can register for upcoming mixers by visiting www.auburnhillschamber.com or by calling (248) 853-7862.

… Dow Chemical Employees' CU recently elected its 2013 Board of Directors and committee members. "These volunteers give so generously of their time and talents to truly ensure the ongoing success of DCECU," DCECU Marketing Director Barb Ostroski-Enos said. The following individuals were elected to the Board of Directors for 2013: Chairman Bob Kasprzyk, Vice Chairman Duncan A. Stuart, Secretary/Treasurer Michael Kapp, Director Mark Fenske, Director Perry Holmon, Director Gary McGuire,Director Lisa McKenney and Director William Weideman. Elected to the Supervisory Committee were Chairman Michael V. Pisarczyk, Lauren James and Greg Grocholski. Elected to the Credit Committee were Chairwoman Beth Allsop, Judith W. Holycross, Mark Larsen and Kathy Jo Nogaski.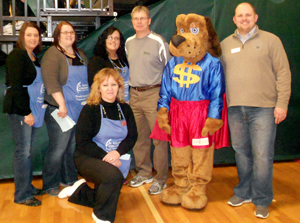 From left to right are KCFCU employees Tina Dawe, Alyssa Morgan, Autumn Dayton, Patty Decker (in foreground), Larry Boyer, Pennfield High School's athletic director, Dollar Dog and Jeff Kinney.
… Kellogg Community FCU participated in Pennfield High School's Winter Carnival on Jan. 25. The event included women's and men's varsity basketball games. During each game's halftime, the KCFCU Kid's Club mascot, Dollar Dog, tossed t-shirts and stadium blankets into the crowd. "It was a great pleasure to be part of the Winter Carnival at Pennfield High School this year," KCFCU Pennfield Branch Manager Patty Decker said. "Our involvement with the young people of the community is extremely important as they are our future leaders. We look forward to working with the Pennfield community to assist them with all of their financial needs. We encourage everyone to stop in and 'celebrate the difference' of KCFCU."


… In January, American 1 CU raised nearly $400 for Mission of Hope Cancer fund in Jackson. The money was collected through a variety of activities. American 1 staff members could pay $5 for a BINGO board. "BINGO Calls" were made throughout the month via email. Twenty-five staff members opted to play, and the first two winning BINGOs won gift certificates. American 1's home office and North Street branch locations also have fresh popped popcorn and bottled water available for a donation, every Friday.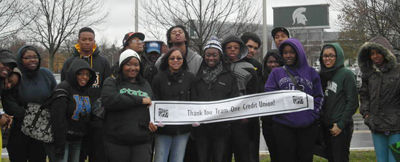 Arthur Hills High School students were able to make a campus visit to Michigan State University with the help of Team One CU.
… Recently, 44 Arthur Hill High School students had the chance to visit the Michigan State University campus through a sponsorship from Team One CU. "The staff and students at Arthur Hill High School would like to thank our community partner, Team One Credit Union, for sponsoring our campus tour to Michigan State University," said Michelle Jackson, college and community access coordinator at Arthur Hill High School. "This tour gave the students the opportunity to receive information about the academic admissions requirements for top universities. As students become more aware of their postsecondary options through campus tours, classroom presentations, admission representatives, school visits and college counseling; we can begin to expect more students in the city of Saginaw to engage in postsecondary options. Many thanks to Team One Credit Union for helping to support and promote college campus experiences."

Submissions to Monitor may be
emailed
. Bryan Laviolette is the editor of Monitor. Contact him
by email
or call (800) 262-6285, ext. 233. The newsletter of the Michigan Credit Union League is published Monday mornings or Tuesday mornings when Monday is a holiday. There is no Monitor the week after Christmas and the week after the Annual Convention and Exposition. The MCUL reserves the right to edit submissions for clarity and space.