Gain Insight in Serving Low-Wealth Families and Helping Members Prepare for Retirement

What do low-wealth families and Americans preparing for retirement have in common? Both have a need for financial services to help them move forward in their financial lives. Come to understand their specific needs by participating in this experiential learning activity. Attendees will leave feeling empowered to be more effective in providing credit union services that will in turn empower members to thrive financially.
The bipartisan President's Advisory Council on Financial Capability's recent report to the president offers 15 recommendations to help the American people better understand financial matters. Programs such as Experience! Understand! Empower! can help credit union financial educators assist their members learn to better manage their finances. Click here to see the report.
"One of our most significant understandings as a result of our two years of work is that financial capability is balanced upon three legs," says Ted Beck, council member and president and CEO of the National Endowment for Financial Education. "Financial education, effective regulation, and thoughtful design of options, also known as choice architecture, need to be present in appropriate amounts in order to build and sustain financial capability in consumers. Financial education will be more effective in an environment that supports financial capability."
Experience! Understand! Empower! will be May 15 – the day before the Annual Convention and Exposition – at the Detroit Marriott at the Renaissance Center. The full-day experiential learning session will include two simulation activities and will be of interest to anyone involved in credit union product and service development and delivery including management, financial educators and counselors, and community and business development staff. A "Life Simulation" will provide an understanding of what it is like to walk in the shoes of a low-wage working family. This experience will help participants better understand the needs of and provide better service to members who are struggling financially. The second experiential session of the day will be a "Retirement Fair" which is an interactive activity that encourages deeper thinking into the type of lifestyle desired in retirement and consideration of how that links to personal financial plans. The Retirement Fair activity is a tool that can be utilized by credit unions to help members and consumers of all ages make better use of credit union products and services to prepare for retirement.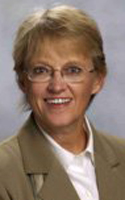 Kitsch

Lois Kitsch, two-time Herb-Wegner Award winner and the national program director of the National CU Foundation's REAL Solutions program, will facilitate the experiential learning sessions along with REAL Solutions Field Coach Mark Lynch. Over the past three years, Kitsch has championed experiential learning programs where students learn by doing, resulting in a more profound learning experience than rote learning. Through these experiential learning programs, thousands of students and consumers are better managing their finances and are building assets and wealth toward a better future.
The event is sponsored by the Michigan CU Foundation which helps to keep the cost very low, at only $55 per participant.
Because of the experiential nature of this event, participation is capped at 75 attendees. Register now to secure a space in this training. Click here for more information and to register.
Submissions to Monitor may be
emailed
. Bryan Laviolette is the editor of Monitor. Contact him
by email
or call (800) 262-6285, ext. 233. The newsletter of the Michigan Credit Union League is published Monday mornings or Tuesday mornings when Monday is a holiday. There is no Monitor the week after Christmas and the week after the Annual Convention and Exposition. The MCUL reserves the right to edit submissions for clarity and space.