| | |
| --- | --- |
| Honor CU CEO Scott McFarland, far right, congratulates the students from Buchanan Middle School for winning its first annual Video Challenge. | |
... Honor CU announced the winners of its first Annual Video Challenge. Local schools were offered the challenge of creating a 30- to 60-second video highlighting Honor CU and its contributions to the community. Buchanan Middle School placed first in the challenge, earning Honor's $3,000 prize. The second place prize of $1,000 was awarded to South Haven High School. "We are very proud to be able to create yet another way to partner with our local schools and with the great submissions we received this year, we are very excited about how our Video Challenge can grow," Marketing Director Jeff Pisarsky said. "I am so proud of the students, their hard work and creativity," teacher and Tech Club Director Brian Brown said. "This award will go a long way to enhance our current Tech Club program. "We thank Honor Credit Union for supporting financial literacy and technology in our community schools." The Buchanan Middle School video will be featured on the Honor's website, Facebook, YouTube page and also be featured at local Moore Theaters later this year. with video screen grab.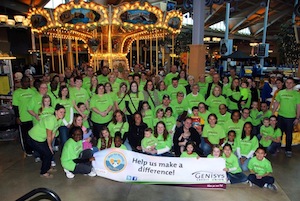 Genisys employees and their families take part in the OLHSA's Walk for Warmth.

… Genisys CU was the premier sponsor for Oakland Livingston Human Service Agency's recent Walk for Warmth event at Great Lakes Crossing on Feb. 23. Additionally, Genisys President/CEO Jackie Buchanan announced that Genisys will donate more than $30,000 to the cause, which was raised by the hard work of members and her employees. The purpose of OLHSA's Walk for Warmth is to bring the community together to raise funds and awareness for emergency utility assistance. It is a family-friendly walk-a-thon event where 100% of the funds raised are used to warm hearts and heat homes in Oakland County. This is the 23rd annual Walk for Warmth, held on the 23rd of February. "Every year, we are blown away by the community support," OLHSA CEO Ronald B. Borngesser said. "The energy and enthusiasm of the walkers and sponsors is heartwarming and truly makes a difference in the lives of those in need of a helping hand during the cold winter months." In addition to the $30,000 Genisys raised for Walk for Warmth, nearly 75 of their employees and families were present at the event. Linda Zabik, manager of public relations and community involvement, sat on the Walk for Warmth board as fundraising chairwoman. The Genisys Band was also present to provide entertainment to those walking. "It is remarkable to see the amount of dedication our members and Genisys staff have toward Walk for Warmth," Buchanan said. "All of the staff really enjoys helping out for this cause, which is in line with our corporate mission." Employees from Consumers Energy, Bass Pro Shop, Lee General Contracting, and members of Oakland University's Sigma Alpha Epsilon fraternity made notable contributions as well, and were amongst the 1,000 people who attended Saturday's walk. Outlet stores at Great Lakes Crossing even contributed to the event by offering discounts to those who walked at the event.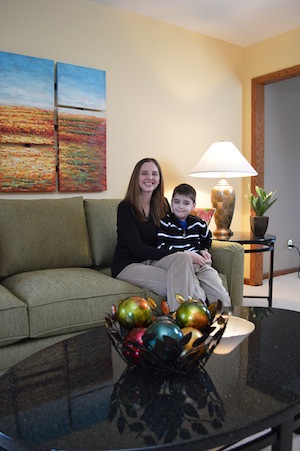 MSUFCU member Elizabeth DaFoe was the grand prize winner in MSUFCU's Ideal Room Makeover Contest.

… MSUFCU's Ideal Room Makeover Contest offered MSUFCU members the opportunity to enter to win a complete room makeover, plus $1,000 toward the winner's MSUFCU Visa Credit Card. Contest entrants submitted applications with personal statements about why MSUFCU should select them to win a room makeover along with a photograph of the room that could most use renovation. Elizabeth DaFoe of DeWitt was selected from 80 entrants as the grand prize winner. DaFoe received new furniture, flooring, window treatments and lighting courtesy of Christensen's Furniture and O'Leary Interiors. Kelly Patterson of Brookline, Mass., was selected as the out-of-state contest winner and received $1,000 toward her MSUFCU Visa Credit Card. Four entrants who were not selected as winners in the first phase of the Ideal Room Makeover Contest received a second opportunity to win. Three entrants were featured on MSUFCU's website, and members were able to vote for the runner-up winners. These winners all received money toward their MSUFCU Visa Credit Cards: Marie Rea won $750, Jenelle Schneider won $500 and Dereck Wellspeigel won $250. An additional "second-chance" winner, Jessica McNally, was randomly selected from all entrants to win $1,000 toward her MSUFCU Visa Credit Card. "MSUFCU's Ideal Room Makeover Contest received a terrific response from our members and our community," MSUFCU President and CEO Patrick McPharlin said. "We are happy to provide this opportunity to enhance some of our members' homes and create better living spaces for their families. This contest is just one example of how MSUFCU helps our members to achieve their goals and dreams."
Northland Supports Junior Achievement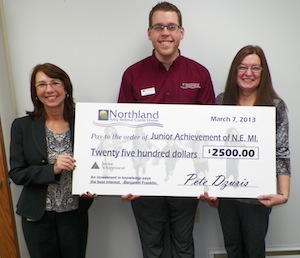 Northland Area FCU employees and Oscoda Junior Achievement board members Alane Taylor, left, Deanna Reeves and Brandon Taylor recently presented a $2,500 donation to Junior Achievement of Northeast Michigan. "We understand the importance of having financial education in our local schools. Children need to have an understanding of financial concepts," said Taylor, Northland's Oscoda branch manager. "They are our future leaders."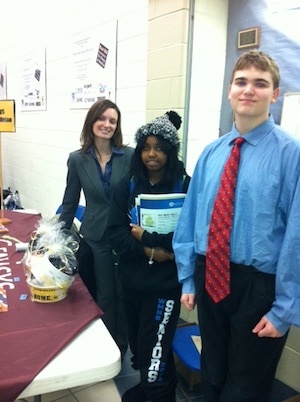 Lending Manager Jessica Roshek, left, visits with Chasi Craig and George Grund, both students at Waterford Mott High School.
… Genisys CU was the presenting sponsor for the Waterford College and Financial Aid Night at Waterford Mott High School in February. The event was a huge success with more than 800 people in attendance. The seminar provided an opportunity for Waterford School District parents and students to meet one-on-one with more than 30 colleges, trade schools, military and Waterford Library representatives. Four breakout sessions were held, which covered what college admissions representatives are looking for in new students, the Oakland to Oakland program which allows students to attend Oakland Community College and Oakland University simultaneously, selecting a college, and financial aid FAQs. Patrick O'Conner, author of College Is Yours, even spoke at one of the breakout sessions. "This event provided a great way for students and parents to prepare for higher education," President/CEO Jackie Buchanan said. "With the rising costs of tuition, being organized and knowledgeable about the process helps families stick to a manageable budget." Loan Manager Jessica Roshek, was onsite to hand out financial information and discuss student loan options available at Genisys CU. "With the generous support of Genisys, the Waterford College & Financial Aid night continues to grow each year, providing our community with essential college information," said Tina Mitchell, Career Preparations Technician at Waterford Mott High School. "As a result, an increasing amount of scholarships and grants can be awarded our students, providing an opportunity for more of them to attend college."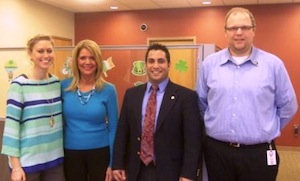 Rep. Klint Kesto, third from the left, stands with Credit Union ONE staff members Jill Hoyt, Janis Carter, and Stephen Dedene.

… Rep. Klint Kesto, R-Walled Lake, spent some time Feb. 21 and visited with Credit Union ONE staff and members in West Bloomfield. The West Bloomfield Branch of Credit Union ONE was the perfect spot for Kesto to meet with constituents as he represents the residents of the city of Wixom, Commerce Township, a portion of West Bloomfield Township and the village of Wolverine Lake. While visiting the branch, Kesto was able to speak with credit union management about some of the issues that are important to the credit union. "We were glad to host Representative Kesto," said Stephen Dedene, Credit Union ONE Manager of Compliance and Regulatory Affairs. "The time that he took to stop by, meet our members and staff, and share some conversation with us was very valuable and appreciated."
… The Annual Taste of Troy fundraiser was definitely a Motor City Taste Fest based on the mouth-watering food prepared by Troy's finest restaurants. The annual food-tasting event offered samplings from 33 area restaurants with a Motor City Flavors theme this year, along with fabulous Motown entertainment by deejay Big Will and emcee WDIV Channel 4 Meteorologist Andrew Humphrey, and a silent auction. Participating restaurants were judged by a panel of food connoisseurs in the Critics' Choice categories, and attendees voted for their favorites in the People's Choice categories. "We want to thank everyone who helped make this year's event such a huge success," said Cindy Stewart, Taste of Troy Chairwoman. "Our attendance was excellent, and early tallying indicates we did outstanding on the Live and Silent Auctions. Thank you to everyone who came out to enjoy an afternoon of fun and great food while supporting a great cause. And special thanks to our emcee WDIV Meteorologist Andrew Humphrey who has supported this event for eight years. Thanks to his hard work, the Live Auction brought in record profits again this year." Genisys CU cosponsored the event. All proceeds from the Taste of Troy benefit the Boys & Girls Club of Troy, a nonprofit organization that provides educational and recreational activities, in addition to counseling programs for more than 1,200 children in Macomb and Oakland counties.
Celebrating Service Milestones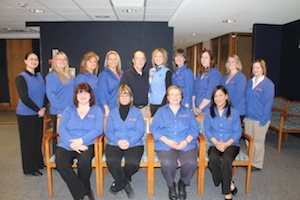 Catholic FCU would like to recognize the following staff members who are celebrating milestone anniversaries in 2013 with the credit union. In the front row from left are Compliance and Training Supervisor Tiffany Greening, 10 years; Loan Officer Julie Thornton, 15 years; Saginaw office Branch Manager Yvonne Metiva, 15 years, and Accounting Representative Monica Corriveau. In back are Sales and Service Trainer Regina Barajas, five years; Member Services Representative Rachael Odenbach, five years; Mortgage Representative Peggy LaDouce, 10 years; Loan Officer Marsha Frank, 10 years; Byron Weber, maintenance, 10 years; Vice President of Loans Mindy Wolpert, 5 years; Mortgage Representative Becky Swanson, 15 years; Accounting Representative Lisa Ulicki, 20 years; Administrative Assistant Jordan Early, five years, and Accounting Representative Amy Benkert, 5 years. Missing from Photo is Imaging Representative Karen Knippel, 35 years.
… Earlier this year, Affinity Group CU ran a special promotion for personal loans called Mitten Money. AGCU employees hung pairs of mitten around their branches, the inside of each mitten contained a small slip of paper that read .10%, .15%, or .25%, and that represented the percentage off they could get from their loan rate. Once the promotion ended, our management team decided to let each branch select a local charity to donate all of the leftover mittens and gloves to. "Here at the Garden City office, we felt it was important to donate the mittens to the local community because we know the hardship many of the local families are enduring," Garden City Branch Manager Jessica Schaffner said. "We want to see our kids as successful as possible." Organizations that benefited include Light Of Oakland County – Pontiac Branch, St. Aloysius Catholic Church in Detroit – Warren Branch, Community Sharing Outreach Center – Highland Branch, Child Protective Services – Garden City Branch and Mitten For Detroit – Flat Rock & Wyandotte Branches. "I am so excited to donate our mittens from Wyandotte and Flat Rock branches to Mittens for Detroit," Flat Rock Branch Manager Heathor Balazy said. "We take for granted the simple things like having a warm pair of gloves or mittens. Sometimes we forget there are those out there in our area who don't have the luxury of something as simple as a pair of mittens. When we give our gloves to Mittens for Detroit they are supporting 11 local charities that can put these mittens and gloves to good use."
… On March 22, Jackson High School will host its 26th annual Ambassadors' Dinner. American 1 CU donated $500 as a Bronze Corporate Table Sponsor. American 1 also donated four box seat tickets to a Detroit Tigers game, for the event's silent auction, valued at $150. The Jackson High School Ambassadors' Dinner is an event that was created to show the communities commitment to Jackson High School students, scholarships, and special programs.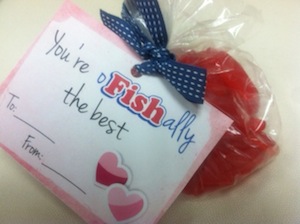 An American 1 CU Candy Gram.
… American 1 CU recently raised money for Paws with a Cause in Wayland. The money was collected through a variety of activities. From Feb. 1-14 staff members could purchase "Candy Grams" made by the American 1 Marketing Department. There were three varieties of "Candy Grams" available. The first was a bag of Swedish Fish that said, "You're oFISHally the best," the second was a box of Reese's Pieces that read, "I appreciate you to PIECES," and the third was a box of Junior Mints that said, "Thanks for making each day an enjoyMINT." Staff members, along with friends and family, purchased candy grams for $3 or two for $5. Altogether over 140 "Candy Grams" were passed around, and more than $200 was raised. "It was fun to watch the staff encourage each other," said Event Coordinator Jayme Bicknell. "Some Candy Grams were sent anonymously, just to brighten a fellow staff member's day. It's definitely a fundraiser we would do again," she continued. A staff member also donated two tickets to a University of Michigan hockey game against Ferris State University. American 1's home office and North Street branches also have fresh popped popcorn and bottled water available for a donation, every Friday. Altogether, $850 was raised for Paws with a Cause.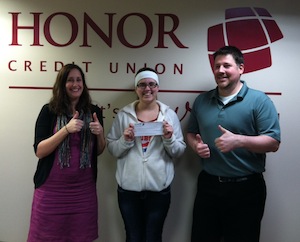 Cami Leitz, education development and design coordinator, stands with students Justice Jedlowski and James Versaw, education and development coordinator.

… Honor CU team members recently presented a six-hour financial literacy class at the Berrien County Department of Human Services. "Honor Credit Union is a strong supporter of financial literacy programs in our community, and we are proud to be able to offer our help to the Michigan Youth Opportunities Initiative," Honor CEO Scott McFarland said. The Michigan Youth Opportunities Initiative is a partnership of the Department of Human Services, the Jim Casey Youth Opportunities Initiative and the Oakland Livingston Human Services Agency. MYOI looks to improve youth outcomes by providing training geared towards permanence, education, employment, financial capability, housing, physical and mental health and social capital for foster children ages 14-21. The partnership between Honor and MYOI ensures older youth in foster care are financially literate and prepared for transitioning into adulthood. Young adults from Berrien, Allegan, Cass and St. Joseph counties attend the Financial Literacy Training class presented by Honor Credit Union team members. " MYOI's first priority is teaching youth financial literacy skills so young people are better equipped to budget their money, pursue savings and also get experience with banking," said MYOI Coordinator Paula Laquerre. In additional to the classroom teaching, Honor also sets up accounts for the children in order to help them reach their goals. For more information about the Michigan Youth Opportunities Initiative, contact Paula Laquerre at (269) 716-8459. In addition to corporate donations and sponsorships for many local organizations, Honor team members contribute countless hours of service to our communities and charitable organizations every year.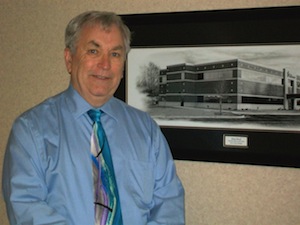 May
… Portland FCU has announced that CEO and President Gary May will retire April 27. His retirement ends a 42-year career in the credit union industry, 32 of those years leading PFCU. May began his career at PFCU in 1978 and at that time the credit union had $3.5 million in assets serving about 4,000 members. Today, PFCU has more than $234 million in assets and serves more than 23,000 members. PFCU's membership was comprised of just the Portland area, but May oversaw the expansion to include those who live or work within three counties: Barry, Ionia and Kent and the city of Lansing. During his tenure, CEO May grew the number of its branch offices from one to six locations. May has always supported the credit union philosophy of "People Helping People." He has been involved with many chambers of commerce and boards of directors, as well as the Lansing and Grand Rapids Chapters. May was awarded Director of the Year by the Portland Area Chamber of Commerce in 2012 and Credit Union Person of the Year by the former Michigan Association of Credit Unions in 2004. Under May's leadership, PFCU has received the highest possible ranking from the NCUA. "Gary's commitment to our members and to the growth of the credit union has been instrumental in helping PFCU develop into the successful credit union it is today," PFCU board Chairman Mike Ward. May said he has been blessed to have been a part of PFCU for 35 years and appreciates all of the member and staff support that he has received over the years. "It is not unusual for someone who has worked in a profession for 42 years to be anxious to retire," May said. "Even though I am excited to start a new phase in my life, I am not anxious to leave credit unions and especially to leave PFCU." Gary and his wife Virginia have lived in Portland for 34 years, raised three children; Candy, Gary Jr. and Melissa and have 12 grandchildren. They plan on spending their retirement time enjoying each other and the grandchildren.
| | |
| --- | --- |
| Runnels | German |
… Lake Michigan CU announced the hiring of two loan officers, Greg Runnels at its office in Holland and Lisa German who will work in Muskegon. Runnels is a 20-year real estate lending professional with extensive experience in residential, construction and portfolio lending. He is a graduate of Grand Valley State University and holds a bachelor's degree in finance. LMCU Mortgage Sales Manager Lisa DeLass is eager to have someone of Runnels' experience on board. "I'm very excited to have Greg join our team of lenders on the Lakeshore. Greg offers a wealth of experience and knowledge to our members. His expertise will be a welcome addition as we all work to develop LMCU's footprint on the Lakeshore." Runnels said he was drawn to LMCU based on its favorable reputation and strong brand. "Everybody knows about LMCU, and I hear nothing but positives from members and industry insiders alike. I am particularly impressed by LMCU's commitment to member satisfaction and their level of dedication to getting it right." German has 20 years of financial experience which began in 1993 on the retail banking side for Chase Bank. She also worked as a senior mortgage processor and closer for Republic Bank, Independent Bank and Mercantile Bank. DeLass is excited to have German join her team of lenders on the Lakeshore. "Lisa comes to us with many years of experience in the mortgage lending business and will be servicing the Muskegon market," DeLass said. "As a lifelong resident of that community, she brings many contacts, relationships and insights that will prove valuable in continuing to grow our business on the Lakeshore." German cites LMCU's community reputation as a powerful draw. "Professionally, I have always felt that superior customer service should be at the top of any company's priorities. LMCU is very member-driven, at that fits my personal philosophy perfectly. I'm anxious to help my neighbors achieve their homeownership dreams, right here in my hometown."
| | |
| --- | --- |
| LaRoche | DeKryger, left, and DeFabio |
… Marshall Community CU recognized three employees for their years of service to the credit union and its membership. Serving MCCU for five years is Teller, Jessica LaRoche. Ten-year awards were given to Marketing Representative Becky DeFabio and Compliance Officer Karen DeKryger.
Submissions to Monitor may be
emailed
. Bryan Laviolette is the editor of Monitor. Contact him
by email
or call (800) 262-6285, ext. 233. The newsletter of the Michigan Credit Union League is published Monday mornings or Tuesday mornings when Monday is a holiday. There is no Monitor the week after Christmas and the week after the Annual Convention and Exposition. The MCUL reserves the right to edit submissions for clarity and space.