Activities Planned For Attendees at Annual Convention and Exposition:
 Ford House Tour, Ovation Yacht Cruise, Ridley Comedy Castle and More!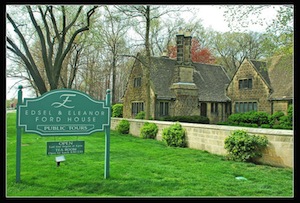 Edsel and Eleanor Ford House in Grosse Pointe Shores
Plenty of fun social activities are planned at this year's MCUL & Affiliates Annual Convention and Exposition, providing attendees outstanding networking opportunities and offering unique experiences for guests who join participants at the popular conference.
Being held at the Detroit Marriott at the Renaissance Center, May 16-18, the first evening of the event features a fun Motown-themed Welcome Reception that is sure to include great conversation, food, drink and music.
While attendees are busy at the conference, guests will find a myriad of activities on the agenda especially for them. Thursday features Michigan artist Sue Wagner who will be on hand to run a Jewelry Creations workshop based on her designs working with natural materials, and on Friday guests can choose a motor coach outing to the historic Edsel and Eleanor Ford House for a tour and lunch at the Albert Kahn designed estate situated a short distance away on the shore of Lake St. Clair.
Thursday also features guest enrichment training sessions, including Cynthia Shelby-Lane, MD presenting Laugh More, Live Longer and Tim Moffitt, PhD presenting This Isn't Your Father's Retirement. Saturday includes a fun workshop ideal for guests to create a jar of Scented Sprinkles as a complimentary keepsake to take home.
Attendees will have plenty of opportunities to interact and exchange ideas with their peers, in both informal and facilitated settings. Participants should consider bringing a comfortable pair of walking shoes for a new optional activity, kicking-off Friday and Saturday morning at 6 a.m. by getting some exercise walking a designated lap-area with other conference goers. Friday's agenda also includes a CUES Luncheon: Friends, Food and Focus on Strategic Planning Considerations and excitement at the Children's Miracle Network Hospitals: Credit Unions for Kids Live Auction, cocktail hour and light refreshments.
The event fun will begin to wrap-up Saturday with a popular afternoon excursion aboard the Ovation Yacht, cruising the scenic Detroit River. Later, attendees and their guests will board a motor coach for the closing event being held at Mark Ridley's Comedy Castle where dinner and a performance will be enjoyed.
The Detroit Renaissance Center is home to great shopping, restaurants and a movie theater, and offers access to a Detroit People Mover station and a connected walkway to the Millender Center and more shopping, without needing to step outside. Be sure to read more here about activities included in registration categories and which select events require additional tickets. Attendees are highly encouraged to book hotel rooms by April 24 here. Complete details about the conference and event agenda can be found by clicking here.
Submissions to Monitor may be
emailed
. Bryan Laviolette is the editor of Monitor. Contact him
by email
or call (800) 262-6285, ext. 233. The newsletter of the Michigan Credit Union League is published Monday mornings or Tuesday mornings when Monday is a holiday. There is no Monitor the week after Christmas and the week after the Annual Convention and Exposition. The MCUL reserves the right to edit submissions for clarity and space.