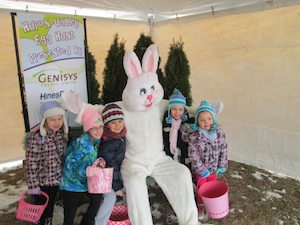 Easter Bunny with happy egg hunters at Huron Valley Egg Hunt
… Genisys CU was the presenting sponsor for the annual Huron Valley Egg Hunt, which took place at Duck Lake Pines Park in Highland.
The event, hosted by The Huron Valley Chamber of Commerce, attracted several hundred children from the Huron Valley School District along with their parents. Families were able to visit the Easter Bunny, have their face painted, and participate in multiple kids activities.
"It's great to see how excited the kids are when we start the Egg Hunt," said Laura Bolyard, events manager at the Huron Valley Chamber of Commerce.
This is the fifth year that Genisys CU has been the presenting sponsor of the Egg Hunt.
"This is one of the many wonderful events that Genisys sponsors for the children," said Jackie Buchanan, President/CEO. "We are glad to be a part of something that brings smiles to many children in the Huron Valley community."
For more information on how you can become involved with this event, please visit the Huron Valley Chamber of Commerce website at www.huronvcc.com.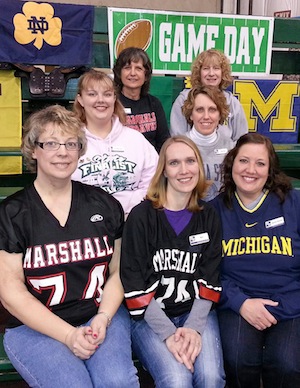 Marshall Community CU employees participating in the Oaklawn Hospital Benefit Auction. Back row left to right: Jan Buskirk & Katie Schook; Middle row left to right: Lori Burcaw & Julie Zink; Front row left to right: Patti Bergstresser, Maxi Rhodes and Nicole Thomas
… Seven representatives from Marshall Community CU recently volunteered their time at the 23rd annual Oaklawn Hospital Benefit Auction. MCCU's Vice President of Members Service Patti Bergstresser and Branch Manager Nicole Thomas also served as finance co-chairs on the steering committee. Other MCCU volunteers worked at the finance table during the night long event.
Since its inception in 1991, the Oaklawn Auction has raised about 1.4 million dollars for the hospital.
…Senior Health Partners were awarded a $1,000 OMNI "Gives Back" grant by OMNI Community CU. The grant was used for a Santa Sock Hop, held in December 2012. The event was free to 250 elderly, low income, at risk seniors in Calhoun County and included a meal, entertainment and dancing.
"We are overjoyed to have provided this grant for Senior Health Partners. They put on a lovely event for seniors in our community who might otherwise spend the holidays alone," said OMNI CEO Ted Parsons.
Linda Grap, director for Senior Health Partners, said, "We are fortunate to live in a community that cares about our older adults and are especially grateful to local businesses like OMNI Community Credit Union who believe in giving locally."
OMNI is now accepting applications for the grant program and has committed to provide $50,000 in grants in 2013. To apply visit www.omnigivesback.org.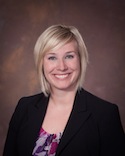 Minnis
...Patrick McPharlin, president and Chief Executive Officer of MSUFCU, recently announced the hiring of Christina Minnis as the Vice President of Marketing.
McPharlin stated, "Ms. Minnis brings a high level of skill and expertise into her new position. Her hiring will help MSUFCU to provide products and services supporting our members' changing needs while continuing to provide the excellent service our members deserve."
Minnis has worked at MSUFCU since November 2012, and was previously the Executive Director of Marketing for Douglas J Companies. She holds a bachelor's degree in Marketing and Management from Northwood University.
...
American 1 CU's
home office branch challenged their North Street branch office to a friendly coin drive to raise money for local charity. The home office selected the AWARE Shelter, and North Street selected The House of New Beginnings.
For two weeks the teams squared off to raise funds for two great charities. The race was close, but in the end North Street pulled ahead by less than $20. The home office raised $873.65 for the AWARE Shelter, and North Street raised $890.18 for The House of New Beginnings. Together the two teams raised $1763.83 for these two organizations.
For more information on the services provided by the AWARE Shelter please visit
www.awareshelter.org
. For more information on the services provided by The House of New Beginnings please visit
www.housenewbeginnings.comcastbiz.net
.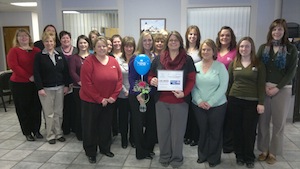 Employees of Soo Co-op Credit Union honored
…Soo Co-op CU was recently named February's Business Neighbor of the Month through the United Way of the Eastern U.P.'s Spotlight Recognition Program. Nominated by Hospice of the EUP, Soo Co-op has been actively contributing to community organizations and events for many years. The Soo Co-op Board of Directors and Management encourage employees to serve local needs and organizations. In addition to financial support and donations of much need items, several employees have become active volunteers providing respites care for family members. Others make last minute deliveries, actively participate in and promote fundraising events, serve on the Board of Directors and engage their children in activities and events.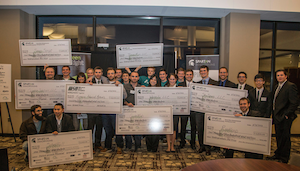 Winners of the 2013 Greenlight Business Model Competition
…MSUFCU's 2013 Greenlight Business Model Competition, created by Spartan Innovation and MSUFCU, gave an opportunity for entrepreneurs from all over Michigan to come together to pitch their business ideas for a chance at over $50,000 in prizes, with the chance for participants to win the grand prize of $25,000, sponsored by MSUFCU.
During the first round of the competition, participants were asked to complete an application and business plan. Then, twenty-five (25) finalists pitched their business ideas in front of a panel of seven (7) judges. Prizes were awarded based on best pitch, fastest growth potential, best idea for Michigan, most creative, and most needed in the marketplace. Three endowments were designated for undergraduate students.
The grand prize of $25,000 went to Kymeria Advanced Materials, created by Cameron Smith, Vincent Alessi, Dave Hatfield, and Reed Shick. Kymeria Advanced Materials is currently developing new chemistry for ceramics, which brings the benefits of existing advanced ceramics to new parts and markets.
"MSUFCU was proud to sponsor the Greenlight Competition this year and invest in a program that will bring new businesses to Michigan to help improve our economic conditions statewide," said panel judge, April Clobes, MSUFCU's Executive Vice President and Chief Operating Officer.
For additional information about the Greenlight Business Model Competition, visit www.greenlightmichigan.com.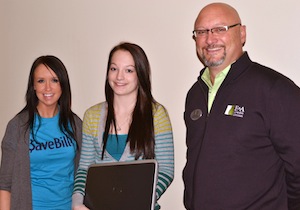 Left to right- Jenny Bulgrien, E&A Credit Union Manager of Marketing; Courtney Klaas, Cros-Lex High School Senior; Scott Babin, E&A CU CMO
...Courtney Klaas, a senior at Cros-Lex High School was surprised on Tuesday, March 12 by E&A CU with a special prize. It was in the middle of her 1:30 p.m. class when E&A's marketing team busted in the classroom to announce Courtney as their first "Bonus Bills" grand prize winner and presented her with a brand new laptop computer. Courtney's mom, Sheila, a teacher at Cros-Lex High School was also there to witness the surprise. "This is so great, Courtney has been working since she was a freshman and has been very diligent on saving half of every paycheck in her Bonus Bills account," stated Sheila.
Courtney's savings plan paid off. E&A's Bonus Bills account is a teen savings account that encourages savings by awarding monthly gifts cards and the grand prize of a new laptop. The more they save each month the greater their chances are for winning. Every $25 net increase to their monthly balance gets them an entry for the monthly gift card drawings and goes toward the grand prize at the end of the year. This is our way of encouraging younger people to develop good savings habits which will help them with their financial future," stated Scott Babin, E&A CU CMO.

… Now through April 30 Members First CU will be offering seven $1,000 scholarships to qualified members. One of the seven scholarships will be awarded to a non-traditional student.
Visit any of MFCU's eight branches, area schools or their website, mfcu.net, to pick up or print an application. The applicant must be a primary owner of a MFCU account in good standing. To open an account visit one of their eight branches.
Scholarship recipients are selected on a number of criteria, including academic record, essay, leadership and participation in community activities, honors, work experience, education and career goals.
All scholarship recipients will be invited to attend MFCU's "Swinging for Scholarships" golf outing luncheon on June 18 at Bucks Run Golf Club.
For more information contact Noelle Minasian at (855) 835-MFCU ext. 1262.
…Great Lakes First FCU were recently recognized as a five star rated institution by Bauer Financial, Inc., the nation's leading bank and credit union rating and research firm. Bauer's highest five star rating indicates that Great Lakes First Federal Credit Union excels in areas of capital, asset quality, profitability and much more. What's more, Great Lakes First FCU has earned this highest rating for the most recent 34 consecutive quarters.
"Since 1983, Bauer Financial has been rating the nation's financial institutions", reflects Karen L. Dorway, president of the rating firm, "In all that time, one thing has remained constant: top performing institutions maintain strong policies, prudent underwriting and responsible investment. Great Lakes First Federal Credit Union is a credit union you can put your trust in."
…
American 1 CU
raised approximately $700 for The John George Home, a home for elderly gentlemen, headquartered in Jackson. The home provides a safe and independent living environment for men of the Jackson community.
During the month of March, employees participated in fun activities by making a donation to the charity account. A total of $693.50 was raised for The John George Home.
For more information on The John George Home visit
www.johngeorgehome.com/
.
…
Honor CU
recently announced their sponsorship for the 2013 Berrien County Youth Fair. "We are extremely excited to once again be a part of this great community event" says Berrien Springs branch manager, Kellie Eldridge. "Honor will partner with the BCYF to provide discounted ride wristbands at all of our Berrien County branches beginning in early July."
In addition to the ride wristbands, Honor Credit Union will provide volunteers at the entry gates and sponsor the country music concert featuring Jerrod Niemann, held on Wed, Aug. 14. Last year Honor distributed over 400 bandanas and 600 sunglasses to BCYF visitors. "The Berrien County Youth Fair is one of the most exciting events for the Honor team and we look forward to August every year. We are continually developing ways to enhance our partnership with the Youth Fair," comments Jeff Pisarsky, director of marketing at Honor.
For more information call 1-800-442-2800, or visit
www.honorcu.com
.
…
OMNI Community CU
is now accepting applications for the 2013 OMNI Scholarship Program. Six scholarships will be awarded to graduating high school seniors who are furthering their education at a college, university or vocational school. Five non-renewable $1,000 OMNI Scholarships will be awarded to students based on their GPA and a written essay. One non-renewable $2,000 McCulley Scholarship will be awarded to a student based on GPA, written essay and a proven track record of community service.
"Assisting our young members in their pursuit of higher education is one of the best things we can do," said Ted Parsons, OMNI CEO, "because education is something you can't be short on. Whether it's education in the classroom or their bank account, OMNI wants our young members to know we support them."
All OMNI members who are graduating high school seniors and wish to apply can pick up a scholarship application at their high school guidance office or visit OMNI online at
www.omnigivesback.org
. All applications must be received by June 1. For information on becoming a member, call 866-OMNI-WOW.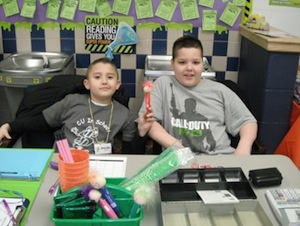 Wattles Park Elementary CU In School Winter Volunteers: (L-R) Zach R. (Assistant Manager) and Carter M. (Branch Manager).
…Marshall Community CU's CU In School branch at Wattles Park Elementary School recently celebrated its one-year anniversary. The WPE CU In School branch currently has over twenty student members whose savings total more than $1,600 since its opening in January 2012.
MCCU's CU In School program consists of a student-run credit union branch, open weekly at the school for all 1st through 4th grade students, teachers and staff members. The WPE branch is open each Wednesday morning and is run by 4th grade student volunteers. Current volunteers, Carter M., Blake M. and Zach R. say that they enjoy working for CU In School because they like helping people save their money. Interested 4th grade students can sign up to volunteer for CU In School by filling out and returning a Student Volunteer Application (available on MCCU's website at marshallcommunitycu.com). Applicants are then interviewed and "hired" for positions ranging from branch manager, assistant manager, bookkeeper and teller.
All 1st through 4th grade WPE students are encouraged to participate in CU In School and start their very own savings accounts. CU In School is designed to help school-age children learn valuable money management skills along with how to set and achieve financial goals. With a CU In School membership, students will receive a savings folder and dividends paid to their account monthly, just like all credit union members. CU In School members also earn incentives for saving and meeting goals and are invited to all MCCU youth events. To sign up for CU In School, parents must fill out and return a CU In School application available on MCCU's website and in the school office.
For more information about the CU In School program, contact Andrea Tucker, MCCU Financial Education Coordinator, at (269) 781-9885 or by email at andrea.tucker@marcomcu.org.
…National Credit Union Youth Week is celebrated nationwide during the week of April 21and TLC Community CU is taking part. This year's theme at TLC is "Find out why kids MUSTACHE their CASH"! TLC promotes the value of saving money so children can build financial strength for the future.
TLC's goal is to help kids and their parents build a strong, healthy relationship with money through financial literacy. During Youth Week, parents are encouraged to open a youth account for their child or grandchild. An account can be opened with as little as $5. With every new account opened, your child will receive a piggy bank or have the child make a deposit into their existing account and receive a special gift.
On Wednesday, April 17 from 10:45 a.m. to 12:45 p.m., WLEN radio will hold a live radio remote at Lincoln Elementary School in Adrian, one of TLC's student-run credit union branches in Lenawee County. Students from Lincoln will participate in the live remote. Youth will have a chance to tell what their favorite part of the Youth Financial Literacy program is along with what they each are saving for.
Through TLC's Youth Financial Literacy Program student members are encouraged to set savings goals, make wise spending choices and create a plan for their future. Students who participate find it is a great way to learn about financial responsibility and have fun at the same time.
TLC Community CU is proud to be teaching financial responsibility to the youth in Lenawee County. TLC currently has 16 student-run credit union branches established in Lenawee County. Each branch simulates the functions and roles of a real branch.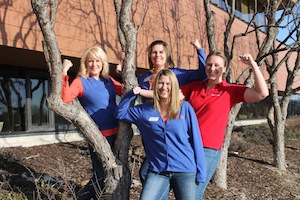 Catholic FCU employees participating in Financially Fit Day. Pictured back row left to right: Kelly Prast, Ann Lagalo, Leslie Fall; Front row: Theresa DeLong
… Catholic FCU staff sported jeans on April 3 to support the National Credit Union Foundation's Financially Fit Day. Over $130 was raised for financial literacy.
Catholic Federal CU is a full service financial institution offering loans, savings accounts and checking accounts. The credit union has locations in Bay City, Essexville, Saginaw and Vassar.
…
Michigan Schools and Government CU
has partnered with Experian, one of the country's three major credit bureaus, to bring a new workshop all about credit scores.
"Nearly half of adults in the United States don't know their credit score," said Consumer Education Specialist Colleen Godfrey. "There are multiple factors in determining an individual's credit score and that number can affect employment, loan approvals, and even interest and insurance rates."
The workshop, "Learning to Live Credit Smart: Credit Report and Score Basics that Will Help You Get the Credit You Need," will be facilitated by Peggy Ruthven of Experian and will take place on April 30 at 6 p.m. in the Community Room of the Credit Union's Main Branch, located at 40400 Garfield Road, just south of 18 Mile Road, in Clinton Township."Learning to Live Credit Smart will explain some terms and conditions of a credit report so that attendees can better understand what is in a report and how that report can impact their lives," said Godfrey.
Registration is required for this event and seating is limited. Call (586) 263-8800, option 0 or e-mail
workshops@msgcu.org
.
…The CU Collection Consortium is hosting their final regular meeting of the season from 2 to 4 p.m. on April 10. The final meeting will take place at Affinity Group CU, 144 E. Pike in Pontiac. The meeting will feature Tami White of Holzman Corkery, PLLC and topics of discussion will include bankruptcy basics and consumer loans. For more information call Affinity Group CU at (248) 334-0568.
Submissions to Monitor may be
emailed
. Bryan Laviolette is the editor of Monitor. Contact him
by email
or call (800) 262-6285, ext. 233. The newsletter of the Michigan Credit Union League is published Monday mornings or Tuesday mornings when Monday is a holiday. There is no Monitor the week after Christmas and the week after the Annual Convention and Exposition. The MCUL reserves the right to edit submissions for clarity and space.