Iconic CBS Video Billboard in New York's Times Square Showcases aSmarterChoice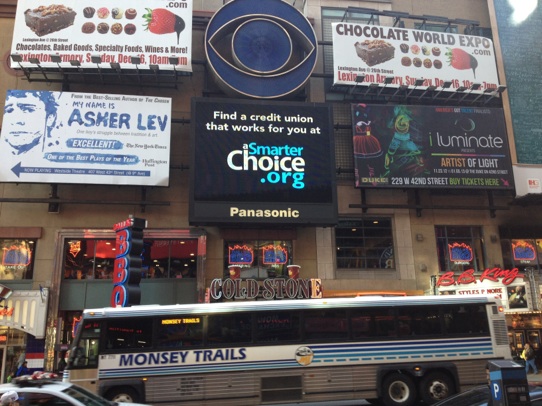 CUNA has an ad for aSmarterChoice.org on the iconic CBS video board at Times Square through July 4. If you are in New York this summer, take a picture in front of the ad and we'll run it in Monitor and on our facebook page.
Throngs of people moving through one of Manhattan's most bustling thoroughfares, Times Square, will see a message in the neon lights letting them know they'll get better rates and lower fees by switching to a credit unions, and urging them to find one at www.aSmarterChoice.org CUNA has arranged for the message to run hourly on the iconic CBS video screen on the famed 42nd Street through July 4, a period that also encompasses CUNA's America's Credit Union Conference in New York City June 30 through July 4 at the nearby Hilton New York.
"CUNA and the leagues developed and launched aSmarterChoice to raise consumer awareness about credit unions and grow membership," noted Paul Gentile, CUNA EVP of Strategic Communication and Engagement. "We are thrilled to have our message running so prominently in one of the most famous venues in the world, during one of its busiest periods."
More than 450 million people pass through Times Square annually, and some 60,000 cars cross 42nd Street and 7th Avenue every day. CUNA's video billboard ad for aSmarterChoice will appear over an eight-week period when New York will celebrate such high-profile events as the Tribeca Film Festival, Memorial Day, the AIDS Walk, Father's Day and Independence Day.
The 15-second ad will be shown throughout the day and evening, repeating hourly on the CBS Screen, which is 26 feet wide and 20 feet high. The message tells consumers if they want a financial institution they can actually trust, go to a credit union, where they'll find better rates, lower fees and no stockholders competing against their interests. The logo and URL for www.aSmarterChoice.org are displayed throughout the message's duration.
"Since launching the site, we've seen a significant spike in visitors whenever it is featured in the media," Gentile noted. "We anticipate a significant boost in traffic to the site as a result of this ad run in Times Square. That means more people from all walks of life discovering and joining credit unions. It is a great example of how we are putting our new strategic vision into practice."
Raising awareness about credit unions is a key tenet of the strategic vision that CUNA President Bill Cheney debuted at CUNA's GAC. "Uniting for Good" to raise awareness, remove barriers and foster service excellence will achieve a vision where "Americans are choosing credit unions as their best financial partner."
If any credit union people from Michigan find themselves in Times Square before July 4, snap a picture of yourself in front of the ad for www.aSmarterChoice.org and we'll share it in Monitor and on our facebook page. Share it with us at Monitor@mcul.org.
Submissions to Monitor may be
emailed
. Bryan Laviolette is the editor of Monitor. Contact him
by email
or call (800) 262-6285, ext. 233. The newsletter of the Michigan Credit Union League is published Monday mornings or Tuesday mornings when Monday is a holiday. There is no Monitor the week after Christmas and the week after the Annual Convention and Exposition. The MCUL reserves the right to edit submissions for clarity and space.