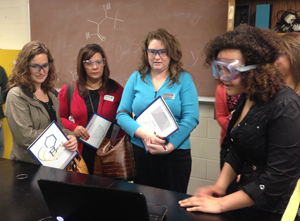 From left are Lindsay Thomas, marketing manager; Jessica Kehrer, regional manager; Kellie Eldridge, Berrien Springs branch manager at the BEST Early Research Symposium on the campus of Andrews University in Berrien Springs.
… Honor CU sponsored the annual BEST Early Research Symposium at Halenz Hall on the campus of Andrews University in Berrien Springs on April 26. The annual event was created to promote an interest in science and technology among local youths. The symposium featured the best scientific work of RESA students from around Berrien County. The symposium is championed by Dr. Desmond Murray, associate professor of chemistry at Andrews University, with more than 17 years of college and high school teaching experience. Murray is the recipient of the 2012 College Science Teacher of the Year from the Michigan Science Teachers Association. "We were very excited to be a sponsor of the great event," said Kellie Eldridge, branch manager of Honor CU's Berrien Springs office. "We enjoyed seeing the passion that the students had toward their research, and we're already looking forward to next year." The symposium was launched with a video message from Rep. Fred Upton, R-St. Joseph and Sen. Debbie Stabenow, D-Lansing, recognizing the accomplishments of the students and their support of the program.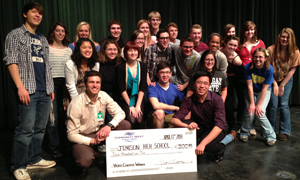 Video contest winner Calvin Tran (holding the right side of the check) chose to have Community West donate $500 to the Jenison High School Bravo Theater Group.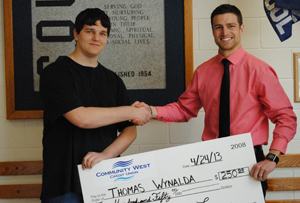 Winner Thomas Wynalda, left, and Brandt Becker, Community West Business Development Manager).
… Community West CU recently partnered with four local high schools to help educate students on financial issues. During the month of March, students had the opportunity to create and submit a video on a financial topic of their choosing. The credit union received three creative videos from students at three of the four participating schools. The video topics the students decided upon were on saving money, the housing market and what you'd do if you found $1,000. After the videos were submitted, Community West had a two-week voting period on its Facebook page and the results were outstanding. The page received more than 50 new "fans" and the videos combined for more than 1,000 likes and 183 shares to other Facebook pages. "The voting came down to the wire and in the end, only one vote separated the top two videos. Because of that, we decided to award both video creators and their schools the prize money," Community West Marketing Director Jillian Gajtka said. The initial rules also stated that Community West's Youth Advisory Board would select one video as the Best Financial Teaching video. The video on saving your money was selected as that winner. Through this contest, the credit union awarded each creator $250 and donated $500 to a school club of the winner's choosing for the two Facebook-winning videos. The student creators of these videos decided to donate the money to the Caledonia High School Prom Committee and the Jenison Bravo Theater Group. "In the end, I believe this contest accomplished what we set out to do, which is continued financial education for our youth," Gajtka said. "Students hopefully learned something from watching these videos and both the students and schools benefitted." To view the video entries, visit the videos section of the credit union's Facebook page www.facebook.com/CommunityWestCreditUnion.

... Washtenaw FCU in Ypsilanti was awarded a$1,589 grant from the NCUA for the agency's Student Internship Grant Initiative. NCUA announced the award of $80,000 dollars in grants to 22 low-income credit unions across the country. The Student Internship Grant Initiative provides eligible low-income designated credit unions with up to $4,000 dollars in funding for hiring student interns for the summer. The students hired will participate in a variety tasks, including implementing marketing plans, ensuring compliance and assisting with the credit union's operations. "A Student Internship Grant makes several good things happen," NCUA board Chair Debbie Matz said. "It provides students with paid work experience and introduces them to credit unions. It also gives credit unions a chance to add some helping hands and to connect with young people, who could be future members or industry leaders. I'm encouraged to see these low-income credit unions take advantage of this opportunity."
Helping Smaller Credit Unions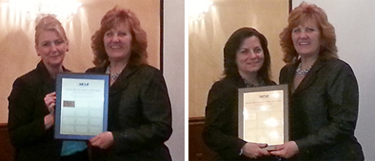 Janice Rose, CEO of E&A CU in Port Huron presents donor appreciation plaques to Drema Isaac, left, CEO of Central Macomb CU, and Lisa Burroughs, COO of Michigan Schools and Government CU for their credit unions' donations to the Michigan CU Foundation. Both credit unions made donations at the Gold Level ($1,000 or more). All Michigan credit unions are encouraged to support the MCUF with an annual donation. If your credit union has not already made an annual donation to the MCUF in 2013, consider joining the more than 80 other Michigan credit unions that support the MCUF by making an annual donation. Annual donations will be recognized at the following levels: Crystal: $0 to $249, Bronze: $250 to $499, Silver: $500 to $999, Gold: $1,000 to $4,999 and Platinum: $5,000 to $14,999.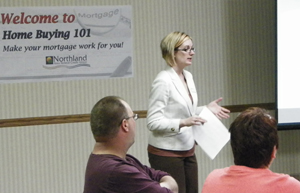 Oliva Corcoran, Northland Area FCU mortgage manager, conducts a mortgage workshop in East Tawas.
… Northland Area FCU had a free mortgage workshop, "Home Buying 101: Make your mortgage work for you!" on April 25 at the Tawas Bay Beach Resort in East Tawas. Northland Mortgage Manager Olivia Corcoran discussed many topics including: when it is a good time to refinance, steps for first-time homebuyers, explaining ARMs and credit repair tips. "The audience asked numerous questions, I was impressed," Corcoran said. "I really enjoy sharing my knowledge of mortgage products with people if it can help them in any way."
Complete a Survey, Get a Chance to Win 100 Bucks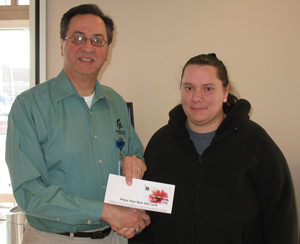 John Buckley, president/CEO of Gerber FCU awarded credit union member Sarah Knash with a $100 Visa Gift Card following a quarterly drawing of survey participants. Each quarter, Gerber awards a $100 gift card to a member who completes a short online survey. Tell us how we can better serve you at www.PR.YouAreGerberFCU.com and you may be the next lucky winner.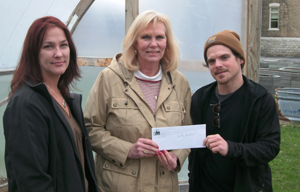 Jan Potter, center, from the Filer CU mortgage office, presents a donation to Britt Uecker, SEEDS Youth Corps Team Leader and Kevin Summers, SEEDS After School Program coordinator at Manistee High School.
… Seeking Ecology Education and Design Solutions – better known as SEEDS – connects with youth in Manistee and throughout northwest Michigan. Filer CU in Manistee recently made a $600 donation to the program. SEEDS worked closely with the local District Health Department, Healthy Manistee Coalition, Manistee Community Kitchen and a number of dedicated volunteers to establish the Sophia Street Community Garden. Now in its fourth season, the garden offers students an opportunity to learn organic cultivation techniques, entrepreneurship skills and become philanthropists as part of the SEEDS Entrepreneurial Community Gardening program. Kevin Summers, SEEDS After School Program coordinator at Manistee High School thanked the credit union for its donation. "The donation will support programs designed to provide young people with meaningful opportunities outside of school, jobs skills training and authentic opportunities for leadership while also increasing access to high quality, locally grown, organic produce for all of Manistee County. "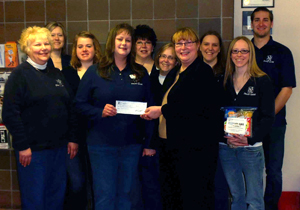 AAACU team members present a check for $2,000 to Feeding Kids Ministry.
… Alpena Alcona Area CU staffers raised $2,000 in donations for Feeding Kids Ministry of Alpena. This volunteer-based program, part of the GO Ministry at Resurrection Lutheran Church of Alpena, attempts to reduce child hunger and promotes nutrition and healthy eating habits. The ministry provides backpacks to more than 70 elementary students in the Alpena school district with enough food for the weekends when children are not receiving meals at school. This ensures their nutritional needs are being met at home. While children receive nutritious meals at school, many go hungry over the weekend. Volunteers place the backpacks in the children's lockers each Friday.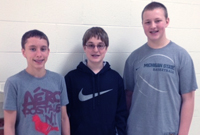 From left are Money Smart Week Junior Ambassador Contest winners Blake Ebner, Ryan Wade and Ryan Westrick.
… Marshall Community CU's Money Smart Week Junior Ambassador Contest winners were announced on April 18. This year, the Michigan JumpStart Coalition, along with the Federal Reserve Bank of Chicago, had a statewide Money Smart Week contest for middle school students. The contest had students create a PowerPoint Presentation about the World of Credit, explaining what credit is, the pros and cons of using credit and more. MCCU promoted the contest to area middle school teachers and encouraged the students to participate. A total of 20 presentations were submitted. Blake Ebner's won first place. Blake, an eighth grader at Marshall Middle School, won first place, earning him the title of 2013 Michigan Money Smart Week Junior Ambassador along with a $600 Apple gift card. MMS eighth grader, Ryan Wade, won second place and received a $500 529 College Savings Plan from JumpStart. And MMS eighth grader Ryan Westrick won third place and received a $250 529 College Savings Plan from JumpStart.
| | | |
| --- | --- | --- |
| Public Service CU CEO Dean Trudeau welcomes state Rep. Phil Cavanagh, D-Redford Twp., to speak with children at PSCU for Youth Week. | Cavanagh talks with children at Public Service CU during Youth Week. | PSCU Teller Michael Young teaches the students how to work the Drive-Thru window. |
… Students at Barth, Wick, Romulus & Halecreek elementary schools in Romulus visited a Public Service CU branch and met with Rep. Phil Cavanagh on April 25 as part of the 10th Annual Financial Literacy Legislative Challenge. This collaborative event brings together lawmakers, students, and financial professionals. It is a unique partnership which serves to build relationships between Michigan legislators and their constituents while providing students lifelong financial skills. "This day is always a great experience for the kids as well as the staff at PSCU," Public Service CEO Dean Trudeau said. "We take a lot of pride in supporting the financial education of our youth." The children were also given a tour of all the departments of the credit union where department staff engaged with them in fun activities to help them learn how that department helps the credit union to operate. After the completion of their "hands-on" experience in each department, staffers invited the students to lunch. During lunch, select students had the opportunity to teach their fellow classmates different facets of the credit union they have learned throughout the school year. April's Financial Literacy Month includes a variety of local workshops and programs put on by financial institutions across the state.
Checkpoint Community Alliance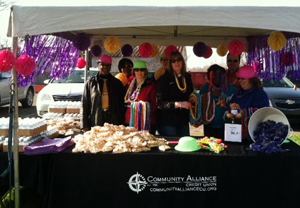 For the seventh year, Community Alliance CU hosted a checkpoint for the March of Dimes on Saturday, April 27 in Hines Park. The credit union raised more than $2,000. Money raised helps fund research to find out why premature birth happens and what can be done to prevent it. Premature birth is the no. 1 cause of newborn death and the biggest threat to babies' health today. We were very lucky to have great weather.
… Central Macomb Community CU announced its Sequestration Relief Plan for members affected by the furloughs that could result in a loss of income for government workers. Central Macomb, which began in 1957 on the current Selfridge Air National Guard Base, continues to maintain its strong military presence on Selfridge while also serving all those who live, work, worship or are educated in Macomb County. About one-third of Central Macomb's membership has a military affiliation. "Central Macomb Community Credit Union's foundation is deeply rooted in our military," president/CEO Drema Isaac said. "With the impending sequestration, or mandatory government budget cuts, many of our loyal members who work for the Department of Defense may be affected. The mandatory furlough, or layoff, could result in a 20 percent decrease in work schedule and pay for between seven to 14 weeks. As always, our number-one priority at CMCCU is our members, and we are prepared to assist them during these uncertain times." The plan outlines suggestions for: debt consolidation through an unsecured loan at 6.99% APR, refinancing auto loans at rates as low as 1.99% APR, or transferring credit card balances to a VISA with a 9.5% rate and 0 percent interest for up to six months. Central Macomb also offers an opportunity for spouses to apply for a part-time teller position to help offset the loss of income that might occur. In addition, members having difficulty making their mortgage payment are encouraged to speak with the mortgage department to work out a payment plan.

… TBA CU recently awarded four Traverse City area elementary schools grants to fund literacy and reading programs designed to supplement classroom instruction. Traverse Heights Media Paraprofessional Debbie Kuemin was awarded a $1,000 grant to purchase library materials intended to support the school's core curriculum. "Augmenting a school's library in turn builds student excitement for reading," Kuemin said. "These materials will benefit every student at Traverse Heights Elementary School for years to come." Grants were also awarded to Jessica Holton (Central Grade School) to purchase a reading comprehension toolkit, Paula Sandtveit (Willow Hill) and Karen Smith (Eastern Elementary), who used their awards to purchase phonics kits. TBA began offering Classroom Improvement Grants in 2006 as a way of helping educators fund programs in jeopardy of being eliminated due to budget cuts. Grant applications are available at tbacu.com. Educators in Antrim, Benzie, Grand Traverse, Kalkaska and Leelanau counties can apply.

… Marshall Community CU had its 62nd Annual Meeting at its main office in Marshall on April 19. In attendance were staff members, board members and special guests. This unique event provides an opportunity for management and elected officials to report to MCCU members/owners. MCCU board Chairman Tom Tucker conducted the annual business meeting, presenting the annual report and recognizing board members and special guests. MCCU CEO Heather Luciani recognized the employees of the credit union.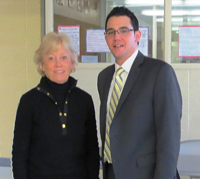 From left are Farmington Mercy High School teacher Lorraine Kusch and Credit Union ONE Farmington Branch Manager Paul Tocco.
… Recently Credit Union ONE visited a local high school and gave them some much needed information on the basics of financial fitness. As part of the school's curriculum, seniors at Farmington Mercy High School are required to complete a life skills class. Instructor Lorraine Kusch reached out to Credit Union ONE Farmington Branch Manager Paul Tocco about sponsoring the materials needed for the financial literacy portion of the class. It was during the conversation that Tocco and Kusch decided that it would be a great benefit to these students if Tocco could make a presentation on financial basics to the class. On March 12, 25 Mercy High School students participated in a financial presentation given by Tocco. "I enjoyed sharing general financial knowledge with these students and genuinely appreciated their open and honest questions," Tocco said. "Our participation in community programs such as this helps to establish good financial habits in our youth for their future." According to Mercy teacher Lorraine Kusch, "The class really enjoyed the presentation given by Credit Union ONE. Paul Tocco gave the students excellent information and they are looking forward to working on the financial booklets provided by the credit union."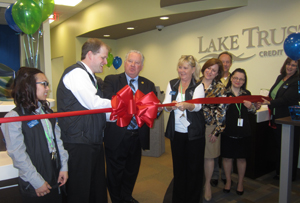 Auburn Hills Mayor James McDonald, middle right, helps Joseph Byers, Lake Trust Auburn Hills Branch manager cut the ribbon.
… Lake Trust CU is celebrating the Grand Opening of its Auburn Hills branch, located at 2550 N. Squirrel Road. The location is well-positioned in the busy storefront area of the Auburn Square Shopping Center, across from Oakland University and will create a new experience for members. Lake Trust representatives specialize in service and are cross trained in many specialty areas, creating more of a retail feel to the new location. At just 1,200 square feet, the location will be the smallest of all of Lake Trust's branches. "Our new branch brings a more significant presence in the area," said Kimberly Oblak, Lake Trust assistant vice president of retail sales and service. "It's much more accessible for our members. We really hope everyone will enjoy our new location as much as we enjoy being a part of this community." In preparation for this new experience, Lake Trust staff took on additional training and had team-building sessions. Staff and leadership teams worked side by side to learn to serve members in a new way. The organization is thrilled with the results, and was excited to showcase the branch during a grand opening week. "The new model will serve members in a nontraditional, open banking environment kind of way," Lake Trust Project Coordinator Terri Guastella said. "It's a great location to house this pilot right across from the university. We'll get a chance to see just how well it plays out with many different segments of our membership."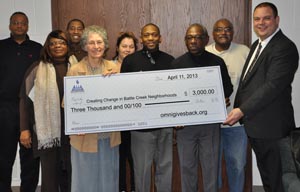 From left are the Rev. Timothy Troxler, Irene Moore, Rev. Craig Tatum, Rev. Colleen Nelson, Ginger Dowdle, Edward Harris, George Brown, George Gray and Mark Cramer.
… The Creating Change in Battle Creek Neighborhoods organization has been chosen as the recipient of a $3,000 OMNI "Gives Back" Grant from OMNI Community CU. The group brings residents together to make improvements in their community. Residents are trained to become empowered leaders who reach out to others to make needed change. Currently, CC is running a Block Captains Program in the Post-Franklin and Freedom Acres neighborhoods, along with the Tenant's Organization in Triangle Trailer Park. The Block Captains for the Post-Franklin and Freedom Acres neighborhoods are working with the city's chief of police to increase neighborhood safety and decrease crime in key areas of the city. Block captains for the Triangle Trailer Park are working on improving basic services, such as a properly working sewage system, clean water and parking lights. "We are proud to work with an organization such as CC," OMNI CEO Ted Parsons said. "These people are truly coming together to make the community a better place and we are so pleased to be a part of that through this grant."
| | |
| --- | --- |
| Kelli A. Ellsworth-Etchison, LAFCU vice president of community and business development, shows the CUNA Diamond Awards won by the credit union. | LAFCU's Great Credit Union Can-Do! Food Drive won a Diamond Award. |
… LAFCU won two CUNA Diamond Awards, one of which was named best in its category, for marketing and business development programs. Awards were received for the LAFCU My Way and Great Credit Union Can-Do! Food Drive initiatives. The award program drew 1,100 entries to the competition that recognizes outstanding work by credit union marketers. Kelli A. Ellsworth-Etchison, LAFCU vice president of community and business development, accepted the awards on behalf of LAFCU at the trade association's recent Marketing & Business Council Conference in Anaheim, Calif. LAFCU My Way, named best in the youth marketing category, is an ongoing financial education program launched last year. It engages community teens and young adults through an interactive website with blogs, videos and contests to help them understand the importance of managing personal finances. The website, LAFCUMyWay.com, is separate from the mid-Michigan credit union's official website and was promoted through print advertisements, event marketing and social media. "We created a virtual coffee house where young people share stories, express themselves and learn about financial issues in a unique and interesting way," Ellsworth-Etchison said. "It encourages peer-to-peer discussions about saving and spending money, offers educational material and provides access to several easy-to-use financial calculators and even free budgeting software." She said that CUNA measured the success of the program by user involvement in LAFCU's online activities and the significant increase in LAFCU checking, savings and credit card accounts for members under 25 during the program's first four months. The Great Credit Union Can-Do! Food Drive won a Diamond Award in the category of a community relations program for a single event. "The food drive began as an idea to visually show what could be purchased with $183, the amount that the Filene Research Institute estimated is saved by having an account at a credit union versus a commercial bank," Ellsworth-Etchison said. "A good deal of food can be bought with $183." LAFCU members, employees and the general public were encouraged by LAFCU through promotional materials and social media and supported by area media to donate to the food drive. Lowe's Home Improvement provided a shopping cart at each of LAFCU's six Lansing-area branches for food collection during three weeks in November/December. The carts and food were transported to the state capitol, where LAFCU employees pushed the carts down Michigan Avenue to the City Rescue Mission, 607 E. Michigan Ave. Media coverage helped remind area residents about the dire need for food in the community, especially during the holidays. "We're honored to receive such prestigious awards for programming we believe is essential to a successful community," said Patrick Spyke, LAFCU senior vice president of marketing. "As a mid-Michigan credit union, LAFCU and its employees are dedicated to helping educate and give back to the communities we serve."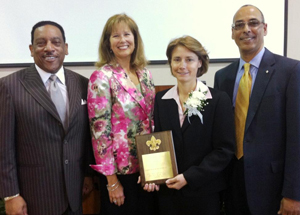 From left are Tom Kimble, member of the Baker College of Auburn Hills Board of Regents; Susan Ebeling, Baker College of Auburn Hills board chairwoman; Genisys President/CEO Jackie Buchanan and Richard L. Fisher, council executive for the Great Lakes Field Service Council.
… Genisys CU President/CEO Jackie Buchanan recently received the Pontiac Area Achievers Award from the Boy Scouts of America, Great Lakes Council. The Achievers Award is presented to individuals for their outstanding local community service work. Jackie Buchanan was one of four individuals who received the award this year, along with the Rev. James H. Keys Sr. of Monument of Faith Missionary Baptist Church, Jim Cunningham of Monarch Investments, and James M. Huttenlocher of The Huttenlocher Group. "It's truly an honor to be recognized with this award on behalf of Genisys Credit Union," Buchanan said. "We are very proud of our community involvement and will continue our commitment to giving back." The 27th annual ceremony to honor recipients took place on the campus of Baker College. Proceeds from the event will support various Scouting programs for the youth of the Greater Pontiac Area.
| | |
| --- | --- |
| Educational Community CU's Board of Directors include, from top: Chairman David Aubry, Vice Chairman Richard M. Cahow, Director Robert I. Goodwin, Treasurer Arthur Parker, Director Kimberley Rohr and Director Jeffrey Powless. Not pictured is Secretary Barbara Winter. | Carleen Kooistra receives the 2013 James E. Fetterolf Distinguished Service Award from ECCU CEO Charles Cornelius, honoring her extraordinary credit union service. "I truly enjoy helping members and have been blessed to get to know so many wonderful people over the years, both members and coworkers," Kooistra said. |
… Educational Community CU had its 78th Annual Meeting at the credit union's main office on March 19. Noteworthy accomplishments for the past year include the purchase of property and breaking ground for the credit union's new Gull Road Office, beginning the renovation and expansion of the credit union's Paw Paw Office, introducing new services for members including Guaranteed Auto Protection, Extended Warranty Protection, ECCU Mobile Banking and identity theft protection with credit monitoring through ID Protect. Plus, the credit union was ranked eighth-highest mortgage producing credit union in Michigan and achieved 13% growth (to $158 million) in ECCU's first-mortgage program. Incumbents re-elected to the Board of Directors for three-year terms were Richard M. Cahow, Jeffrey Powless and Kimberley Rohr. Table officers were elected as follows: Chairman David Aubry, Vice Chairman Richard M. Cahow, Treasurer Arthur Parker and Secretary Barbara Winter. During the business meeting, ECCU Telephone Services Representative Carleen Kooistra was honored with the 2013 James E. Fetterolf Distinguished Service Award in recognition of extraordinary credit union service. Kooistra was chosen because she exemplifies the credit union philosophy of "people helping people" and the ideal stated on the award plaque, "The Ultimate Worth of a Person is in Service to Others." Kooistra began her employment with ECCU in 1981, and in those 32 years, she has worked as a financial service representative, greeter, switchboard operator, loan clerk and has assisted with staff training. "Carleen listens carefully and encourages conversation with her members to determine their needs and continuously provides an extraordinary member experience," Call Center Supervisor Cheryl Smith said. "Carleen is a true jewel to the credit union." Kooistra said she's enjoyed her time at the credit union. "It has certainly been quite a remarkable experience working part-time at ECCU for so many years and witnessing the growth and changes," Kooistra said. "I really believe in the philosophy of 'people helping people' and strive to incorporate that into my work. I feel that people should always be treated with kindness, patience and respect and try to convey that to every member I speak with. I truly enjoy helping members and have been blessed to get to know so many wonderful people over the years, both members and co-workers."
Team members of Alpena Alcona Area CU's Tiger Branch get in the spirit of youth week.
… Alpena Alcona Area CU's Tiger Branch, a student-run credit union branch in Alcona School, celebrated National CU Youth Week by organizing activities that educated students on basic money matters while promoting problem solving and teamwork skills. Each year, the Tiger Branch coordinates activities during Youth Week for middle and high school students. This year they chose to play The Amazing Race during the lunch hour. Alcona students raced around the school and completed "financial" activities such as credit union trivia, writing checks and identifying security features of a $20 bill. Students who completed all of the activities received a goodie-bag and were entered in to win prizes. The goal of Youth Week is to start children on the path to lifelong credit union membership by educating them about their money, setting up savings accounts and rewarding them with prizes, all the while putting in the effort that increases loyalty in the parents of those youth. While Youth Week was officially celebrated nationwide April 21-27, AAACU will celebrate youth throughout the month of June. During youth month, young members will be encouraged to save and will have chances to win prizes and enjoy games and activities. More details will be announced in May.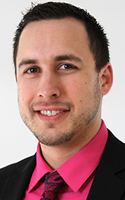 Clayson
… Lake Michigan CU has promoted Alex Clayson to branch manager of its Alpine office in Grand Rapids. Clayson joined LMCU as a part-time teller in 2006, and has moved up through the ranks to the level of branch manager. He is a Grand Valley State University graduate, with a degree in hospitality management and tourism. LMCU VP of Branch Operations Julie Hemmes said: "Alex possesses creativity, a positive attitude and a high drive to consistently grow and succeed. He strongly believes in member service excellence and teamwork. I'm confident that Alex will continue to build and strengthen relationships within the Comstock Park community." Clayson appreciates LMCU's commitment to promote from within. "LMCU values employee contributions and provides a very supportive environment for anyone who wants to grow professionally. I'm proud to work for a company that encourages community involvement as part of its culture. It's a company with a real corporate conscience." Clayson has lived in the Grand Rapids area his entire life. He enjoys the culinary arts, landscaping, pet ownership and house renovations in his spare time.
Submissions to Monitor may be
emailed
. Bryan Laviolette is the editor of Monitor. Contact him
by email
or call (800) 262-6285, ext. 233. The newsletter of the Michigan Credit Union League is published Monday mornings or Tuesday mornings when Monday is a holiday. There is no Monitor the week after Christmas and the week after the Annual Convention and Exposition. The MCUL reserves the right to edit submissions for clarity and space.