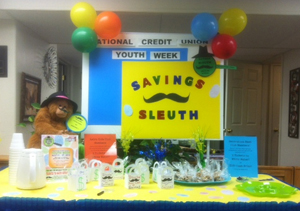 Service 1 FCU in Muskegon celebrated National CU Youth Week by giving all youngsters a goody bag of sleuthing items to help them "solve the savings mystery."
… Service 1 FCU in Muskegon celebrated National CU Youth Week in all of its branch locations. The week-long event highlighted their youth members and featured giveaways and sweepstakes. In the spirit of this year's theme "Savings Sleuth," all youth depositors received a goody bag of sleuthing items to help them "solve the savings mystery." The goody bags contained a booklet of financial puzzles, a fake mustache, a magnifying glass, a mood-changing pencil, notepad and some play money. In addition to CUNA's savings challenge, all youth participants who deposited money into their accounts during the week were entered into a random drawing for a chance to win tickets to a local water park. A 12-year-old Missouri girl won the tickets. Service 1 has a branch there. "Our young members rose to the savings challenge and we saw growth in the number of youth accounts opened during National Credit Union Youth Week" Service 1 CEO Joni Shinn said. "In total our young members deposited $9,625 into their savings accounts during National Credit Union Youth Week," Shinn said.

… MSUFCU recently invited its members and the Mid-Michigan community to join MSUFCU in supporting the Sparrow Children's Center toy drive. MSUFCU is proud to partner with the Sparrow Children's Center, a Children's Miracle Network hospital, to contribute new toys and items to the playroom, a resource where nurses and child life specialists help children recover from sickness and injury through play, education, and emotional support. "Giving back to our community is one of MSUFCU's core values, and we're happy to team up with the Sparrow Children's Center for this great cause," MSUFCU President and CEO Patrick McPharlin said. "MSUFCU staff and members never cease to amaze me with their generosity and enthusiasm for helping others."

... Credit Union ONE literally was on the line at the 2013 WDVD 96.3 Cares for Kids Radiothon April 26 at Beaumont Health Systems Royal Oak Campus. Credit Union ONE was the phone bank sponsor and provided onsite phone coverage at the radiothon as well as a back-up phone bank from its headquarters in Ferndale, Michigan. More than 35 credit union employees volunteered to work the phones during the event. In addition, the credit union contributed a Power Hour donation of $5,000 and will receive matching funds from the Co-Op Financial Services Miracle Match Program, bringing the total to $10,000 for the Radiothon. Credit union members were also encouraged to call in during the Power Hour to have their donation matched. The Radiothon raised more than $152,000, which exceeded the goal for the event. "We are happy we were once again able to lend support to such a worthy cause as the Children's Miracle Network and partner with Beaumont Children's Hospital in their endeavors to raise much needed funds," President/CEO Gary Moody said. The Radiothon, in its' sixth year, for the Beaumont Children's Hospital and Children's Miracle Network raises funds to provide lifesaving equipment, specialized pediatric programs and charity care to help thousands of kids in metropolitan Detroit. "Credit Union ONE continues to provide the perfect blend of corporate partnership and community benefit," said Tom McGannon, vice president-development for Beaumont Foundation.

… Genisys CU was the premier sponsor for the Let's Move Festival of Races in Mount Clemens April 27. The running event, which attracted 5,000 spectators and nearly 2,000 participants, was inspired by Michelle Obama's National "Let's Move" campaign to combat childhood obesity in America. The festival featured a 5K run, 5K walk, half-marathon, river walk, kid's festival, children's last mile run, fitness expo, free Zumba class and entertainment, promoting physical fitness to people of all ages. "This is the third year that the Let's Move Race has been held in Macomb," said Tom Gray, director of the Let's Move Race. "It is great to see runners from 16 different states travel to run along our beautiful waterfront." Proceeds from the festival will be returned to the Macomb community through grants that support healthy living education and physical fitness. "Genisys recognizes and supports the effort to combat childhood obesity," President/CEO Jackie Buchanan said. "We are glad to be a part of a festival that brings so many communities together and promotes healthy living."

… After realizing great success last year, Credit Union ONE brought back its Random Acts of Kindness Giveaway for its Facebook fans. "Random Acts of Kindness" was a promotion for fans of Credit Union ONE to randomly be selected to win a gift card ranging in value from $10 to $60. The promotion ran from April 1-19. Each week during the promotion, fans were randomly selected to win gift cards, for a grand total of 15 winners over the three week promotion. Winners selected were awarded gift cards to Kroger and Meijer grocery stores, with the grand prize winner receiving a $60 gift card. "Our goal was to engage the fans on our site, and to increase our overall fan base," said Swami Seetharaman, chief marketing officer of Credit Union ONE. "Not only did it increase our fan base, but it also created a lot of good will for the organization. Everyone loves it when they have an opportunity to win something and are asked for nothing in return."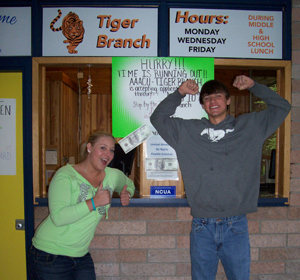 Errin O'Leary, Junior, and Nick Bouchard, Senior, Tiger Branch student employees, pose for a picture in front of the branch.
… Each summer Alpena Alcona Area CU hires two upper-class students to work at the Tiger Branch, located in Alcona Community Schools. The students train during the summer months by working at the AAACU Lincoln branch. When school resumes in the fall, the students then operate the Tiger Branch during their lunch hour conducting basic transactions for fellow students and staff. Tiger Branch Supervisor Missy Stoner works with the students. "The Tiger Branch has provided many opportunities for our students over the years such as; access to and learning about finances, jobs for upperclassmen, and fun and interesting 'financial games' during lunch and throughout the school year," Alcona Community Schools Principal Terry Allison said. This year, Alcona High School students Errin O'Leary and Nick Bouchard were employed at the Tiger Branch. This is Nick's second year as AAACU employee and he said it has been a good experience. "The credit union has taught me financial skills that will help me for the rest of my life," Bouchard said. "They have given me the opportunity to get involved in my community and fundraise for organizations in our area. As college approaches, I feel more financially prepared. Overall, I have been blessed to be given this opportunity and thankful for the memories and friendships."

… During April, Credit Union ONE had 20 events to celebrate its' youngest members with activities that appealed to children and families alike. One of the credit unions' partners, AAA Insurance of Michigan had Bike Helmet giveaways at the Credit Union ONE Berkley and Macomb branches, where children were fitted with free bike helmets and given great safety information. Approximately 100 children received bike helmets. Another partner, Liberty Mutual Insurance, had a 'Go Green, Save Green' Youth Week April 22-27, which focused on being good to the earth while saving money. Children visiting Credit Union ONE branches received small trees to plant, as well as activity posters and information on the new Saving Money Is Fun Kids Club. Adult members were encouraged to get an insurance quote and receive a chance to win a $75 Michigan State Park and Recreation gift card. "We are proud to partner with fine organizations such as AAA of Michigan and Liberty Mutual Insurance to bring safety and value to our members," Chief Marketing Officer Swaminathan Seetharaman said.


… United FCU teamed up with four local softball teams to raise more than $5,000 for Berrien Cancer Services at the third annual Pink Games tournament on May 11. UFCU sponsored the "Four Teams One Cause" commemorative T-shirts that were sold by the four participating teams from Lakeshore, St. Joseph, Coloma and Bronson High Schools. "The girls wanted to give back to the community and keep it local, choosing Berrien Cancer Services to benefit from the fundraiser," Pink Games founder Sherry Hiler of Stevensville and mom of Lakeshore High School senior softball player Megan Hiler said. Funds raised are earmarked for breast cancer patients for mammograms and treatments for those who cannot afford it. "We are thankful that United Federal Credit Union covered the expense of the 500 T-shirts, because 100% of the shirt money went to the cause," Hiler said. Each team wore special uniforms featuring pink for the one-day tournament, which coincided with the St. Joseph Invitational. Many local businesses donated prizes and services to the raffle held at the end of the tournament, with all raffle proceeds going to the cause.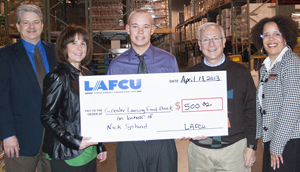 Mason High School senior Nick Sjolund, center, helps present LAFCU's $500 donation to the Greater Lansing Food Bank. Sjolund won the credit union's Write to Educate Scholarship essay contest. From left are Patrick Spyke, LAFCU's senior vice president of marketing; Kim Gladstone, development manager for the Greater Lansing Food Bank; Sjolund; food bank Executive Director Joe Wald, and Kelli A. Ellsworth-Etchison, LAFCU's vice president of community and business development.
… Mason High School senior Nick Sjolund has won the LAFCU "Write to Educate" scholarship and has selected the Greater Lansing Food Bank to receive a donation from LAFCU. The unique scholarship contest awards a $2,500 Lansing Community College scholarship to an applicant based on a one-page essay and makes a $500 donation to a charity selected by the winner. The essay topic was how the applicant uses social media and its impact on purchasing decisions. "Nick's essay was insightful," said Kelli A. Ellsworth-Etchison, LAFCU's vice president of community and business development. "It showed a depth of understanding and a caring for others beyond his years that was, frankly, overwhelming." Sjolund identified positive aspects of social media that he believes many overlook when discussing its effects on users. Included are ease of use when communicating with peers and distant family members, and the powerful, emotional effects of a single tweet, Facebook post or Instagram photo. He recounted how friends, family and even celebrities provided inspiration through social media to a friend battling cancer. When the friend passed away, Sjolund said that social media allowed friends to support each other. "Even though we weren't together physically, social media proved that we were not facing our friend's loss alone," he recalled. His essay is posted on the LAFCUMyWay.com. Sjolund plans to attend LCC this fall. He's considering studying business, but has not selected a specific program yet. Sjolund also helped present LAFCU's $500 donation to Joe Wald, executive director of the Greater Lansing Food Bank. Wald said the donation will provide nearly 3,000 meals for the hungry in the communities of Ingham, Eaton, Clinton, Shiawassee, Gratiot, Clare, and Isabella counties. As the Write to Educate scholarship winner, Sjolund had the opportunity to select the Greater Lansing Food Bank from four charity organizations identified by LAFCU. The other three organizations were the American Red Cross, Capital Area Humane Society and RAVE (Relief After Violent Encounter) in Clinton or Shiawassee counties. Selecting the Food Bank was an easy decision for Sjolund. For many years, his grandfather had asked relatives to donate to the Food Bank in lieu of giving him Christmas presents. "Donations of any size to local charities like the Food Bank are going to affect people's lives in a positive way," Ellsworth-Etchison said. "The community-giving component is part of our long-standing 'people helping people' mission."

… United FCU awarded $5,000 in college scholarships to six students through its corporate and state programs. UFCU scholarships are granted to outstanding graduating high school seniors based on academic achievement, community involvement, extracurricular activities, and an original essay. Winners include: Grace Cravens – $2,000 Corporate Scholarship – St. Joseph High School - St. Joseph. Grace's extracurricular activities included swimming, tennis, orchestra, National Honor Society, and lifeguarding. She was the senior chair for Fashion with Compassion, a vacation bible school leader, a camp counselor for Harbor Harvest Urban Ministries and cofounder of The Playground Project for Morton Elementary School. Grace will attend the University of Michigan. Maggie Szakacs – $1,000 Regional Scholarship – Munster High School – Munster, Ind. Maggie's extracurricular activities included NHS, student government, D.E.C.A., S.A.D.D., French Club, Project X and peer tutoring. Her community contributions include volunteering for Meals on Wheels, Relay for Life and her youth group at Westminster Church. Maggie will attend Purdue University. Drew Bryant – $500 Regional Scholarship – Reed High School – Sparks, Nev. Drew's extracurricular activities included football, baseball, wrestling and NHS. He volunteered for the Food Bank of Northern Nevada and the Juvenile Diabetes Research Foundation, recycled Christmas trees and served as a coach for Alf Sorense Basketball. Drew will attend the University of California, Berkeley. Stacy Mata – $500 Regional Scholarship – Holland High School – Holland. Stacy's extracurricular activities included basketball, cheerleading, volleyball, Young Life and LEAF. She was the Publicity Chair for National Honor Society, an Oasis summer camp counselor, a WOW Vineyard youth teacher, a Freedom Village volunteer and has served as a missionary. Stacy will attend Hope College. Hannah Putman – $500 Regional Scholarship – Alma High School – Alma, Ark. Hannah's extracurricular activities include choir, tennis, French Club, and school musicals. She was a youth mentor at her church, assisted with Tuscaloosa and Joplin Tornado Relief programs, and volunteered for National Honor Society and the Nazarene Youth Conference. Hannah will attend Olivet Nazarene University in Bourbonnais, Ill. Jay Kaiser- $500 Regional Scholarship – Highland High School – Highland, Ind. Jay's extracurricular activities included band, German Club, German National Honor Society, Academic Decathlon and NHS. His community contributions included volunteering at his church and local library. Jay will attend Indiana University in Bloomington. Eligibility for scholarships includes active membership at UFCU for at least one year, demonstration of dedication to community service, and acceptance into an accredited college, university, or trade school for the upcoming fall term.

… Genisys CU was honored by Michigan credit union political action committees MCULLAF (federal PAC) MCULAF (state PAC) for its efforts in raising money. MCULLAF presented Genisys with the "Presidents Award," which is goes to the credit union that raised the most money in Michigan for the PACs. Genisys was also presented with the Gold Star Credit Union award on behalf of MCULAF. The Gold Star Award is presented to credit unions that achieve 100 percent participation in the Lapel Pin Program, as well as reaching 100 percent of the MCULAF fundraising goals. "We are very proud to receive these two awards," said Lon Bone, vice president of public relations and community involvement. "Genisys is very committed to strengthening the political involvement of credit unions across the state."

… United FCU joined former Secretary of State Colin Powell, CBS newsman Bob Schieffer, and other national dignitaries to deliver an award-winning democracy program to educate youth in southwest Michigan about the U.S. Constitution, encouraging them to become active participants in the democratic process. The program, created by the Committee for Citizen Awareness and sponsored by UFCU, involved two major components: an educational DVD and an interactive website. The first component was an educational DVD about the U.S. Constitution featuring Constitution scholar Caroline Kennedy Schlossberg, daughter of President John Kennedy; Michigan Congressman Fred Upton; and UFCU President/CEO Gary Easterling. This award-winning DVD "We the People…The U.S. Constitution and You" was distributed at no cost to all high schools, community colleges and public libraries in the Sixth Congressional District of Michigan. This video program is frequently used by teachers during celebrations of Constitution Day on Sept. 17. The second component was citizenawareness.org, an interactive website with a youth opinion poll of the month, developed in consultation with George Gallup Jr. The website provides young citizens with a source for information about their representatives and government. In addition to the monthly opinion poll, the site contains trivia and quizzes about the U.S. government, as well as information about how students can contact their congressional representatives. "At United Federal Credit Union, we believe it is important that our nation's youth know their constitutional rights and understand how our government functions so they can become actively engaged," Easterling said. "This is a great program for our community."

… MSUFCU has expanded its electronic services with the launch of eAlerts, real-time notifications sent via email or text message to members based on the recurring or one-time alerts they choose to receive regarding general credit union or account-specific information. The free eAlerts service, developed in-house by MSUFCU, allows members to have more control over their accounts, prevent fraud, and benefit from the convenience of quickly receiving any information they need regarding their accounts. General eAlerts are available with information such as financial tips, rate changes, and upcoming events and seminars. Members may also choose to receive account-specific eAlerts including notifications when an account's balance falls below a certain threshold, if a loan payment is coming due, or when a check clears the member's account. Additional information about MSUFCU's eAlerts service is available at www.msufcu.org/eAlerts. MSUFCU is hosting a special Text to Win contest for its members to promote eAlerts. Members may text texttowin to 678328 by June 30, to enter to win an iPad Mini or one of eight iTunes gift cards. "We always strive to find new ways to better serve our members at MSUFCU and are excited to expand and improve our electronic services with eAlerts," MSUFCU President and CEO Patrick McPharlin said. "With nearly 20% of MSUFCU members living outside the state of Michigan, services like eAlerts provide additional, convenient ways for all our members to manage their accounts no matter where they're located."

… The Humane Society of Southwest Michigan had its fifth annual Bids For Barks fundraiser on May 18. This year, 100% of the proceeds were dedicated to the Humane Society's new building fund for a new shelter. Powered By Honor®, Honor CU's charitable fund, was the first to donate, presenting a check for $1,200. "When the Humane Society first announced their plans to raise money for the new shelter, the Powered By Honor committee knew it was something we wanted to help with," said Angie Rynearson, Powered By Honor board member. "Powered By Honor was created so that Honor Credit Union could partner with our communities on an even greater level. Supporting community organizations like the Humane Society is right up our alley." Powered By Honor® funds many of Honor's current community programs as well as the donations made throughout the year to various organizations. Powered By Honor® is funded through a wide range of channels including employee donations, proceeds from Honor's Member Perks program, a portion of Honor's debit and credit card fee income and fundraising activities.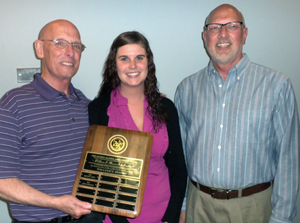 Jeff Trelfa, left, vice chairman of the AAACU board and Charlie Negro, board treasurer, present the William S. Moors Scholarship to Jaimie LaBrecque.
… William S. Moors Scholarship was created in memory of the past president and board member of Alpena Alcona Area CU. The $500 scholarship is awarded each year to an AAACU team member who is attempting to better themselves personally and professionally in a college degree program that could eventually lead into an area of credit union management at AAACU or in the credit union industry. The 2013 recipient of the William S. Moors Scholarship is Jaimie LaBrecque. LaBrecque is currently working part-time at the Alpena Main branch as a loan clerk while furthering her studies at Alpena Community College. In the spring of 2014, LaBrecque will graduate with an associate's degree in accounting. She plans to continue on to earn her bachelor's degree in accounting from Northwood University.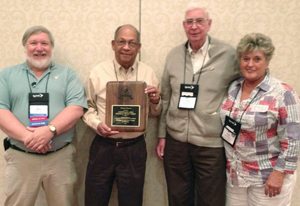 Northland board members Michael Palumbo, left, Howard Spencer, Jerry Erickson, Judy Sharma accept the DesJardins award.
… Northland Area FCU board members accepted a first place DesJardins Award at the MCUL & Affiliates Annual Convention and Exposition held in Detroit. The prestigious award was for Leadership in Adult Financial Education. "It's such an honor to be involved with an organization where people matter," said Howard Spencer, recently re-elected board chairman of both Northland board as well as the MCUL board. In addition to adult classes, Northland also reaches out to several school districts and teaches financial classes from kindergarten through high school levels at no charge. Northland's staff and volunteers believe that financial literacy taught at every age level can only serve to strengthen our communities. It's worth every effort to help break the cycle of poverty that often occurs in families without financial role models." Northland provides free financial workshops in several northeastern Michigan counties on subjects such as Basic Budgeting, Understanding Mortgage Options and Improving Credit Score as well as cautionary subject matter such as Identity Theft and Predatory Lending. Workshops are free and open to the public. For more information, or to request a workshop in your community, contact Northland at (800) 336-2328, ext. 274.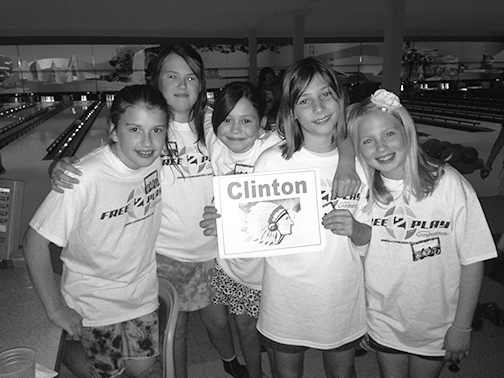 Student Branch Employees celebrate at Lenawee Recreation. From left are Jena Hawkins, Emily Kirk, Megan Whiting, Payton Wyman and Arianna Maylone.
… TLC Community CU's Youth Financial Literacy program staff hosted a party for its student employees from the student-run credit union branches on May 18. Staffers and students celebrated a year of learning at Lenawee Recreation. The event included two games of bowling, pizza and beverages. Each student received a token of our appreciation and several door prizes were also distributed. Griffin Reynard and Ethan Pence, TLC student employees from Sand Creek, said they have enjoyed working with TLC. "I liked counting the money and I want to be a teller like my Mom," student Tia Hunt said. "It improved my ability to count money and my overall math skills." "This event unites all the students around the county to celebrate his or her individual and school's success within the program," Youth Financial Literacy Manager Barb Rupley said. TLC is excited about teaching financial responsibility to the youth in Lenawee County. TLC currently has 16 student-run credit union branches in Lenawee County. Each branch simulates the functions and roles of a real branch. There are student branch managers, tellers, auditors, computer operators, and bookkeepers with specific duties. The student branches accept and process deposits weekly. Student members are encouraged to set savings goals, make wise spending choices and create a plan for their future. Students who participate find it is a great way to learn about financial responsibility and have fun at the same time. TLC would like to thank the following organizations that donated to the event: Adrian College, Alpha Koney Island, city of Adrian, Lenawee Rec, Lenawee County Fair, Siena Heights University, The Spotted Cow, The Centre, Ten Pin Alley, YMCA, and Free 2 Play powered by The Gray Institute. Special thanks to Gary and Cynthia Gray for donating T-shirts to every student.

… Astera CU provided financial literacy classes to nearly 100 students in the Grand Ledge and Holt schools during the 2012-13 school year. The course seeks to fill a growing need for financial education for youth, covering such topics as choosing a financial institution, saving, budgeting, checking and debit cards, credit, loans, financial technology and fraud prevention. Astera presents these classes free of charge to the schools, with programming and interactive activities developed by credit union staff. The classes meet once a week for six weeks. "Astera's six-week financial literacy course has been a very helpful supplement to my business finance class," said Lucas Schrauben, business education teacher at Grand Ledge High School. "I have found that the stories and experiences that Astera's industry professionals have shared with my students has provided a valuable learning opportunity for them." "Astera CEO and President Margo Kleinfelt said the classes are just one way the credit union uses to urge members to take care with their finances. "We continually encourage our members to be responsible with their finances. So it seemed a natural fit to encourage our younger members to be better prepared from the very beginning."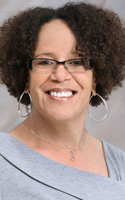 Ellsworth-Etchison
… The Rotary Club of Lansing presented member Kelli Ellsworth-Etchison, vice president of community and business development at LAFCU, with the Paul Harris Fellow Award at the April 5 Rotary meeting at the Lansing Center. "We value the support and financial contributions Kelli has provided to our local programs," said Rotary President Susan Carter. "She's an ideal model for Rotarians." The Paul Harris Fellow Award is named for the founder of Rotary International and honors distinguished donors to Rotary-sponsored programs. Donations to the programs support a wide range of activities such as disease prevention and treatment, sanitation, conflict resolution, literacy and education, and community development. Ellsworth-Etchison has been a Rotary member since June 2002.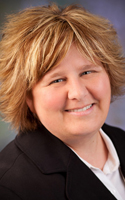 Davis
… Ted Parsons, CEO of OMNI Community CU, announced the promotion of Shawn Davis, to branch manager at the credit union's Fort Custer office. Davis attended Kalamazoo Valley Community College and has been with OMNI since 1998. She started out as a teller. "Shawn is a pleasure to work with and the teams she has been on really enjoy working with her," Parsons said. "Working at this branch is a completely new experience for her, and we are excited for our membership at Fort Custer to work with such a skilled team member."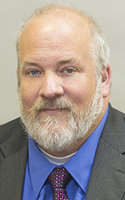 Thomas
… Ken Thomas has been appointed manager of learning and development for United FCU. Thomas will be responsible for leading training and development initiatives within the United human capital business plan. Thomas was previously the president/instructional designer at Rocky Mountain Alchemy, an instructional design company in Denver, specializing in improving employee performance through interactive learning. There he designed and developed e-Learning and instructor-led courseware solutions, as well as conducted organizational analyses to support hiring/retention strategies and performance improvement for clients across multiple industries. Thomas' learning and development background includes instructional design leadership positions with Express Scripts Inc., Qwest Communications and Interactive Media Corp. Additionally, he has served as adjunct faculty for the University of Denver and as a guest lecturer for the Universities of Colorado and Virginia. Thomas earned a master's degree in information and learning technologies from the University of Colorado and a bachelor's degree in speech communication from the University of Maryland, where he also studied training and development/organizational communication. Thomas is an avid Colorado Rocky Mountain snowshoer and hiker, as is his trusted Samoyed/Chow-Chow mix, Taatje. They now reside in Southwest Michigan.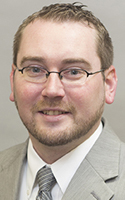 Mortimore
… Michael Mortimore has been appointed director of underwriting for United FCU. He will be responsible for managing the credit union's business, consumer, and mortgage credit underwriting standards. Prior to joining UFCU, Mortimore was a senior underwriter at PNC Bank where he oversaw new loan and structural requests pertaining to large commercial loans. He also coached and mentored underwriters on decision making and departmental policies and processes and ensured compliance with internal bank policy and federal regulations. His previous financial experience included positions as credit analyst and associate relationship manager at PNC Bank. Mortimore earned a bachelor's degree in finance from the Michigan State University Eli Broad College of Business. He and his family reside in Grand Ledge.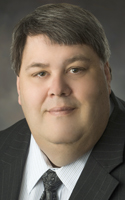 Wilson
… Dow Chemical Employees' CU hired Carl Wilson as its new information technology director. Wilson will be responsible for supervising employees and managing DCECU's enterprise information services and security. He also will evaluate technology systems, ensure that DCECU's technology infrastructure is operating efficiently and accurately and develop programs and strategies to address DCECU's evolving technology needs. "Carl, who has three decades of IT and business experience, started his career as a programmer for the Internal Revenue Service," DCECU President/CEO Dennis Hanson said. "Most recently, he was chief operations manager for Holcim Inc. in Dundee, a leading manufacturer of cement and building materials worldwide." Wilson has a bachelor's degree in computer information systems from Madonna University and master's of business administration degree from Bowling Green State University. "I'm really happy to have Carl join our team," said Art Peters, DCECU vice president of information technology. "DCECU brings great value and benefits to its members and the community, and Carl will help us continue to provide the products and services our members have come to expect."
… MSUFCU has promoted Dennis Dorogi to eServices manager, Cruz Martinez Jr. to information technology help desk manager and Jacob F. Wootten to business operations manager. "Our mission starts from the inside out, building the dreams of staff through challenging and rewarding opportunities. These three promotions are of MSUFCU employees who have taken advantage of growth opportunities within the credit union. Each new manager will bring a high level of experience and leadership in their new positions," President and CEO Patrick McPharlin said. Dorogi has been with MSUFCU since September of 2008, and was previously a call center manager. He received a bachelor's of business administration degree in economics from Eastern Michigan University. He also serves on the Business Development Committee for Downtown Lansing Inc. Martinez has worked at MSUFCU since November 2008, and was previously a network administrator. He is currently pursuing his degree in computer networking and information security at Lansing Community College. Wooten began working at MSUFCU in January 2012 as the assistant business services manager before being promoted to business operations manager. He holds a bachelor's of business administration degree in personal financial planning from Western Michigan University.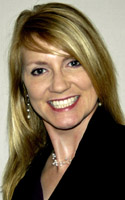 Krause
… Lake Michigan CU announced the promotion of Valerie Krause to branch supervisor at its St. Joseph branch. Krause earned her bachelor's degree graduating cum laude at Siena Heights University. Prior to joining LMCU in 2010, Krause was executive officer of the Southwestern Michigan Home Builders Association. Krause said she found a natural match with LMCU. "What I like most about working here are the people," she said. "We have a great team with a positive attitude - always willing to step up and lend a hand. We support each other through it all, and that's a rare thing in many work places." "Valerie brings years of financial experience to LMCU," said Jeff Cassada, director of branch operations SW. "Her skill set is a wonderful fit for our St. Joseph branch and its community." Living in Coloma, for much of her life, Krause has an eclectic range of outside interests. She enjoys cheese making, beekeeping, brewing beer as well as making her own wine and maple syrup. She also enjoys camping, photography, gardening and cooking. She and her husband have two children (ages 17 and 19).
Submissions to Monitor may be
emailed
. Bryan Laviolette is the editor of Monitor. Contact him
by email
or call (800) 262-6285, ext. 233. The newsletter of the Michigan Credit Union League is published Monday mornings or Tuesday mornings when Monday is a holiday. There is no Monitor the week after Christmas and the week after the Annual Convention and Exposition. The MCUL reserves the right to edit submissions for clarity and space.