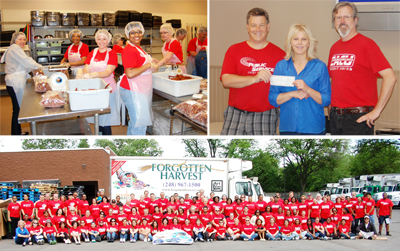 The Metro West Chapter supported Forgotten Harvest in a big way earlier this month.
... Eight Metro West Chapter credit unions got together to support Forgotten Harvest in a big way. Volunteers from Public Service CU, Communicating Arts CU, Catholic Vantage CU, Village Community CU, Co-op Services CU, Community Financial CU, Unified CU and Parkside CU gave of their time at the Forgotten Harvest warehouse on Saturday, June 1. The chapter also organized fundraisers and raised $13,678 which they presented to Forgotten Harvest to use in distributing over 68,000 meals for the needy. For more information on how you or your organization can help Forgotten Harvest, you can reach them at www.forgottenharvest.org.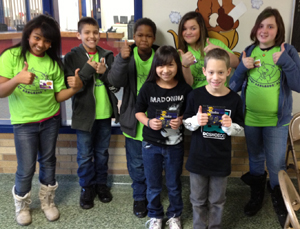 Several students won FinancialEdge Community CU's state quarter challenge.
… FinancialEdge Community CU and Washington Elementary wrapped up another successful year with the student-run credit union. The student branch ran from Nov. 7 through May 22. Bringing FinancialEdge to the school is a great opportunity for students to learn firsthand the advantages of saving money. "FinancialEdge brings personal finance education into the school throughout the year with our partnership. They are a wonderful asset to our community," Washington Elementary Principal Judy Cox said. Some fun activity challenges the students were able to participate in included four state quarter challenges. Clues were given for a state and students had to guess which state it was. The prize for the winners was a brand new set of state quarters for the state they guessed. The student-run credit union at Washington Elementary also had a promotion where each deposit a student made was an entry to win. There were three main prize promotions throughout the year.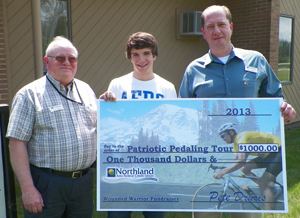 Gary Vick, left, USAF CM Sgt. (Ret.), and Northland CEO Pete Dzuris present a $1,000 check to Tawas Area High School student Luke Wiltse for his Wounded Warriors Patriot Pedaling Tour.
… Northland Area FCU CEO Pete Dzuris and Financial Analyst Gary Vick, USAF CM Sgt (Ret.), stopped by Tawas Area High School on Thursday to present a $1,000 donation to Luke Wiltse for his Wounded Warriors project. Wiltse's Patriotic Pedaling Tour is a 2,900-mile, one-man bicycle tour from Seattle to Oscoda, Mich., to raise money for Wounded Warriors. The 17-year-old high school junior's goal is to raise $20,000. "We're so impressed by this young man's efforts," Vick said. "After 23 years in the Air Force, I cannot think of a more worthy cause than to help wounded vets. Northland's roots are in support of our military – all the way back to the '50s, when we began as Wurtsmith Federal Credit Union. When we heard about Luke's story, there was no question about it, we knew we had to help." For information on how you can help support this project, visit www.patrioticpeddlingtour.com.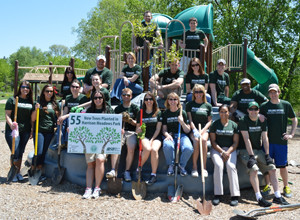 MSUFCU staff volunteers take a break from planting trees at Meadows Park in East Lansing.
… MSUFCU recently worked in partnership with Michigan Arbor Day Alliance and the city of East Lansing to plant 55 trees in Harrison Meadows Park, located in East Lansing. MSUFCU donated $2,000 to MADA for this project, and MSUFCU employees volunteered their time to plant the trees. Over the past several years, MSUFCU and MADA have planted 535 trees in East Lansing, primarily replacing trees lost due to the effects of emerald ash borer beetles. MSUFCU President and CEO Patrick McPharlin said the credit union is proud to contribute to MADA. "At MSUFCU, we take pride in giving back to our local community and were happy to contribute toward the planting of new trees in Mid-Michigan. Our continued partnership with MADA is one way MSUFCU strives to be an environmentally responsible organization." MSUFCU's other environmentally focused initiatives include Go Green Challenge promotions to encourage members to switch from paper to electronic statements, its achievement of a Leadership in Energy and Environmental Design (LEED) Gold Certification with the construction of its headquarters, and an ongoing emphasis on paper and waste reduction and recycling.


Dollar Dog encourages children to save at Alpena Alcona Area CU.
… Alpena Alcona Area CU celebrated "Youth Month" in June for its youth members. This year, AAACU is celebrating its 60th anniversary and is doing something extra special for its youth members by giving away 60 prizes this month. Each time a Dollar Dog club member makes a $5 deposit, they will be entered to win a bike helmet. In addition, those youth members will also be entered to win a $60 Visa gift card. The drawing will take place the first week of July. The goal of Youth Month is to start children on the path to lifelong credit union membership by educating them about their money, setting up savings accounts and rewarding them with prizes, all the while putting in the effort that increases loyalty in the parents of those youth. "It is important that youth learn the importance of saving and spending money wisely," President and CEO Donald J. Mills said. "AAACU wants to help guide kids on their journey to master the subject of money by making saving a fun and educational experience. That's why we've developed 'The Dollar Dog Club,' a program designed to help kids learn about the importance of saving, earning, and even investing money." Throughout the year, AAACU Dollar Dog club members are encouraged to deposit money into their savings account and participate in financial games and educational events. Every time a member makes a savings deposit, they are able to pick a treasure from Dollar Dog's Treasure Chest. To learn more about the AAACU Dollar Dog program and how to join visit: www.aaacu.com/youthservices. All member children and grandchildren ages 12 and under are eligible.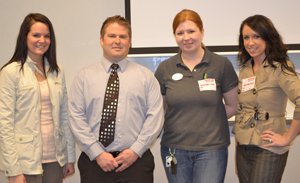 From left are state Rep. Andrea LaFontaine, Anchor Bay teacher Bryan Mittelstadt along with Jessica Kinnaird and Jenny Bulgrien from E&A CU.
… Students at Anchor Bay High School in Fair Haven met with state Rep. Andrea LaFontaine and students at Landmark Academy in Kimball met with state Sen. Phil Pavlov as part of the 10th Annual Financial Literacy Legislative Challenge. The visits were coordinated by E&A CU. "The presentations are a great way for E&A Credit Union to connect with the youth of our communities," E&A CU CEO Janice Rose said. "They have had to grow up during a very trying time with our struggling economy. It's very important for students to understand the benefits of properly managing their money." E&A is committed to supporting its local schools' efforts to teach financial literacy to students ranging from high school to college. As of May, E&A has led about 20 presentations to approximately 500 students at Landmark Academy, Port Huron High, Port Huron Northern, Anchor Bay High School, and St. Clair County Community College just this year.

… The Credit Unions of Alpena are sponsoring three American Red Cross blood drives throughout the summer. The first blood drive was in early June at the Alpena Mall. Future blood drives are scheduled for Wednesday, July 31, and Thursday, Sept. 26, both from 1 p.m. to 7:00 p.m. at the mall. Everyone who comes out to donate will be entered into a drawing for a chance to win a "Summer of Fun" package, which includes two tickets to Michigan's Adventure, two tickets to the Common Ground Music Festival and two tickets to the NASCAR race Aug. 18 at Michigan International Speedway in Brooklyn. There's no easier way to become a hero to a patient in need than by donating blood. If you are not eligible to give at this special blood drive, think about encouraging a friend or family member to donate. For more information or to make your appointment, visit: www.aaacu.com/bloodrive.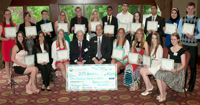 On May 9, Community Choice announced at its scholar awards ceremony that its 2013 scholars from Southeast Michigan would receive scholarships totaling $100,000. The 2013 scholars add to a network of more than 100 Community Choice Scholars committed to improving Michigan.
… Community Choice CU announced that its foundation has eclipsed $500,000 in scholarships made available to students committed to ending Michigan's brain drain. The credit union launched its foundation in 2009 with the purpose of providing scholarships that encourage growth and investment in Michigan. Michigan's brain drain is a growing problem with a 6.17% loss of the state's population with college degrees between 2000 and 2009; the largest drop among all 50 states. "The Community Choice Foundation was created in 2009 with the thought that the credit union can use its position in our communities as a means to create positive change," President & CEO Robert Bava said. "In the spirit of credit unions, which are people helping people, the Community Choice Foundation has provided over $500,000 in financial assistance to our scholars who are committed to giving back to their Michigan communities. We are proud to be a part of a growing movement to retain Michigan's best and brightest." The foundation's focus coincides with efforts from a variety of Michigan politicians who are also seeking solutions to end the state's brain drain. Andy Schor, D-Lansing, introduced House Bill 4182 which would provide tax credits to students who attend accredited colleges in Michigan and stay in Michigan after their college studies. Michigan Gov. Rick Snyder has expressed a desire to fix Michigan's brain-drain in his State of the State addresses and through partnerships with business leaders, like Dan Gilbert.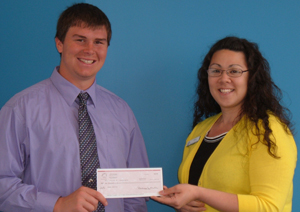 Yuri Bishop, left, branch supervisor at Calcite CU's Cheboygan branch presents Damon Proctor a Cheboygan High School senior, with a $1,000 scholarship.
… Calcite CU has been offering three $1,000 scholarships to area high school seniors since 1998. Applications are requested from all school counselors in the areas that the credit union serves. Calcite Credit Union also offers a school grant program. Currently, the program is only offered at the Cheboygan location but it plans to expand it next year. Calcite donates $5 for every new checking account opened in Cheboygan. Teachers are able to apply for a grant during a specified time for a project. Parents, students, teachers and others are encouraged to vote for their favorite project on the credit union's website. "Calcite Credit Union believes very strongly in giving back to our community," Calcite CEO Barb Mills said. "Children's education is the key that will open many doors for future success and opportunities."

… Marshall Community CU staffers have donated nearly 300 hours of community service this year through the end of May. MCCU staff donate personal time to volunteer at various community events including classroom presentations, Junior Achievement, The Oaklawn Auction, Relay for Life, March of Dimes and various Chamber of Commerce events.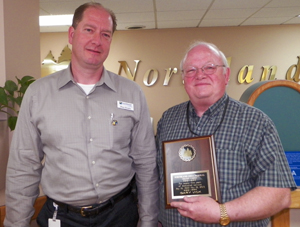 Northland CEO Pete Dzuris, left, presents Gary Vick with a plaque for his 25th anniversary with the credit union.
… Northland Area FCU honored Gary Vick for 25 years of dedicated service during a recent gathering at the credit union. Vick began his career with Northland in 1988 after retiring from the Air Force as a Chief Master Sergeant in Accounting and Finance. After serving his country for more than 23 years, he began a new career with what was then Wurtsmith Community FCU, now known as Northland Area FCU. Throughout his second career, Gary excelled in numerous managerial positions; successfully leading teams in human resources, lending, member service and other departments. He now serves as a financial analyst. "Gary's military service and considerable expertise make him a strong leader and mentor," Northland CEO Pete Dzuris said. "As an important member of our leadership team, he helps shape the young professionals who will serve our members for many years to come. We're honored to have Gary in the Northland family." When asked if he had plans to retire, Vick said: "Throughout the past 25 years, I've seen many changes take place at Northland. I've been pleased to take part in the numerous upgrades, expansions and improvements that have made such a positive impact in the communities we serve. I've worked with some great people, many of whom have become very successful in the credit union movement. And the bottom line is - I'm learning new things every day and have no plans to retire yet." Gary Vick is a lifetime member of the Veterans of Foreign Wars of the U.S.A. He is also a former executive director of the Oscoda Bowling Association, as well as a past president and lifetime member of the Michigan State Bowling Association. An avid recreational bowler and card player, he is actively involved in fundraising for local schools and an assortment of charities. Vick has two adult children and seven grandchildren, including a set of triplet girls. He and wife Alison make their home in Mikado.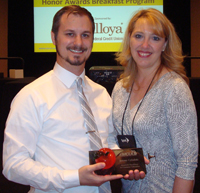 Lisa Fawcett, Co-op Services CU marketing vice president, congratulates Jeremy Cybulski, 2013 recipient of the Award for Excellence in Consumer Education from MCUL & Affiliates.
… Talking with elementary and middle school students about financial literacy is a passion for Jeremy Cybulski. As the youth and community development coordinator for Co-op Services CU, he spends his work days overseeing nine student-run credit unions in Livonia, Westland and Redford area schools. His job also includes classroom presentations—more than 140 during the past school year, reaching nearly 3,700 students. Cybulski's work is well recognized by his credit union peers throughout Michigan. He recently received the MCUL & Affiliates' "Award for Excellence in Consumer Education." This is the third straight year the league has honored Cybulski. Previous awards include "Young Professional of the Year" in 2012 and "Youth Advocate of the Year" in 2011. "It's Jeremy's enthusiasm for what he does that inspires so many people, from students to teachers to parent volunteers," said Lisa Fawcett, Co-op Services' vice president of marketing. "These honors are well deserved." When he visits schools and individual classrooms, Cybulski is often accompanied by the credit union's Rock Star Savers' mascot. While the mascot doesn't talk, it is Cybulski who delivers valuable information about how students can set goals, budget and save for their future. Since joining Co-op Services in 2008, Cybulski has conducted 743 presentations, reaching more than 17,800 students. "Co-op Services has a strong commitment to financial literacy for members of all ages, and I'm fortunate that the credit union enables me to share my passion with others," Cybulski said.

… Dow Chemical Employees' CU awarded $15,000 in scholarships to local students through two scholarship programs. DCECU plans to award up to eight $1,500 scholarships annually to members in good standing through the newly established Dow Chemical Employees' Credit Union Members Endowed Scholarship program, which is administered by the Midland Area Community Foundation. Additionally, two $1,500 scholarships were also awarded to family members of employees through a separate scholarship fund. The 2013 scholarship winners are: Jessica Chatterton, Alexander DeWyse, Beccalynne Gray, Joshua Hovey-Horny, Melanie Logsinger, Brittanie Morse, David Naffie, David Saead, Brigette Schulz and Stephanie Williams. "At DCECU, we believe in giving back to our members," said DCECU Vice President of Lending Ken Roznowski, who helped organize the scholarship program. "We were especially pleased to be able to award these scholarships to our members. We feel that our scholarship recipients deserve to be recognized." Members can apply for the scholarships each year between Feb. 1 and March 1 by visiting the Midland Area Community Foundation website at www.midlandfoundation.org. Applicants must be planning to attend or already attending an accredited community college or four-year college or university.

… Marshall Community CU once again showed its support for Junior Achievement of Southwest Michigan by supplying seven employee volunteers to conduct JA lessons in 13 area classrooms. From February through May, MCCU employees donated their time to give back to their community. Kindergarten through fourth grade classrooms at Mar Lee, Walters and Gordon Elementary in Marshall and Wattles Park Elementary in Battle Creek invited MCCU volunteers into their classrooms each week where they were taught JA lessons. MCCU employees including members of the marketing department, tellers, members first representatives and the management team put in a total of more than 45 hours teaching students. Junior Achievement programs prepare young people for the real world by showing them how to generate wealth and effectively manage it, how to create jobs which make their communities more robust, and how to apply entrepreneurial thinking to the workplace. Students then put these lessons into action and learn the value of contributing to their communities. "JA is truly fortunate to have partners like Marshall Community Credit Union in our mission to educate and inspire the next generation of employees, consumers and leaders," JA of Southwest Michigan President Tom VanderMolen, said. "JA is extremely grateful for this generous support that will allow our organization to reach even more young people in the Battle Creek and Marshall areas."
Giving Back to the Community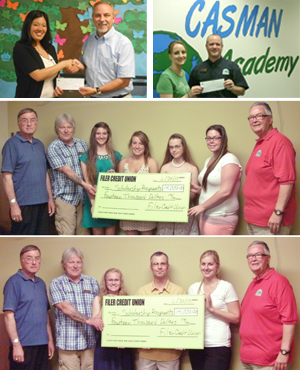 Filer CU
in Manistee recently donated $2000 to five area high schools and $14,000 in scholarships to local students.
… E&A CU has named a new agency of record: James and Matthew, a full-service digital advertising agency located in the greater Boston area. "We are very excited to work with this extraordinarily talented agency," E&A President/CEO Janice Rose said. "Their work is like nothing we've ever seen – original, artistic and definitely out of the box."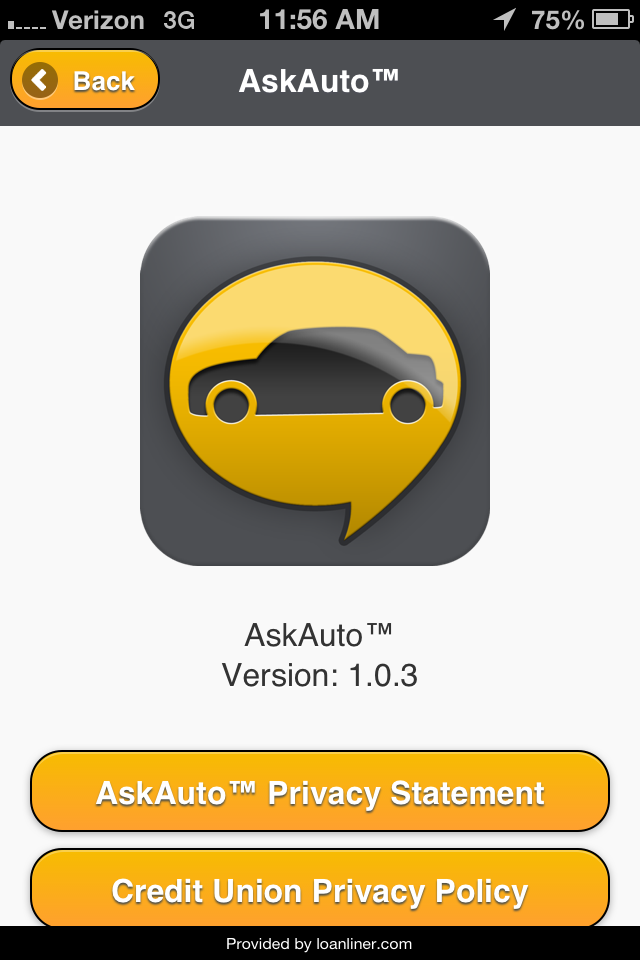 … In today's mobile world, there seems to be an app for just about everything. But until recently, there hasn't been a non-biased car shopping app designed for credit union members. That's why Michigan Schools and Government CU has introduced the new AskAuto™ app, designed to make shopping for a car and applying for a loan easier than ever. "As our members continue to do more and more from their mobile devices, it is important that MSGCU keeps up with their on-the-go lifestyle," MSGCU President and CEO Peter Gates said. "The AskAuto app is a powerful research and lending tool that can help members shop for their dream car and apply for a great loan through MSGCU, all from their smartphone or tablet." With the AskAuto app, shoppers can scan vehicle identification numbers, or VINs, to get average retail costs and EPA mileage estimates. They can also make notes and rate all the vehicles they like. The AskAuto app saves the information for comparison later. Meanwhile, the credit union can send messages about different loan options and dealer partnerships that might interest the AskAuto app user during the vehicle shopping process. Once the shopper has decided on their car, they can apply for their loan anytime or anywhere using their smartphone or tablet. In most states, shoppers can scan their driver's license to prefill portions of the loan application. The AskAuto app also prefills vehicle information, saving typing time and ensuring accuracy of the information. The AskAuto app helps users stay organized during the car buying process and easily gathers information needed to make an informed buying decision. Members can even use AskAuto to refinance their current vehicle by scanning the VIN and submitting an application, which could potentially save the member hundreds of dollars. The app is free and available for download at the Apple Store, Google Play for Android users or at http://askauto.loanliner.com/market. Members should be sure to select "Michigan Schools and Government Credit Union" on the app's startup screen.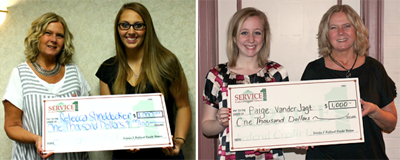 At left, Joni Shinn, left, CEO of Service 1 FCU, presents a $1,000 scholarship to Rebecca Shineldecker, a student at Aquinas College. At right, Shinn presents Paige VanderJagt, a student at Muskegon Community College with a $1,000 scholarship.
… Service 1 FCU announced the recipients of the sixth annual Calvin J. Peterson Memorial Scholarship. Paige Vander Jagt of Ferrysburg and Rebecca Shineldecker of North Muskegon each received a $1,000 scholarship for college. Vander Jagt is a 2012 graduate of Spring Lake High School. She is currently attending Muskegon Community College where she is a social work major. Shineldecker is currently in her third year at Aquinas College in Grand Rapids. She majors in biology and pre-med and intends to attend medical school at Michigan State University and become a pediatrician. This scholarship was established in 2008 in memory of Calvin J. Peterson the former President of Service 1 board. Service 1 FCU would like to congratulate these two very deserving recipients on their outstanding display of academic performance, leadership and community involvement.


… American 1 CU raised money in May for Great Lakes Burn Camp, a special place for kids ages six to 17 to meet, and have fun with other burn survivors. The camp strives to remove barriers these kids face on a regular basis from society. American 1's home office and North Street branch locations in Jackson had fresh popcorn and bottled water available for a donation for members, every Friday. The last Friday of the month, the credit union also made caramel corn, which was a huge success. The credit union raised $506 for the Great Lakes Burn Camp. For more information on the camp please visit: http://greatlakesburncamp.com.

… MSUFCU has opened a branch in the Sparrow Professional Building. The branch is located at 1200 E. Michigan Ave., Suite 300. The grand opening was June 11, with formal remarks from Sparrow Health System's President and CEO Dennis Swan, MSUFCU President and CEO Patrick McPharlin, MSUFCU Executive Vice President and COO April Clobes, and MSUFCU's Chairman of the Board Dr. John R. Brick. The Sparrow branch is a full-service branch for all Sparrow employees, volunteers and visitors. The new branch offers all services available at the credit union's other eleven branches as well as loan services, walk-up ATM, and a knowledgeable staff ready to assist all members.

… Lake Michigan CU announced the opening of a new branch in Ada. The new branch is LMCU's first on the far east side of the Grand Rapids metro area. It's at Fulton and Ada Drive, across the street from Amway headquarters. Julie Hemmes, LMCU vice president of branch operations, said the new Ada office is a direct response to member requests for an east-side branch. "This new office brings complete banking services and access to LMCU's broad range of financial products to the Ada community. Features include a full-service lobby, drive-through windows, safe deposit boxes, a notary public, 24/7 drive-up ATM and night depository." The Ada branch will be overseen by branch manager (and new hire), Dale Burghgraef, who brings decades of banking experience, community involvement and retail sales management. "LMCU has a broad array of superior products that appeal to members, but customer service is the glue that holds long term relationships together," he said. "I look forward to helping establish LMCU's new Ada branch and assisting members in achieving their financial goals."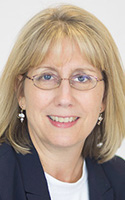 Swigert
… Cindy Swigert, United FCU chief human resources officer, has been elected secretary of the CUNA Human Resources/Training and Development (HR/TD) Council executive committee. The executive committee develops and guides the philosophy and overall direction of the council, its programs, and resources. For the past year, Swigert served as council director and vice chair of the conference committee for the CUNA HR/TD Council. As an ongoing supporter of CUNA Councils, UFCU was a sponsor of the 2013 CUNA HR/TD conference in Anaheim, Calif. where Swigert's duties included recruiting speakers and assisting in organizing the agenda for the conference. She is also vice chair of the education and resources committee, which helps generate valuable and timely educational opportunities and resources for the professional advancement of council members, including webinars, white papers and virtual-roundtables. Swigert has been a member of the CUNA HR/TD Council since 1999.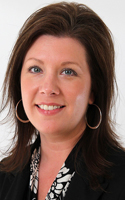 Beld
… Lake Michigan CU announced the hiring of Becky Beld as branch manager at its Jenison branch. Beld has 16 years of experience working with small community organizations and is certified for small business lending with the American Bankers Institute. Her previous work experience includes Grand Bank/Macatawa Bank, Select Bank and First National Bank of America. Julie Hemmes, LMCU vice president of branch operations, said she is excited to have Becky on her management team. "Becky has over 15 years of banking experience including community involvement and retail sales management. She possesses a positive attitude and a high drive to consistently grow and succeed. She is actively involved with the Grandville/Jenison Chamber of Commerce and has many contacts in the Jenison Community." Beld was originally drawn to LMCU based on the recommendation of colleagues. "I had developed relationships with some individuals who work for LMCU and was impressed by how consistently they expressed their love of working there. I couldn't help but want to be a part of it." Beld is an active member of the board for the Grandville/Jenison Chamber of Commerce and is board liaison for its Emerging Business Leaders group (for members under the age of 40). She grew up on Grand Rapids' northwest side and lives in Wyoming with her husband John and three school-age daughters. She enjoys camping, boating and other outdoor activities with her family.
Submissions to Monitor may be
emailed
. Bryan Laviolette is the editor of Monitor. Contact him
by email
or call (800) 262-6285, ext. 233. The newsletter of the Michigan Credit Union League is published Monday mornings or Tuesday mornings when Monday is a holiday. There is no Monitor the week after Christmas and the week after the Annual Convention and Exposition. The MCUL reserves the right to edit submissions for clarity and space.