CUs Can Offer Personalized ATM/Debit/Credit Cards to Members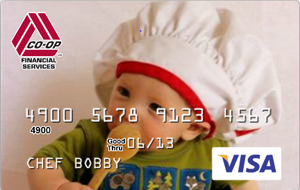 Are your members ready for their close-ups? Now, credit unions can be ready when they are.
CO-OP Financial Services is introducing Photo-OP by CO-OP, a new ATM/debit/credit card production service that enables credit union members to design their own cards with personal photos on the front.
"Personalized cards are the ultimate in one-on-one marketing for credit unions," said Stan Hollen, President/CEO of CO-OP Financial Services. "Photo-OP by CO-OP can serve as a way for credit unions to differentiate themselves from competitors, strengthen member loyalty by creating an emotional tie to the card and increase card usage."
"Right from the start CO-OP Financial Services impressed me with Photo-OP by CO-OP," said Jennifer Guest, CEO of Shore to Shore Community FCU in Trenton, Mich., which served as the beta client for the new product. "The process is very easy, efficient and did not put any additional strain on our staff's time. We are thrilled to offer our members this fun, new benefit which will also give us an opportunity to earn some additional non-interest income."
A study by Datacard Group, Minnetonka, Minn., found:
15-20 percent more transactions occur with a personalized card than with one that is not;
62 percent of photo cardholders' outstanding balances are higher than the U.S. average;
34 percent of photo cardholders' monthly volumes are higher than the U.S. average; and
50 percent fewer members are likely to switch to other cards or destroy the cards at renewal.
To use the service, credit unions must utilize CO-OP Financial Services for card production; no other additional hardware or software is needed. Standard implementation includes credit union logo branding on the card face.
It is equally easy for members to use Photo-OP by CO-OP to design a card featuring a picture of a loved one, pet, hobby or favorite vacation spot. The three-step Internet-based process starts with uploading an image from their computer or a social media account, such as Facebook; cropping the image to the card face; and submitting their design for production and order confirmation.
For more information, visit www.co-opfs.org, email sales@co-opfs.org or call (800) 782-9042, ext. 7240.

Submissions to Monitor may be
emailed
. Bryan Laviolette is the editor of Monitor. Contact him
by email
or call (800) 262-6285, ext. 233. The newsletter of the Michigan Credit Union League is published Monday mornings or Tuesday mornings when Monday is a holiday. There is no Monitor the week after Christmas and the week after the Annual Convention and Exposition. The MCUL reserves the right to edit submissions for clarity and space.