Don't Tax My Credit Union: Third Quarter Issue of Contact is Here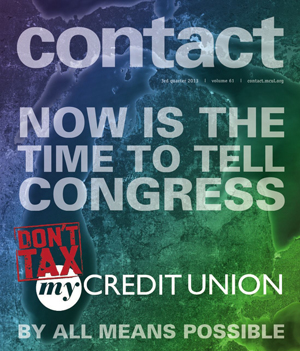 The third quarter issue of Contact should be arriving in mailboxes this week. This issue focuses on the Don't Tax My Credit Union campaign. Click here to check it out.
Submissions to Monitor may be
emailed
. Bryan Laviolette is the editor of Monitor. Contact him
by email
or call (800) 262-6285, ext. 233. The newsletter of the Michigan Credit Union League is published Monday mornings or Tuesday mornings when Monday is a holiday. There is no Monitor the week after Christmas and the week after the Annual Convention and Exposition. The MCUL reserves the right to edit submissions for clarity and space.