Take Part in Annual Compensation and Benefits Survey

Wondering about the going pay rate for a teller? Would it help to know how much other Michigan credit unions are paying loan officers? Interested to learn about the benefits offered by others in the industry? Take part in MCUL & Affiliates' annual Compensation and Benefits Survey and you'll get a detailed report letting you know this information and more.
Each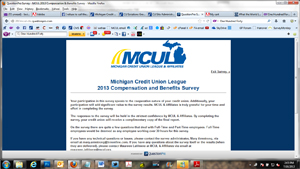 credit union that fills out the survey gets a copy of the complete report. More credit unions filling out the survey will improve the resulting data.
The survey asks for your contact information but that information is used for tracking purposes and for the name of the appropriate individual to contact in case there are any questions concerning the data submitted. This information will not be used to identify individual responses. Your responses and opinions will be kept strictly confidential to ensure complete anonymity.
If you have any questions regarding completion of the survey, contact survey administrator Mary Armstrong, at Mary.Armstrong@hrnonline.com. If you have questions about the survey questions or the results (when they are delivered), contact Maureen Lafrinere at Maureen.Lafrinere@mcul.org.
The deadline for the survey is July 26. Click here to go to the survey.
Submissions to Monitor may be
emailed
. Bryan Laviolette is the editor of Monitor. Contact him
by email
or call (800) 262-6285, ext. 233. The newsletter of the Michigan Credit Union League is published Monday mornings or Tuesday mornings when Monday is a holiday. There is no Monitor the week after Christmas and the week after the Annual Convention and Exposition. The MCUL reserves the right to edit submissions for clarity and space.