ABCs of IRAs: Training Comes to Frankenmuth This Fall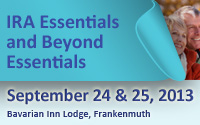 Credit union staffers with and without experience handling IRAs will find valuable training at the MCUL & Affiliates IRAs: Essentials and Beyond Essentials workshops taking place Sept. 24-25 at the Bavarian Inn Lodge in Frankenmuth. Being offered in cooperation with Ascensus, attendees may choose to attend one or both days, based on interest and previous background.
IRA Essentials on the first day gives attendees a solid foundation of IRA knowledge. Exercises are included throughout the day to help participants apply information to job-related situations. Attendees will leave being able to work with IRA owners and process basic IRA transactions with confidence, and as a beginner's session no previous IRA knowledge is required.
The second day of the workshop is an IRA Beyond Essentials session, designed to build on attendee knowledge of IRA basics to address some of the more complex IRA issues credit unions may handle. The instructor uses real-world exercises to help participants apply information to job-related situations for more advanced learning.
Registration is only $199 per person, per day. To learn more and to register, click here.
Submissions to Monitor may be
emailed
. Bryan Laviolette is the editor of Monitor. Contact him
by email
or call (800) 262-6285, ext. 233. The newsletter of the Michigan Credit Union League is published Monday mornings or Tuesday mornings when Monday is a holiday. There is no Monitor the week after Christmas and the week after the Annual Convention and Exposition. The MCUL reserves the right to edit submissions for clarity and space.