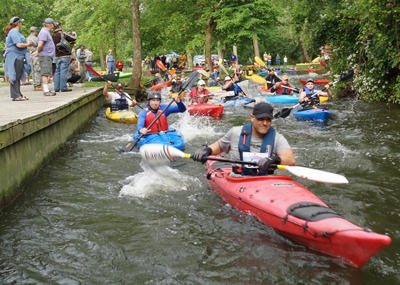 Racers brave the Clinton River.
… Genisys CU, which provides services to anyone who lives or works in the Lower Peninsula, recently sponsored Paddlepalooza, an eight-mile canoe and kayak race, which started at Riverside Park in Auburn Hills and ended at Rivercrest Banquet Center in Rochester Hills. "Paddlepalooza 2013 was another great chance for people in our area to get outside and experience the Clinton River first hand," said Brian Marzolf, recreation director for the city of Auburn Hills. "The river is a great recreational resource and it's right in our backyard." Eighty-four paddlers and 20 volunteers made the event possible. Participants had a chance to win various items donated by sponsors and supporters, such as duffle bags, paddle floats, waist packs, water bottles, apparel and gift cards. "Auburn Hills really enjoys partnering with Rochester Hills for this community event and looks forward to many more in the future," Marzolf said. "It is great to see the Auburn Hills and Rochester Hills communities come together to create a wonderful event on the river," Genisys President/CEO Jackie Buchanan said.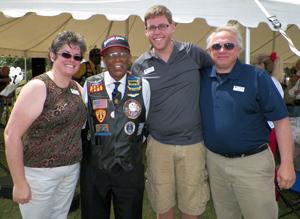 From left are NAFCU Marketing Director Kelly Trainor, Lt. Col. Alexander Jefferson, Northland Marketing Specialist Brandon Taylor and Jack Eling, Northland vice president of lending.
… Northland Area FCU employees and family members volunteered to hand out cold bottled water during a recent veteran's memorial dedication ceremony in Oscoda. The bottled water was donated by the credit union and Family Fare of Oscoda. The ceremony brought more than 200 attendees from all over northeast Michigan. Guest speaker Lt. Col. Alexander Jefferson, one of the surviving members of the Tuskegee Airmen, was there to assist in the dedication of the Pentagon Service Memorial at Veterans Memorial Park. Jefferson spoke for more than 45 minutes, sharing his stories of the war and about racial discrimination before, during and after World War II. "Lt. Col. Jefferson is a true American hero and it was an honor to meet him," said Jack Eling, Northland's vice president of lending. "We owe Mr. Jefferson and all of our area vets a thank you for their sacrifices that ensure our freedoms."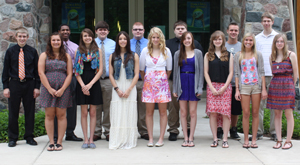 ECCU recognized the 2013 scholarship award recipients at a reception held on June 15 at the credit union. Fifteen of the 20 recipients attended the event and are shown here. Front row from left are Katlyn Slater, Alyssa Lem, Jennifer Shields, Nicole Lauhon, Megan Bogema, Annalisa Wilder, Courtney Giles, Allison Branch. Back row from left are Christopher Watts, Aaron Gipson, Timothy Eby, Gentry Sternaman, Zachary LaPointe, Montana Johnson, Thomas Dykstra. Not pictured are Emily Armstead, Richard DeBoer, Jessica Glessner, Adam Licavoli, Kelsey Owens and Alex Zeitler.
… Educational Community CU had a reception on June 15 in recognition of 21 students who received $24,000 in scholarships. ECCU has awarded $316,000 in scholarships to graduating high school seniors through ECCU's scholarship program, which was established in 1999. Scholarships are awarded annually to high school seniors who not only demonstrate academic achievement, but community involvement, extracurricular activities and financial need. The 2013 ECCU Scholarship Awards Ceremony was at ECCU's main office on Ninth Street in Kalamazoo with more than 60 people in attendance. ECCU President and CEO Charles Cornelius presented 18 $1,000 and three $2,000 scholarships. The $2,000 scholarships were created and named the Robert E. Treloar Scholarship and the Donna vanWestrienen Scholarship in honor of two individuals for their dedicated service on ECCU's Board of Directors for more than 20 years, and the Robert S. Hunt Scholarship in honor of ECCU's retired president/CEO who led the credit union for 30 years. The Robert E. Treloar Scholarship was awarded to Courtney Giles. She graduated from Constantine High School and plans to attend Grand Valley State University to major in nursing. The Donna vanWestrienen Scholarship was awarded to Katlyn Slater. Slater graduated from Paw Paw High School and plans to pursue Biology/Medicine at the University of Evansville. The Robert S. Hunt Scholarship was awarded to Allison Branch. Branch graduated from Otsego High School and plans to pursue biomedical engineering at Michigan Technological University. Eighteen $1,000 scholarship awards were given to the following recipients: Emily Armstead, a graduate of Portage Central High School who plans to attend the University Of Michigan as a pre-medicine major; Megan Bogema graduated from Portage Northern High School and plans to study dietetics at Central Michigan University; Richard DeBoer, a Lawton High School graduate, plans to study Engineering at Western Michigan University; Thomas Dykstra graduated from Kalamazoo Christian High School with plans to attend Calvin College to major in engineering; Timothy Eby graduated from Constantine High School and will attend Southwestern Michigan College to study computer information systems; Aaron Gipson, a Comstock High School graduate, will attend Kalamazoo Valley Community College to pursue exercise science; Jessica Glessner, an Otsego High School graduate, will attend Grand Valley State University to major in vocal music education. Montana Johnson, an Otsego High School graduate with plans to attend Grand Valley State University and major in engineering; Zachary LaPointe, a graduate of Plainwell High School, will pursue engineering at Hope College; Nicole Lauhon graduated from Gobles High School and will study cinematography and broadcasting at Central Michigan University; Alyssa Lem, a Mattawan High School graduate who plans to study nursing at Western Michigan University; Adam Licavoli a graduate of Plainwell High School who will attend the University Of Michigan to study aerospace engineering; Kelsey Owens, a graduate of Otsego High School, will attend Grand Valley State University and major in the medical field; Jennifer Shields, a Mattawan High School graduate, plans on attending the Lyman Briggs College at Michigan State University to pursue a degree in human biology/pre-medicine of biomedical sciences, and Gentry Sternaman, a Three Rivers High School graduate, plans to attend Adrian College to pursue a degree in exercise science/athletic training. Also receiving scholarships were Christopher Watts, a Portage Northern High School graduate who plans to attend Kalamazoo Valley Community College to major in accounting/law enforcement; Annalisa Wilder, a graduate of Decatur High School who plans to study psychology at Western Michigan University, and Alex Zeitler a graduate of Portage Central High School who plans to attend the University Of Michigan as a liberal arts major.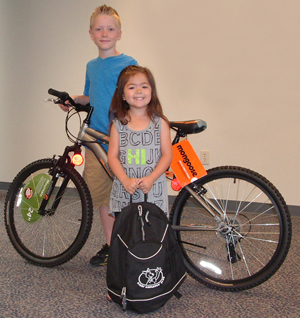 Carson and Brooklyn were excited to win a bike in a contest as part of FinancialEdge Community CU's Member Appreciation Day.
... FinancialEdge Community CU and AAA would like to congratulate Kirby Club Members Carson and Brooklyn on winning a 21 speed Mongoose mountain bike courtesy of AAA. Carson and Brooklyn entered to win the bike at FinancialEdge's Member Appreciation Day, on June 15. Member Appreciation Day was a way to thank members for their support and membership. After finding out that they had won, Carson and Brooklyn were very excited to take the bike home.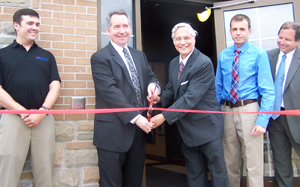 From left are Kochville Twp. Manager Steven King, Family First President/CEO H. Vance Vargo, Board of Directors Chairman Cyril Schultz Jr., board member Kevin Quinlan and board member David Hoffman.
… Family First CU officially opened its third branch office at 3550 Tittabawasse Road in Saginaw. The Grand Opening celebration on June 25 began with a ribbon cutting ceremony followed by an Open House at the new 4,700-square-foot branch office. Family First was established in 1939 as the former Saginaw Municipal Employees CU, with an original field of membership consisting of the City of Saginaw employees. In 2003, the credit union was approved for a community charter and changed its name to Family First CU. "We are very excited about this new branch location in Kochville Twp.," President and CEO, H. Vance Vargo said. "This third branch office provides our members and perspective members a very convenient location for those of them who live or work in Kochville and Saginaw Townships."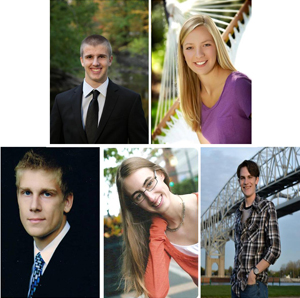 Winners of the 2013 Credit Union ONE Scholarship are clockwise from top left, Lucas Gelmini and Wendy Lillystone, Kenneth Steele, Katherine Sauter and Joseph Kohane.
… Credit Union ONE has announced the William G. Coyne Memorial Credit Union ONE Scholarship Awards for 2013. This year, $10,000 was awarded to five deserving students to begin their studies. Realizing the investment of both finances and planning, the credit union created the William G. Coyne Memorial Credit Union ONE Scholarship Program to help student members in their endeavors to further their education after high school. Lucas Gelmini of Sterling Heights was awarded the top prize of $3,000; Joseph Kohane of Grand Rapids and Wendy Lillystone of Royal Oak, each receiving a $2,000 award; and Kenneth Steele of Marysville and Katherine Sauter of Allendale were awarded $1,500 each. Recipients were selected based on exemplary academics, community service and written essays. "As a community-based, member-owned organization, we are proud of these young people and are pleased to be able to give back to our student members to assist in their successes," said Paul Stuart, Credit Union ONE chairman of the board.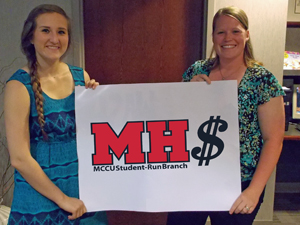 Logo Contest winner Sophia Dickerson, left, and MCCU Financial Education Coordinator Andrea Tucker display the new Marshall High School Student-Run Branch logo.
… Marshall Community CU recently had a Logo Contest at their Marshall High School Student-Run Branch. "With the opening of our first high school branch, we knew we would need more student input than we have had in our elementary and middle school branches. What better way than having the students come up with a logo for us?" MCCU Financial Education Coordinator Andrea Tucker said. In April, MHS students along with Marshall Middle School 8th graders were encouraged to create a new logo for the SRB. "We were looking for something that would blend the credit union and MHS together and create some unity between the two," Tucker added. Judging was conducted by the MCCU marketing department and management team, and 18 entries were narrowed down to three. Third place winner and MHS sophomore Brooklyn Patton received $25. Second place winner and MHS Senior Ashley Durham received $50. First place winner and MHS Senior Sophia Dickerson won a $100 Visa gift card along with her logo representing the MHS SRB beginning in the fall of 2013. "I was excited and surprised to hear my logo had been chosen" Sophia said. "It's exciting to know something that I created will be on display at the school even after I've graduated." The MHS Student-Run Branch is open each Friday during both lunches and is operated by students, for students, teachers and staff. The new SRB logo will be revealed through an ad placed on all student planners at the start of the school year.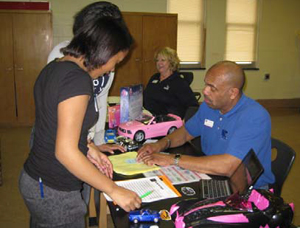 CASE CU CEO Jeffrey Benson participates in the Mad City Money simulation at Sexton High School.
… CASE CU has been awarded a Biz Kid$ Education Grant to fund a financial education and entrepreneurship camp. The camp will utilize Biz Kid$ episodes and lesson plans that will empower youth from low income families with the tools necessary to capitalize on their business ideas while at the same time, filling a void in personal financial education not offered in their school curriculum. Biz Kid$ is an educational television show that teaches financial education and entrepreneurship to a preteen audience. It uses sketch comedy and young actors to explain basic economic concepts. The Biz Kid$ motto is "Where kids teach kids about money and business." Each episode is accompanied by a free curriculum with lesson plans, activities and reviews for the topics covered. As part of CASE's program, students will learn the basics of money and what being an entrepreneur really means. They will then work as a group to develop a complete business plan including a marketing plan and income and expense plans. The program will conclude with the groups presenting their business plans in front of local business leaders, including CASE CEO Jeffrey Benson. They will receive feedback on their presentations and a certificate of completion for participating in the financial education camp. The first camp is expected to be in 2014. "We are so grateful for this grant," Benson said. "If we can educate our youth on financial concepts and then empower them by giving them the skills they need to capitalize on their innate entrepreneurial spirit, then we are working towards building solutions to the economic problems that plague our area."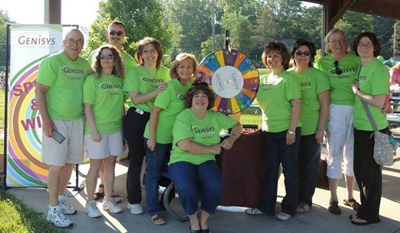 Genisys CU volunteers take part in Salute.
… Genisys CU sponsored the Chesterfield Twp. Summer Salute. Summer Salute is held annually at the Chesterfield Twp. Office as a "thank you" to the community members for all that they do. The free event featured the Barnyard Express, an interactive presentation and petting farm, bouncy toys, mini fire truck rides, face painting and a clown. Demonstrations were also given by the Chesterfield Police K-9 Unit and Chesterfield Fire Department. The Township's Historical Village was also open, providing a look into the past with the Weller School House, log cabin, cobbler shop, and a working blacksmith shop. "This year's Summer Family Fest was the best one yet," said Amanda Willard, representative of the Chesterfield Parks and Recreation Department. "Attendance soared and the park was hopping all evening long. Thanks to the continued generosity of Genisys Credit Union, hundreds of kids and families enjoyed all the exciting activities, free of charge." "We are proud to be a part of this event, which gives back to the wonderful residents of the Chesterfield community," President/CEO Jackie Buchanan said.
… CU Direct Corp., administrators of the largest auto lending service network for credit unions in the United States, has announced that its lending network has expanded to include 10,000 dealers. The company revealed that the CUDL lending network reached the record milestone with the growth of more than 1,000 dealers in the last year, including dealer expansion as a result of their new operation in Quebec, Canada. The CUDL network includes more than 1,050 credit unions, representing 35 million members nationwide. CUDL credit unions have experienced 16% growth in funded loans thus far in 2013. For more than 20 years, CUDL's credit union auto lending network has provided credit unions the ability to help members and consumers gain credit union financing at the dealership, and helped dealerships sell more cars.

Submissions to Monitor may be
emailed
. Bryan Laviolette is the editor of Monitor. Contact him
by email
or call (800) 262-6285, ext. 233. The newsletter of the Michigan Credit Union League is published Monday mornings or Tuesday mornings when Monday is a holiday. There is no Monitor the week after Christmas and the week after the Annual Convention and Exposition. The MCUL reserves the right to edit submissions for clarity and space.