Former OFIR Commissioner Ross Rejoins MCUL & Affiliates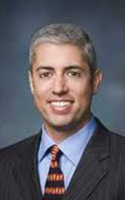 Ross
Ken Ross, the former head of the state regulatory body governing credit unions, has rejoined MCUL & Affiliates as executive vice president and COO of the association.
Ross served as vice president of regulatory and legal affairs in his previous tenure at MCUL. After leaving the league, Ross was commissioner of the former Office of Financial and Insurance Regulation. Recently, OFIR became a separate department, now known as the Department of Insurance and Financial Services.
Most recently, Ross was assistant general counsel at Citizens Bank.
"Ken is a true professional who brings a wealth of experience and expertise that would be the envy of any organization in the financial industry," said MCUL & Affiliates CEO David Adams. "As Michigan's first chief regulator of financial institutions with a credit union background, Ken understands the industry, the challenges we face in a today's complex regulatory environment, and the services we provide in the community."
Ross was appointed OFIR commissioner by Gov. Jennifer Granholm, a Democrat, and continued serving under Gov. Rick Snyder, a Republican. As commissioner, Ross' accomplishments include passing a legislative package that protects Michigan consumers from mortgage fraud by requiring the registration of mortgage loan officers. He also oversaw the passage of the re-codified Michigan Uniform Securities Act that provides enhanced penalties against perpetrators of securities fraud. This is a return to MCUL for Ross, who served as vice president of regulatory and legal affairs before his time at OFIR.
"I am honored and excited to rejoin an organization whose number one focus is to preserve and promote the credit union difference," Ross said. "To keep Michigan's financial future strong, we must also make sure ordinary families and small businesses are on solid financial footing, and credit unions across Michigan are doing that work every day in countless ways."
Ross has a bachelor's degree from the University of Michigan and a law degree from the Thomas M. Cooley Law School.

Submissions to Monitor may be
emailed
. Bryan Laviolette is the editor of Monitor. Contact him
by email
or call (800) 262-6285, ext. 233. The newsletter of the Michigan Credit Union League is published Monday mornings or Tuesday mornings when Monday is a holiday. There is no Monitor the week after Christmas and the week after the Annual Convention and Exposition. The MCUL reserves the right to edit submissions for clarity and space.