Second Annual CU Lunch Local Set for Oct. 15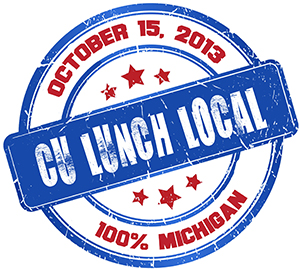 Got lunch plans on Oct. 15? Consider serving up a delicious helping of small business support.
Following up on the success of the inaugural event, the second annual CU Lunch Local will take place on Oct. 15, timed to coincide with International CU Week. CU Lunch Local is a statewide credit union "cash mob" in which participating credit unions agree to show their support for local business by making a commitment to buy local on that day.
In 2012, dozens of credit unions participated in the event, pumping tens of thousands of dollars into the state's economy. Many credit unions teamed up with a local restaurant to provide lunch for their staff. Others purchased Michigan-made treats for their members throughout the day.
The event caught the attention of media across the state, with numerous stories appearing in newspapers, on the radio, on TV and online. A steady stream of Twitter posts using the hashtag #culunchlocal came in throughout the day and many credit unions posted photos to Facebook as well.
This year, the goal is to increase participation even further and continue to tell the story of the credit union difference through this very visual event.
Participants can email their plans or any questions to Jessica Richardson-Isenegger at Jessica@in-fusiongroup.com.
Submissions to Monitor may be
emailed
. Bryan Laviolette is the editor of Monitor. Contact him
by email
or call (800) 262-6285, ext. 233. The newsletter of the Michigan Credit Union League is published Monday mornings or Tuesday mornings when Monday is a holiday. There is no Monitor the week after Christmas and the week after the Annual Convention and Exposition. The MCUL reserves the right to edit submissions for clarity and space.