Great Lineup of Speakers Await Attendees at New People and Performance Institute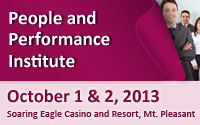 Fifteen industry professionals from across the country, including several attorneys, consultants and credit union peers, will be standing before attendees this Oct. 1-2 for the MCUL & Affiliates' new People and Performance Institute, being hosted at the Soaring Eagle Casino & Resort in Mount Pleasant.
Formerly known as the HR, Trainer and Supervisor Institute, the new event continues to cater to this audience, but also brings forth a broader focus ideal for other operational staff members. Sessions such as "Colleague Conversation Rules" and "Why Behavior Matters" are geared toward any credit union professional, while topics such as "HR Compliance," "Designing Training: Is There an App for That?" and "Supervisor Compliance" are targeted for these specific audiences.
A three-part Creative Leadership Workshop is an option for attendees on the second day of the event and for an additional discounted fee of $35 participants may choose to become CPR certified by the American Red Cross.
A lot of excitement is planned for the two-day event. To learn more about training being offered and to register, click here.
Submissions to Monitor may be
emailed
. Bryan Laviolette is the editor of Monitor. Contact him
by email
or call (800) 262-6285, ext. 233. The newsletter of the Michigan Credit Union League is published Monday mornings or Tuesday mornings when Monday is a holiday. There is no Monitor the week after Christmas and the week after the Annual Convention and Exposition. The MCUL reserves the right to edit submissions for clarity and space.