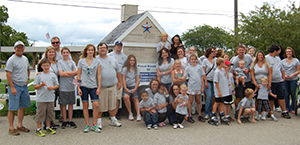 Monroe County Community CU staff, volunteers and friends stand in front of the credit union's float for the Monroe County Fair Parade.
… Monroe County Community CU sponsored and participated in the 66th annual Monroe County Fair Parade, a summer time tradition in Monroe. About 20,000 people attended the parade. 120 MCCCU volunteers, including employees, family and friends, participated in the parade, which carried the theme, "Living the Dream in 2013." MCCCU received the second place award in the business division for its float and sponsored "Kids Day" at the fair. The success of the float was made possible by the generous donation of a miniature house from Habitat for Humanity of Monroe, with whom the credit union has a wonderful working relationship. "The Monroe County Fair is a longstanding tradition that honors the heritage of Monroe and Monroe County Community Credit Union is honored to participate in this great community event," President/CEO Mike Newman said.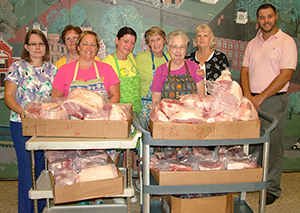 From left are Cathy Gratz of TLC, Carla Foster, Kassandra Robinson, Jackie Denning, Sylvia Burciaga, Ruth Schadewald and Judy Zilke (all Adrian Senior Center staff) and Tino Rebottaro of TLC show pork donated by the credit union.
… TLC Community CU attended the Lenawee County Fair 4-H Auction and supported the youth of Lenawee County by purchasing two pigs from 4-H member Anthony Lesko. TLC employees Cathy Gratz and Tino Rebottaro served as TLC's auction bidders and have both been active with Lenawee County 4-H. The processed pork was donated to Lenawee Department on Aging's Meals on Wheels program at The Adrian Senior Center. TLC regularly supports the 4-H Fair auctions and has donated the processed meat to local food pantries and those who serve meals to our communities. Recipients in the past have been The Daily Bread, The Salvation Army and others. For more information on TLC's community involvement contact TLC's marketing department at (517) 263-9120.

… Option 1 CU has a partnership with Grand Rapids WOOD TV-8 and its EightWest show. This partnershiop has allowed Option 1 to position itself as a reference or go to with respect to financial institutions in the area and what's happening with consumers and their money. The objective with this media resource relationship is to bring awareness to viewers about credit unions and their benefits and features. While the primary focus is on Option 1, the credit union makes every effort to highlight the credit union industry and the positive impacts all credit unions bring to consumers. Option 1 was recently featured in a story about the rebounding housing market in West Michigan. Click here to watch it.

… The Metro West Chapter announced grants totaling $12,500 to nine Detroit area nonprofit organizations. Award presentations were made to the top three recipients will be made during the chapter's annual charity golf outing Aug. 15 at the Northville Hills Golf Club in Northville. "This year we received a record number of 118 grant requests from local nonprofits, which more than doubles the amount from last year," said Lisa Fawcett, vice president of marketing for Co-op Services CU and Metro West golf outing co-chair. "Our committee had a very difficult task to select only nine recipients from among so many outstanding and deserving organizations." The chapter awarded $2,500 each to Catholic Social Services of Wayne County, Focus Hope and St. Frances Cabrini Clinic. Awarded $1,000 each are the Coalition on Temporary Shelter, Lennon Pregnancy Center, N.O.A.H. – Networking Organizing and Advocacy for the Homeless, and Twelfth Street Food Pantry. Receiving $500 each are Alternatives for Girls (AFG) and Moon Ministry. Since 2005, Metro West has donated nearly $130,000 to local organizations with funds raised through the chapter's annual golf outing. The chapter will accept grant proposals for 2014, beginning next May.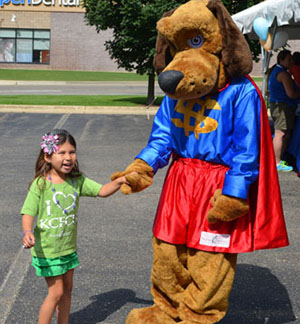 Makayla enjoyed dancing with dollar dog at KCFCU's Dollar Dog Kids Day
… Kellogg Community FCU had its Dollar Dog Kids Day on July 27 at its B Drive Branch. The fun-filled event for kids 12 years and younger who came out and enjoyed a day designed just for them. This free event was open to anyone in the community with children whether they were KCFCU members or not. The kids had a great time playing games and winning prizes. KCFCU's Dollar Dog mascot was there to greet the children. They enjoyed giving him high fives and dancing with him. There was punch, popcorn and snow cones for everyone to enjoy. The Emmett Township Fire Department had a fire truck on display for the kids to climb into and see what it feels like to be behind the wheel. "KCFCU was excited with the overwhelming positive response to our Dollar Dog Kids Day," said Karie Powers, KCFCU's B Drive branch manager. The kids had a great time, and we were pleased to see how many parents opened accounts for their children. This is the first step to getting them to save money. If a child learns the importance of saving at a young age, and makes saving a habit, there is a better chance that they will build a strong financial future for themselves.

… Founded in 1953, Parkside CU is celebrating its anniversary with "Sixty Years Serving You" Member Appreciation Days. The first event was in Livonia on Aug. 16 and second will be in Westland on Friday, Aug. 23, from 11 a.m. to 2 p.m. There will be free food and light refreshments, giveaways and prize drawings, as well as a popcorn machine and anniversary cake. Also included will be free on-site shredding of documents for all members. "The 60-year anniversary of the founding of the credit union is an exciting milestone," Parkside CEO Martin Carter said. "We are proud of the heritage we have established and want to celebrate this momentous occasion with our members and staff who've made this growth possible." In addition to the anniversary celebrations, Parkside dove into the history books to locate its longest-tenured member, John Reyman, who helped form the credit union in 1953 along with 20 other individuals. One of those founding members was Jim Sale, who had the distinction of holding the first account. Reyman was responsible for soliciting new memberships in the credit union as well as developing new products and services. Within the first few years, the credit union had a little more than 100 members, who handled their transactions (checking and savings accounts only) at an old union hall building in Livonia that has since been razed. Parkside grew exponentially in the 1960s with the addition of automatic payroll deductions and loans, partly as a result of the efforts of John Reyman, who continues to bank with Parkside today.
Going to the Fair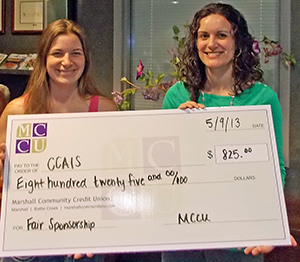 Marshall Community CU
was a Blue Ribbon sponsor of the 165th Calhoun County Fair in Marshall. The fair, Aug. 11-17, is Michigan's oldest continually operating fair. From left are Megan Harvey, asssistant executive director and sponsorship director of Calhoun County Agricultural Industrial Society and Becky DeFabio, marketing representative for Marshall Community CU.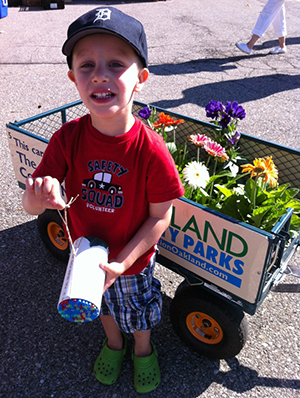 Zachary Bosse shows his his handcrafted bee house.
… Genisys CU is the premier sponsor for multiple upcoming events at the Oakland County Market at 2350 Pontiac Lake Road in Waterford Township. The Oakland County Parks and Recreation Commission assumed management and operation of the Oakland County Market in 2012. The venue features a farmers market and flea market, which operate four days a week. Genisys joined forces with the Michigan State University Extension Service and Oakland County Parks to offer free events for children throughout the summer. These free kids activities are located in a tent, near the outdoor vendor pavilion. Upcoming events include: Grassy Pet (Aug. 24), Pinecone Birdfeeder (Sept. 14) and Beany Necklace (Sept. 28). All events will run from 9:30 a.m. to 11:30 a.m. For more information about these exciting summer events, visit DestinationOakland.com, call (248) 858-5495 or email ocmarket@oakgov.com.


… Co-op Services CU announced it achieved its goal to save members of the community more than $200,000 in auto loan interest through the "Amazing Auto Loan Challenge." The challenge offered rates as low as 1.79% APR for up to 72 months along with an additional $100 for members who helped the credit union achieve its goal by financing a new vehicle or refinancing an existing auto loan from another financial institution between April 17 and July 31. Everyone who participated will receive $100 deposited into their account. "We created the Auto Loan Challenge because we realized that we could save members an average of more than $550 over the life of the auto loan. We wanted to bring that savings to the entire community," said Lisa Fawcett, Co-op Services' vice president of marketing. "We give our members special thanks for spreading the word to their friends and family about the challenge. They helped us hit our goal." There is still an opportunity for people to take advantage of these low rate loans and to refinance auto loans from other financial institutions.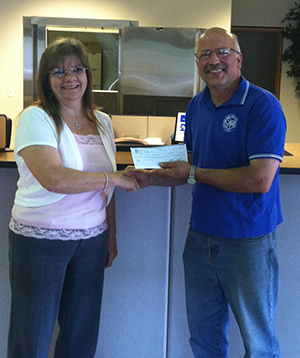 AAACU team member Patti Tews presents a check for $317 to Tom Lacross of St. Vincent DePaul.
… Alpena Alcona Area CU raised $317 in donations for St. Vincent DePaul. This volunteer-based program assists individuals and families in need by helping with mortgage and/or rent payments, utility expenses, clothing and food. The Ossineke Branch accepted donations from its members. The branch sold chips, bracelets, held a bottle drive, and raffled off a golf package and mother's day package. Along with the member donations, staff members were able to donate $2.00 on Fridays to dress down in jeans.

Alpena Alcona Area CU Support's Relay for Life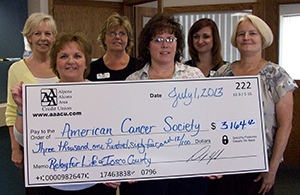 Employees of Alpena Alcona Area CU's Oscoda office present a check to Relay for Life. Employees raised $3,164 for Relay for Life. The Oscoda Branch had several fundraising events for Relay for Life including candy bar and popcorn sales, raffles, book sales, bake sales and monetary donations.

… In partnership with AAA Insurance of Michigan, Credit Union ONE had a free children's bike helmet giveaway at their Troy Branch on July 12. The successful event provided approximately 65 children with fittings for their helmets as well as some great safety information. During the event, children also had the opportunity to learn about the Saving Money is Fun Kids Club, with those signing up for the Club receiving some great prizes and incentives for savings. "We are proud to partner with a fine organization such as AAA Insurance of Michigan to bring safety and value to our members," Chief Marketing Officer Swaminathan Seetharaman said. "This was a win-win for everyone, bringing both exposure to great services and responsibility safety awareness."

… Powered By Honor®, the philanthropic arm of Honor CU, is thrilled to announce its donation of $500 to The First Tee of Benton Harbor. The $500 donation will go toward the organization's summer program which serves more than 400 youth ages 5-17 throughout the Southwest Michigan summer. The mission of The First Tee of Benton Harbor is to positively impact the lives of our local youth by providing educational programs that build character, instill life-enhancing values, and promote future potential through the game of golf. "It's a great opportunity for us to further benefit a great program that helps to develop our youth in our community," said Angie Rynearson, Honor's education and development manager. The donation provides an opportunity for Powered By Honor® to help better enhance the learning experience of more than 1,500 participants yearly from our surrounding communities.

… Rivers Edge Community CU and Co-op Services CU have announced their intent to merge at the end of the year. "I'm very excited about the opportunities this partnership will provide both our memberships," RECCU president and CEO Thomas Fisher said. "This is very much a win-win for all of our members and the communities we serve. RECCU is based in Allen Park and has additional branches in Woodhaven and Taylor along with a drive-up facility a few blocks from the main office. "Our credit unions are very similar. Both have a long history and strong commitment to providing members with the best in financial products and services available," Co-op Services' President and CEO Anthony Carnarvon said. Headquartered in Livonia, Co-op Services has eight branches in Dearborn, Detroit, Garden City, Livonia, Melvindale, Southfield, Southgate, and Westland. Pending member and regulatory approval, which is expected to occur by the end of this year, the credit unions will retain the name of Co-op Services CU. The combined organization will include more than 61,000 members with assets totaling more than $500 million. After the merger and integration of data systems, all members will be able to conduct their financial business at any of the 12 branch locations. Members also have access to more than 6,800 credit union service centers and nearly 30,000 ATMs nationwide.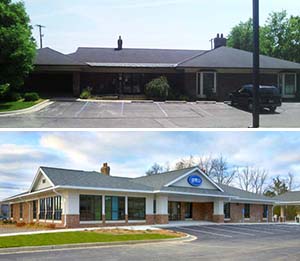 La Macchia Group recently transformed a medical office building (top) in Grand Rapids into a new branch for Grand Rapids Family CU (bottom).
… La Macchia Group recently completed a new branch for Grand Rapids Family CU. After a complete market analysis, the company identified and secured a former medical office building for the credit union's third full-service branch location. Extensive work was done to obtain the necessary zoning and permitting for conversion to a retail credit union with three drive-up kiosks and an ATM. A new, inviting entrance with a canopy was added to provide a strong presence to the street. The addition of an outdoor patio provides the perfect place for staff to relax during breaks. Vertical windows replaced the outdated bay windows, giving the building a more contemporary, retail feel. Inside, the brown and orange color palette, combined with layered textures and patterns, provides the space with warmth and sophistication. The lobby was designed to cater to anyone who enters; it offers lounge chairs for adults, an activity table for children and a unique dry-erase wall for those who want to express thoughts and share their artistic creations. Convenient Internet stations situated adjacent to the coffee stand are a perfect pair for sipping and surfing. Teller pods were incorporated to support Grand Rapids Family's vision statement of ensuring growth through efficient product delivery and effective communication. "I would like to compliment your team of employees on the outstanding job they did on designing and building our new Brenton office," GRFCU president/CEO
 Kim Wilson
 said. "Collectively, your entire team's skills and professionalism are outstanding."

| | |
| --- | --- |
| Kuzdzal | Bills |
… Central Macomb Community CU has announced the promotion of two staff members to head branch operations at their Clinton Township and Chesterfield offices. Maryann Bills will be the Clinton Township (Main) branch mAnager and Ashley Kuzdzal will be the Chesterfield Township branch coordinator. Bills has been with Central Macomb since May 2008 serving as a member service representative and call center specialist. Bills will lead a staff of 12 at the Main branch on Gratiot. "We are excited for the opportunity to promote one of our star employees to the management team," Branch Operations Director Jennifer Nelson said. "Maryann has consistently been a top lender for the credit union over the past three years. We look forward to seeing Maryann lead the Clinton Township location to new lending heights." Kuzdzal joined Central Macomb in November 2011 and was quickly promoted in March 2012 to head teller where she supervised eight staff members. "Ashley has done a wonderful job motivating her staff to achieve their monthly sales goals," Nelson said. "I am excited for the Chesterfield branch to flourish under Ashley's leadership." The Chesterfield location was opened in February 2012 and continues to grow, serving northern Macomb County members. "We are pleased to promote these ladies to leadership roles," CMCCU President/CEO Drema Isaac said. "We are confident they will continue leading our team and serving our members' needs."
| | |
| --- | --- |
| Archocosky | Blackwell |
… MSUFCU announced the promotions of Allison Archocosky to assistant manager at MSUFCU's East Lansing Branch and Brionna D. Blackwell to assistant manager at MSUFCU's Oakland Branch. Both individuals are currently completing MSUFCU's extensive Management Development Program. "These two promotions are of Management Development associates who have taken advantage of growth opportunities within the Credit Union and have developed the skills necessary to succeed on a management level," MSUFCU President and CEO Patrick McPharlin said. Archocosky has worked at MSUFCU since December 2010, and was previously an eServices loan officer before entering the credit union's Management Development Program. She holds a bachelor's degree in organizational communication from Michigan State University. Blackwell has been with MSUFCU since January of 2011, and was previously a Department Trainer before entering the credit union's Management Development Program. She received a Bachelor's degree in marketing from the Eli Broad College of Business at Michigan State University and is currently pursuing a Master's degree in public relations from the College of Communication Arts and Sciences at Michigan State University. Blackwell serves on the board of directors and chairs the Community Service Outreach Committee for the Uplift 72 Foundation.
Submissions to Monitor may be
emailed
. Bryan Laviolette is the editor of Monitor. Contact him
by email
or call (800) 262-6285, ext. 233. The newsletter of the Michigan Credit Union League is published Monday mornings or Tuesday mornings when Monday is a holiday. There is no Monitor the week after Christmas and the week after the Annual Convention and Exposition. The MCUL reserves the right to edit submissions for clarity and space.