Show Me the Money Day Informational Webinar Aug. 28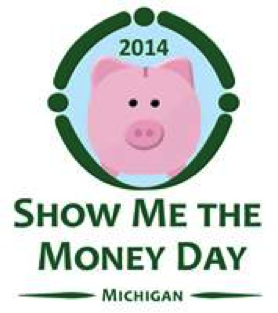 An initiative of the Community Economic Development Association of Michigan, Show Me the Money Day events will take place between mid-January and late February of 2014. An informational webinar on Aug. 28 at 11 a.m. will take a look at the resources CEDAM will provide you and your community for the 2014 Show Me the Money Day.
Learn about a new outreach toolkit, updated host site resources and ways you can increase attendance at your local event. Whether you're a returning host site or looking to become a new host site, join to learn about the simple steps you can take to plan an event in your community. Register here.
Also, visit ShowMeTheMoneyDay.org.

Submissions to Monitor may be
emailed
. Bryan Laviolette is the editor of Monitor. Contact him
by email
or call (800) 262-6285, ext. 233. The newsletter of the Michigan Credit Union League is published Monday mornings or Tuesday mornings when Monday is a holiday. There is no Monitor the week after Christmas and the week after the Annual Convention and Exposition. The MCUL reserves the right to edit submissions for clarity and space.