From Hiring to Firing and Stuff in Between Featured at People and Performance Institute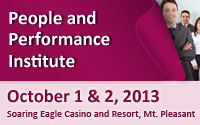 Credit union staffers, HR professionals, supervisors and trainers will all find an information-packed agenda at this year's MCUL & Affiliates People and Performance Institute, taking place at the Soaring Eagle Casino and Resort in Mount Pleasant, Oct. 1-2.
Attorney Patty Corkery will deliver the presentation, "From Hiring to Firing and Stuff in Between" on the first day of the conference. Starting with severing ties, this session will provide valuable employment insights from a legal perspective.
The presentation is ideal for those new to the HR process and makes a great refresher for seasoned staffers, too. Topics to be covered also include job descriptions, handbooks and performance reviews. Attendees will leave being able to better review their own credit union's procedures and practices, as well as how to shape more of a uniform approach to employment issues and consider the practical and legal ramifications along the way. The eye-opening discussion will include real-life situations and concerns, while providing time for input and questions.
Fifteen industry-experts from across the country will be presenting at the event, which was formerly known as the MCUL & Affiliates HR, Trainer and Supervisor Institute. To find information about the complete agenda, hotel accommodations and registration details, click here.
Submissions to Monitor may be
emailed
. Bryan Laviolette is the editor of Monitor. Contact him
by email
or call (800) 262-6285, ext. 233. The newsletter of the Michigan Credit Union League is published Monday mornings or Tuesday mornings when Monday is a holiday. There is no Monitor the week after Christmas and the week after the Annual Convention and Exposition. The MCUL reserves the right to edit submissions for clarity and space.