... Two Michigan credit unions are featured in a CU Times story on credit union mascots. Michigan First CU says it uses its dinosaur Max to instill money management and saving habits among children ages 12 and under as part of the MoneyKids program. "As a credit union founded by educators, Michigan First's team knew it was important to find a fun and enjoyable way to not only introduce kids to financial topics, but to truly connect with them," said Linda Douglas, vice president of marketing. Kellogg Community FCU uses Dollar Dog to promote its Dollar Dog kids program. "There is no greater visibility at events and schools than a mascot," said Rori Ross, marketing analytics manager at Kellogg Community FCU. "Typically we have two to three people who usually volunteer to wear the suit and they have a lot of fun with it." Click here to read the full story.

… For Credit Union ONE it has always been about community and part of that is evidenced in how they interact with the local governmental and city offices when there is a need. Recently, the city of Ferndale approached Credit Union ONE about the need for a building where they could temporarily relocate in order for the city offices to be remodeled. Credit Union ONE gave the city use of some of its' office space just across the street from City Hall, so after obtaining approval from the City Council, earlier this month the 43rd District Court and some police offices moved into its new space. "We couldn't be happier to have such a partner as Credit Union ONE in this project," Ferndale City Manager April Lynch said. "It was a wonderful convenience to be able to move just across the street thanks to the accommodation by Credit Union ONE." According to the city, the renovation plan has been a long time in the works and is expected to take approximately a year to complete. "This is what community is all about, reaching out and helping when we can," said Thomas Schaeffler, Credit Union ONE executive vice president and COO. "It was very professional and enjoyable working out the details with the City of Ferndale."

… Members First CU purchased pigs from Isabella, Osceola, Midland and Gladwin counties to help feed the hungry, supporting the 4H auctions and county fairs in those areas. Meat from each pig was donated to various food pantries such as the Isabella Community Soup Kitchen in Mount Pleasant, R.E.A.P. in Rosebush, Sears Food Pantry serving Evart, Helping Hands Mission in Gladwin, Farwell Food pantry which also serves Clare and Harrison, The Open Door Food Pantry in Midland and Westtown Community Center serving Midland. "We were so excited to be able to help the communities' we serve this year. It is great to give back to those who really need it." Said, Rebecca Lobsinger, Members First's Mount Pleasant Broadway branch manager.

… The National CU Foundation's board has approved 16 new Biz Kid$ grants for 2013, totaling $124,961, including one for CASE CU in Lansing. The new grants engage the credit union movement in using Biz Kid$ and its curriculum to build students' financial literacy and economic education skills. Biz Kid$ is the credit union funded public television series that teaches kids about money management and entrepreneurship. According to the 2013 Junior Achievement/Allstate Foundation Teens and Personal Finance Survey, 76% of teens report the best time to learn about money management is in kindergarten through high school, but only 29% reported programs currently in place. "There is a need to improve the financial literacy skills of the youth in America and Biz Kid$ is the perfect vehicle to address that need," said Danielle Brown, Biz Kid$ program coordinator for NCUF. "We are excited to fund these innovative programs that will improve the financial education of youth through the use of the Biz Kid$ program." NCUF oversees fundraising and outreach responsibilities for Biz Kid$. During the past six years, more than 300 credit unions and affiliated organizations have raised more than $13.8 million in support of the show's production, website and curriculum. In fact, every Biz Kid$ episode begins and ends with a narrator reminding viewers that: "Production funding for Biz Kid$ is provided by America's Credit Unions, where people are worth more than money." CASE will execute a two-week financial education and entrepreneurship summer program utilizing Biz Kid$ that is designed to empower youth from low-wealth families with the tools necessary to capitalize on their business ideas while filling a void in personal financial education. They will create a teacher fellowship position for a middle school math or social studies educator to participate in the camp.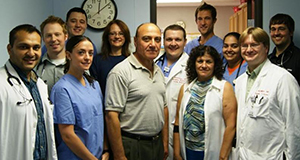 McLaren Oakland Medical Center staff assisted at a health fair, hosted by Genisys CU.
… Genisys CU recently teamed up with McLaren Oakland Medical Center and McLaren Oakland Foundation to host a health fair. "Genisys was happy to team up with McLaren Hospital and help Pontiac residents with this event," President/CEO Jackie Buchanan said. Aimed at keeping kids active and healthy, McLaren Oakland Medical Center and McLaren Oakland Foundation worked with Genisys to host an event that would give all children in Oakland County an opportunity to receive a free sports physical, regardless of insurance. The event took place just in time for the upcoming fall sports season. "I'm really glad we decided to attend and take advantage of the free physicals. We learned a lot," said Lisa Black, a Pontiac resident. This is the eighth annual event for McLaren Oakland Children's Health Services. More than 60 children received free physicals this year and over 150 people were in attendance. Backpacks filled with healthy snacks and school supplies were given to each student upon completion of their check-up. Star EMS was also onsite with an ambulance for children to tour. "This event means a lot to me, especially because I grew up right around here in Pontiac," Dr. Tressa Gardner said. "It's important for us to provide this to kids that may not be able to come up with the money needed for a physical. Now they can play ball without these costs holding them back."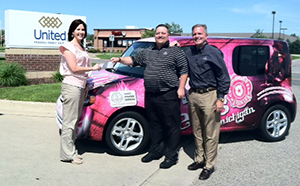 From left are UFCU Holland North branch Manager Leslie Bozek, Elhart Automotive CEO of Customer Relations Jeff Potter and Elhart Automotive Owner Jeff Elhart. Elhart was one of the stops on the tour.
… United FCU is contributing $1,000 to the National Pink Heals Tour/West Michigan, which was Aug. 19, in Holland and Zeeland. Pink Heals is a nationally recognized organization renowned for its pink fire trucks and pink police cars. Its mission is to serve women across the U.S. in a number of diverse ways, but foremost in their fight against cancer. "At UFCU, we fell in love with this opportunity," said UFCU North Holland Branch Manager Leslie Bozek. "It centers on the community and touches a cause close to all of us – the fight against cancer. Creating camaraderie among neighborhoods and businesses alike, 100 percent of funds raised will stay local to assist Bluebird Cancer Retreat Centers, located on the shores of Lake Michigan." The program offers a variety of educational activities, giving participants a chance to learn more about coping with the disease. Participants are pampered with wonderful food and holistic treatments while given the inspiration to recharge. Supporting local initiatives and causes important to members is essential at UFCU. "All of us want to see an end to this horrible disease," Bozek added. "The Pink Heals event is one way we can fight back." With more than 23 locations nationwide, each UFCU branch reaches out to help make their communities a better place.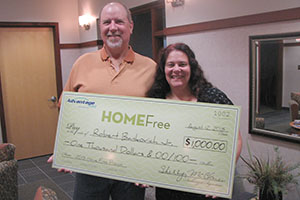 Robert and Karen Bankovich won $1,000 in Advantage One FCU's recent HOME Free promotion.
... Advantage One FCU would like to congratulate long-time members Robert and Karen Bankovich of Trenton for winning its HOME Free promotion. Each member who opened a new mortgage was entered in a contest to win $1,000. The Bankovichs were presented with a $1,000 check by Shelly McClain, vice president of lending. The Bankovichs originally visited the credit union to discuss financing options for a major in-ground pool and landscape project for their back yard. AOFCU Financial Services Representative Lisa Moore was able to show them how they could finance their pool and how they could save even more money by refinancing their first mortgage with the credit union.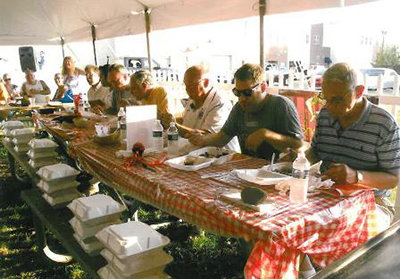 Judges test the entries at BBQ Grill Master Competition.
… Genisys CU recently sponsored the Hot Blues and BBQ festival in Wixom. While the day was very hot and humid, attendance was strong with about 5,000 guests. Everyone enjoyed great music, BBQ food, corn roast, fireworks and a variety of family activities, including a grill master competition, kids craft tent, climbing wall, carnival rides, mechanical bull, inflatables, farmers market, putt-putt golf, Pistons Hoops Truck and more. "The Hot Blues and BBQ is a favorite among the community," said Linda Hinkley from the city of Wixom Parks and Recreation Department. "Genisys is glad to be a part of this unique tradition in the City of Wixom," President/CEO Jackie Buchanan said.

| | |
| --- | --- |
| | |
| | Clockwise from top left: The "H.A.W.K. Committee 2013" photo includes MSUFCU employees who served on this year's Charity Committee. The "Dapper Dads Challenge" photo shows MSUFCU President and CEO Patrick McPharlin, at the fashion show concluding the challenge. The "Relay For Life Event" photo includes MSUFCU employees at the Relay. |
… MSUFCU and its employees were excited to support and partner with four charities during the first six months of 2013: Help A Willing Kid (H.A.W.K.) Foundation, Relay For Life, Coaches vs. Cancer and Dapper Dads Challenge. From January through June of 2013, MSUFCU employees came together and raised $33,938 for H.A.W.K. through a variety of fundraising activities such as dress down days, raffles, and more. The Help A Willing Kid Foundation's mission is to uncover the potential within each child and provide children with the tools to nurture their talents by offering a variety of programs for kids in the greater Lansing area. Part of the funds have already been put to use at the foundation to purchase a new washer and dryer, television facility for learning and counseling, remodeled tutor room, and new drainage system. In addition to H.A.W.K., the credit union also raised funds for three additional charities during this time. MSUFCU participated as a team at the Relay For Life of East Lansing event for the third consecutive year in June. Through staff fundraisers, individual donations, and funds raised at the event, Team MSUFCU raised $12,036 in support of cancer research. Also, to help raise funds in the fight against cancer, the credit union participated in the Coaches for Cancer Suits and Sneakers Challenge as part of the Coaches vs. Cancer program. Through employee dress down days, $2,745 was raised for this challenge. MSUFCU employees continued to show their charitable support as they participated in fundraising activities at work for the Dapper Dads Challenge, which is an annual event that raises money for the Sparrow Foundation's Women Working Wonders (W3) Committee. Staff helped to raise close to $4,000 for this charity challenge, and MSUFCU funds added with personal donations helped the Credit Union's President and Chief Executive Officer take fourth place in the challenge this year. "I am extremely impressed by the total amount of funds raised by staff as well as their generosity and continued focus on giving back to the community," MSUFCU President and CEO Patrick McPharlin said. "The more than $50,000 raised has gone toward four very deserving charities."

… During July, American 1 CU raised money for Domestic Harmony of Hillsdale. Domestic Harmony provides an emergency response and support for those victimized by domestic and sexual violence in Hillsdale County. American 1's home office, North Street and Hillsdale branches in Jackson and Hillsdale offered fresh popcorn and bottled water for a donation every Friday. The last Friday of the month, the credit union also made caramel corn. The caramel corn was a huge success and the members continue to ask for it each week. A total of $414 was raised for Domestic Harmony. For more information on the shelter please visit: http://domesticharmony.org/aboutus.html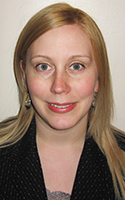 Barefoot
… Advantage One FCU announced the appointment of Jessica Barefoot to COO. In her new position, Barefoot will oversee branch operations, marketing, IT and compliance, as well as human resources and training. "I am excited about this opportunity to work closer with the operations staff, and to help the organization achieve its mission of being our members' personal financial partner, anytime and anywhere," Barefoot said. She began her career with AOFCU in 2000, most recently holding the position of vice president of marketing and communications. Throughout her career, she has continually focused on the strategic growth of the credit union and been very instrumental in the development of new products and electronic services offered to the membership. She holds an associate's degree in fine arts/graphic design and a bachelor's degree in business administration with a major in marketing from Davenport University.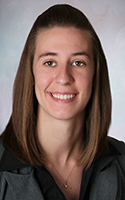 Wellman
… Kellogg Community FCU announced the recent hiring of Heather Wellman as training and development manager. Wellman brings more than 10 years of banking experience to KCFCU. She is a graduate of Western Michigan University where she achieved her MBA in management. In her new role Wellman will oversee employee training and development programs, continuously expanding KCFCU's culture of learning and growing its employees, both personally and professionally. "I am passionate about working with people, and my hope is to make a difference at KCFCU, both to its members and employees," Wellman said. "I enjoy my new career here at KCFCU and I look forward to what each new day brings." In her spare time, Heather enjoys being outdoors kayaking, cross-country skiing, or simply walking her dog. She also loves to travel and scrapbook.


| | |
| --- | --- |
| Putman | Minor |
… CASE CU has selected branch managers for its two newest locations, the West Saginaw and Lake Lansing branches. The West Saginaw branch is a newly constructed building, located across from the Lansing Mall and will feature a four-lane drive-thru, larger office space and open floor plan to provide members and staff with more flexibility and functionality. The branch is scheduled to open this fall. Nicole Putman, a Certified Credit Union Financial Counselor, will manage the new West Saginaw branch. Putman has been with CASE for nearly nine years, and is currently serving as the branch manager of the Delta and LCC Branches. She is a Lansing native, graduating from Everett High School and is pursuing a degree from Lansing Community College. The Lake Lansing branch is located at 2400 West Road, just off Lake Lansing Road near the U.S. 127 interchange. CASE had co-occupied the building with Option 1 CU since purchasing the property in January. Option 1 has now moved out of the property and CASE has begun renovations to update the building. Renovations are expected to be completed this fall, and the branch will remain open during construction. Courtney Minor assumed the management role at the Lake Lansing branch, coming to CASE with 11 years of bank management experience. Minor also serves as the chairman of the board for the Entrepreneur Institute of Mid-Michigan. He is a Lansing native, graduating from Everett High School and receiving his degree from Central Michigan University in 2001. "We are really looking forward to this new chapter in CASE's story, and we couldn't be more excited to have such great leadership in place at both of our new locations with Nicole and Courtney," CASE President/CEO Jeff Benson said. "Each of them has a wealth of experience in the financial industry and they will play a key role in getting our new branches running smoothly."

Submissions to Monitor may be
emailed
. Bryan Laviolette is the editor of Monitor. Contact him
by email
or call (800) 262-6285, ext. 233. The newsletter of the Michigan Credit Union League is published Monday mornings or Tuesday mornings when Monday is a holiday. There is no Monitor the week after Christmas and the week after the Annual Convention and Exposition. The MCUL reserves the right to edit submissions for clarity and space.