Rep. Benishek Offers Support of Federal Tax Exemption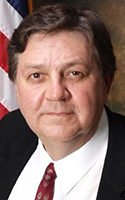 Benishek
Rep. Dan Benishek issued a statement supporting the credit union tax exemption, but he also went a step further, saying credit unions play an important role as job creators.
"As a credit union member, I am opposed to efforts that would raise taxes on any small business - including credit unions," said Benishek, R-Iron-Mountain. "I will continue to work with my colleagues in the House of Representatives to support policies that reduce regulatory burdens and promote employment for all job creators - from credit unions to the small businesses in Northern Michigan that they finance."
MCUL & Affiliates CEO David Adams said Benishek's statement demonstrates the way credit unions contribute to the economy of Michigan and the nation.
"We asked Congressman Benishek for a statement regarding the credit union tax exempt status and he went one step further," Adams said. "In addition to expressing clear support for the continued tax status, he reiterated his core values that align with credit unions' top legislative priorities; namely maintaining and improving the tax and regulatory climate so credit unions can provide more capital and services to the members and businesses that create and provide jobs."
MCUL & Affiliates has received statements of support from Democratic Sens. Debbie Stabenow and Carl Levin. In the House, the league has received statements of support from Democrats Dan Kildee, Gary Peters, Sander Levin and John Dingell and Republicans David Camp, Mike Rogers, Tim Walberg and Kerry Bentivolio.
Submissions to Monitor may be
emailed
. Bryan Laviolette is the editor of Monitor. Contact him
by email
or call (800) 262-6285, ext. 233. The newsletter of the Michigan Credit Union League is published Monday mornings or Tuesday mornings when Monday is a holiday. There is no Monitor the week after Christmas and the week after the Annual Convention and Exposition. The MCUL reserves the right to edit submissions for clarity and space.