Itís Another Donít Tax My Credit Union Tuesday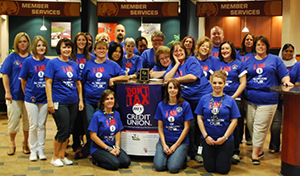 Staff at OUR CU in Royal Oak have been wearing their Don't Tax My Credit Union T-shirts once a week for the last month in support of the campaign to maintain the federal credit union tax exemption.
With Congress returning to Washington this week, CUNA is calling for another #DontTaxMyCU Tuesday.
Credit union supporters have sent more than 800,000 messages to Capitol Hill since the campaign began earlier this year. But now, experts expect legislators to get down to business and actually start writing the new tax code proposals.
Michigan credit union supporters have a little bit different task for Don't Tax My Credit Union Tuesday than those around the rest of the country. Fifteen members of Michigan's 16-member congressional delegation have either issued statements of support for the credit union tax exemption or more general statements of support for the credit union movement. The only Michigan member who has not issued a statement is Rep. Justin Amash, R-Cascade Township. So if you contact any of Michigan's other members of Congress, thank them and tell them how much you appreciate their support of credit unions.
Congress is in the process of overhauling the federal tax code and has put everything – including the credit union tax exemption – on the table. With Congress returning to session, many expect that lawmakers will put pen to paper to draft tax reform legislation.
Michigan will play a key role in the debate since House Ways and Means Chairman Dave Camp, R-Midland, and ranking member Sander Levin, D-Royal Oak, are both from Michigan. And in the Senate, Sen. Debbie Stabenow sits on the Senate Finance Committee. In addition, Michigan has several other influential members of Congress including five committee chairs – Stabenow, Sen. Carl Levin, Rep. Mike Rogers, Rep. Fred Upton and Rep. Candice Miller.
Political pundits say that the next couple of weeks will be critical. Consider this excerpt from an article in Politico titled "The influence of tax reform's first take:"
"When it comes to tax reform, the first draft can have a power all its own…. [E]ven if the Camp and Baucus proposals end up only being first drafts, they could dominate the debate over tax reform for the foreseeable future. What they decide to include, and omit, from their proposals could become the new starting point in future negotiations, helping shape the outcome of any overhaul, veterans of similar efforts say."
Taking part is easy. Using Twitter, Facebook or any other popular social media site, get in touch with senators and representatives and tell them how important credit unions are. Wherever you post, use the hashtag #DontTaxMyCreditCU.
You can also invite your members to join in the fun. MCUL & Affiliates will be on social media as well on Tuesday. You can follow us on Twitter @MICreditUnions or like us on Facebook at www.facebook.com/MICreditUnions.

Submissions to Monitor may be
emailed
. Bryan Laviolette is the editor of Monitor. Contact him
by email
or call (800) 262-6285, ext. 233. The newsletter of the Michigan Credit Union League is published Monday mornings or Tuesday mornings when Monday is a holiday. There is no Monitor the week after Christmas and the week after the Annual Convention and Exposition. The MCUL reserves the right to edit submissions for clarity and space.