CU Lunch Local Highlights Businesses, Credit Unions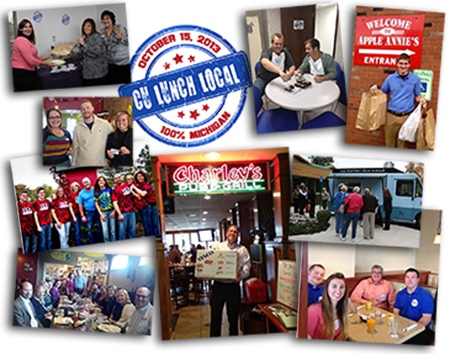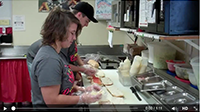 Click above to watch a video of a sub shop making subs for CU Lunch Local at Wildfire CU.
More than a year ago, Jessica Richardson-Isenegger, who works with Michigan Business Connection, and Rebekah Monroe from Christian Financial CU were talking about ways to generate awareness about credit union business lending.
They came up with CU Lunch Local, where credit unions are invited to buy lunch for their staff or just go out for lunch to show how credit unions support local businesses.
On Oct. 15, more than 100 credit unions in three states jumped on the bandwagon to show their support.
Richardson-Isenegger, senior partner at In-Fusion Group, a marketing and business consulting firm, joined a group from Christian Financial, along with Bill Beardsley, president and CEO of Michigan Business Connection, at Steve's Backroom, a restaurant where Christian Financial financed a remodeling loan with MBC's assistance.
"It was a great experience," Charles Raffoul, vice president of Steve's Backroom, said of working with Christian Financial.
Raffoul used the loan – which was backed by the U.S. Small Business Administration – to finance an expansion of the restaurant including a bar. MBC, an Ann Arbor-based business-lending CUSO, provided underwriting, documentation and servicing of the loan.
More than 60 Michigan credit unions shared their CU Lunch Local plans with Richardson-Isenegger, who coordinated the project. In addition, the Louisiana CU League and Ohio CU League participated for the first time this year. Louisiana had 29 credit unions participating and Ohio partnered with food trucks around their state matching them with local credit unions.
"Thank you to everyone that participated," Richardson-Isenegger said. "We invite you to like the official CU Lunch Local Facebook page and save the date for next year's CU Lunch Local event on Tuesday, Oct. 14, 2014."
Last month, MCUL & Affiliates won a CUNA Blockbuster Award for its public relations support for CU Lunch Local.

Submissions to Monitor may be
emailed
. Bryan Laviolette is the editor of Monitor. Contact him
by email
or call (800) 262-6285, ext. 233. The newsletter of the Michigan Credit Union League is published Monday mornings or Tuesday mornings when Monday is a holiday. There is no Monitor the week after Christmas and the week after the Annual Convention and Exposition. The MCUL reserves the right to edit submissions for clarity and space.