Spring Leadership Development Conference Online Registration Now Open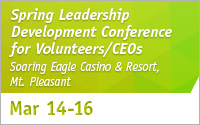 Credit union CEOs have recently been mailed a packet of literature to share with their volunteers about the MCUL & Affiliates Spring Leadership Development Conference, March 14-16 at the Soaring Eagle Casino and Resort in Mount Pleasant. Those interested in attending are encouraged to secure hotel accommodations soon. The hotel is holding rooms at a negotiated rate until Feb. 20.
This year, a keynote presentation on "Reinvention Made Easy: Changing Strategy to Change Results" will be followed by more than a dozen breakout sessions. A new CUNA Volunteer Achievement Program session will be offered in two parts on "Enterprise Risk Management for Directors (VAP 432)" and "Consumer Financial Protection Bureau Update." Also scheduled is a "Bank Secrecy Act for Board Members" and a session on "Future Money: Potential Fraud and Security Implications."
Attendees are welcome to bring guests, who may purchase tickets to meals, to the Saturday afternoon activity "Painting With a Twist" and to the Saturday evening banquet featuring entertainment by Three Men and a Tenor.
Soaring Eagle Casino and Resort is a fabulous Michigan get-away destination and is near the Soaring Eagle Waterpark and Hotel, ideal for family fun. To learn more or to register, click here.
Submissions to Monitor may be
emailed
. Bryan Laviolette is the editor of Monitor. Contact him
by email
or call (800) 262-6285, ext. 233. The newsletter of the Michigan Credit Union League is published Monday mornings or Tuesday mornings when Monday is a holiday. There is no Monitor the week after Christmas and the week after the Annual Convention and Exposition. The MCUL reserves the right to edit submissions for clarity and space.