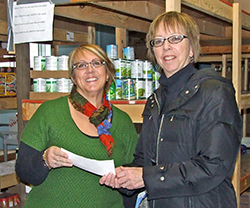 Leslie Salter of HarborLight CU presents a $350 donation to Margaret Everling of the White Lake Food Pantry in Whitehall.
… Leslie Salter, director of business development at HarborLight CU, delivered a $350 donation to Margaret Everling, at the White Lake Food Pantry located at Lebanon Lutheran Church in Whitehall recently. The credit union had a contest on Facebook. "We offered to donate $1 for every new "like" on our Facebook page up to $500," Salter said. "We were amazed and thrilled to see the overwhelming response. It just shows how much people want to help those less fortunate." Salter said that there were likes from local members and nonmembers, as well as those from as far away as Florida. "Our goal was to gain more visibility on our Facebook page because that is where we do some of our marketing. We were not concerned as to whether they were members or not, we just wanted to have a presence in the Facebook community and we believe we achieved that goal with this promotion."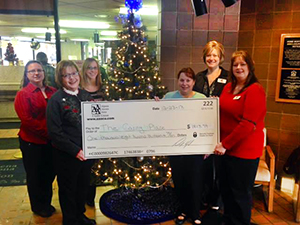 From left are Holly Cousineau of the AAACU mortgage department; Karol Cain, director of the Caring Place; Jess Myers of the AAACU loan department; Staci LeBlanc of the AAACU loan department; AAACU Internal Auditor Angie Szatkowski, and Colleen Miller, AAACU teller and fundraising chairwoman.
… Through the hard work of its employees and the generosity of its employees and membership, Alpena Alcona Area CU was able to raise $1,814 for The Caring Place Adult Daycare of Alpena. The Caring Place is an adult daycare – d facility available to adults who need supervision or cannot be left alone, such as people with Alzheimer's disease and related disorders, stroke or elderly. AAACU employees select four community or charity organizations they would like to fundraise for during each quarter of the year. During the fourth quarter of 2013 the main office of AAACU chose to focus its efforts on The Caring Place. Staff organized many different fundraisers to raise money for this organization including: candy bar sales, bake sales, spare change canisters, hunter's raffle, wreath sales, Santa Bucks and staff could donate $2 on Fridays to dress down in jeans and sneakers.
Making Spirits Brighter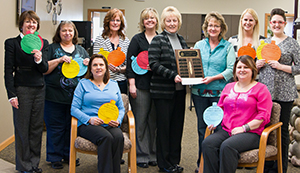 Denise Perry, community resource coordinator for the Michigan Department of Human Services receives a $845 donation from Great Lakes First FCU Office Manager Debbie Dye, for the "Help Make Spirits Bright" fundraiser. Standing from left are credit union Vice President Maggie Anderson; Sandra Beggs of the Department of Human Services, and Mary Elder, Kelli VanGinhoven, Cheryl Anderson and Jaylene Mark from Great Lakes First. Seated are Clara Adams and Erica Quinn from Great Lakes First. Employees from Great Lakes First FCU's offices in Escanaba, Gladstone and Rapid River raised funds in the months of November and December. The credit union took first place in the city of Escanaba category. Whites Grocery took first place in the county category by raising $1,027 for the cause. Proceeds from the event were used to provide Christmas Gifts for the needy children and shut-ins living in Delta County, with the remaining funds being used for clothing and school supplies for children in Delta County.
… Michigan First CU, in conjunction with its young adult financial education program, Young & Free Michigan, recently kicked off its annual scholarship contest. The credit union will give away up to $85,000 in scholarships – including three $10,000 first-place awards – to graduating high school seniors and current college students. During the past 10 years, Michigan First has given away more than $730,000 in scholarships to metro Detroit students. The three scholarship categories include a high school video contest, a high school essay contest and a college video contest. Applicants can create their response with a 60-second video or a 300-word essay. For each category, this year's question is, "What event or person (other than parents) has made the most significant impact in your life? How has that changed you and how will you use this going forward in life?" "As a credit union founded by Detroit teachers, supporting the education of local metro Detroit students is a mission we are deeply committed to," Michigan First CEO Michael Poulos said. "Each year, through our partnerships with the local schools, educators and the Young & Free program, our scholarship program continues to grow, leaving a positive impact in the communities in which we serve, and there is no greater honor than to be able to invest in these kids' futures." Winners will be selected by online voting and a panel of judges will choose the final winners. The top three winners in each category will receive a $10,000 scholarship, and runners up will receive $5,000 and $3,000 scholarships. Additionally, Michigan First will select more than 30 additional high school applicants from Wayne, Oakland and Macomb counties to receive $1,000 scholarships. The Michigan First Foundation – a nonprofit founded in 2012 by the credit union with a focus on youth and education in metro Detroit – funds the scholarships as part of more than $150,000 in contributions to local charitable organizations and students each year. Applications will be accepted through Feb. 10 at YoungFreeMichigan.com. All applicants must be high school seniors or current college students, as well as members of Michigan First, but interested metro Detroit students may join the credit union when they apply for the contest. The public voting for the top videos and essays will take place from Feb. 13-19, determining the top 10 finalists in each category. The winners will be announced the week of March 4.

… Filer CU celebrated being named People's Choice Best Financial Institution in the area as voted on by the readers of the Manistee News Advocate. Dawn Sugars was named FCU's 2013 Employee of the Year at a credit union event. Dawn worked first as a teller and currently as a member service representative. She joined the staff in 2007.
Help During the Holidays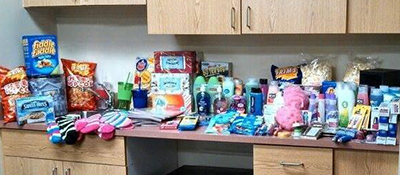 Filer CU employees recently collected personal items for distribution to local adult foster care homes. Members and employees also donated items, including items they knitted and crocheted, for a Mitten Tree. More than 300 pairs of mittens, hats and scarves were donated to charities including Love Inc. a women's shelter and the local schools.
… Alliance Catholic CU shared its "Heart for the Holidays" project with volunteers and more than 40 local businesses by raising more than $9,000 to help nine local families. Here are just a few of the kind words from the local families in need: "Thank you, this means so much to me. I've been trying to get back on my feet, but this Christmas I still need some help getting things for my kids. This means so much to me, I'm so grateful! Thank you, thank you, thank you." When one of the families was asked what they needed this year, they responded with: "I could really use some prayers, right now they are trying to evict me from my apartment." When asked if there was any specific item they needed, a family member burst into tears, "My child really needs some snow pants and some warm clothes for the winter. We would love one of those blankets that heat up … really we just need heat and food." Each of the nine families received a number of special gifts including many of the items on their children's special wish lists along with much-needed supplies, clothing and food gift certificates. Each family was also able to enjoy a special surprise with a "dinner and a movie" night. To all who shared in the joy of giving this Christmas, your kindness and generosity could not be more appreciated.

… High school seniors, take note: applications are now available for ECCU's 2014 Scholarship Program. Twenty-one scholarships totaling $24,000 will be awarded, comprised of 18 $1,000 scholarships and three $2,000 scholarships. ECCU is committed to education and its scholarship program was established to enhance the educational opportunities and advancement of our member-owners. Since the program's inception in 1999, the credit union has awarded $316,000 in scholarship money to graduating high school seniors. ECCU scholarships are based on academic achievement, financial need, extracurricular activities, community involvement and a written essay. To be eligible, students must be: (1) a primary ECCU member in good standing for at least one year; (2) a high school senior with a minimum 3.0 GPA; and (3) accepted and enrolled in an accredited post-secondary school for the fall semester of 2014. For more information and to download a scholarship application, visit Scholarship Program page on ECCU's website. www.eccu1.org/about-us/scholarship-program Applications must be received or postmarked by Tuesday, April 1, 2014.

… Consumers CU's Dollars for Scholars Scholarship Program has been helping student members achieve their dreams of attending college for more than 20 years. More than 70 scholarships have been awarded since the program's inception. In 2014, Consumers will award 20 scholarships of $1,000 and an iPad to members of the credit union who are graduating high school seniors. Consumers believes strongly in contributing to the well-being of its membership by supporting student members as they further their education. The Dollars for Scholars program is funded by staff donations on "Casual for a Cause" Fridays, as well as from coin machine revenue. Courtney Rus, co-chair of the Dollars for Scholars Committee, said: "Dollars for Scholars is a great way for Consumers Credit Union to be involved with the development and education of our future leaders and give back to our student members." Applications are evaluated on academic achievement, community service, and essay content. The applicant must be an active member of Consumers CU and a full-time high school senior with a GPA of 3.0 or higher and an ACT score of 23 or higher. Last year's winners represented thirteen local high schools from throughout West Michigan. Visit ConsumersCU.org/Information/DollarsForScholars to learn more.

… Marshall Community CU has received a Superior 5-Star rating from BauerFinancial, Inc., a bank and credit union rating and research firm. A 5-Star rating signifies that MCCU is one of the strongest credit unions in the nation. "Consumers have come to depend on Bauer's 5-Star rating system as they navigate through their banking choices," BauerFinancial President Karen L. Dorway said. "They know to look for the 5-Star logo to ensure that the trust they have in their financial institution is well-placed. Under the leadership of Heather Luciani, CEO, the dedicated team at Marshall Community Credit Union has earned that trust and respect." Marshall Community earned the rating through a combination of capital, asset quality, profitability and other factors.
Submissions to Monitor may be
emailed
. Bryan Laviolette is the editor of Monitor. Contact him
by email
or call (800) 262-6285, ext. 233. The newsletter of the Michigan Credit Union League is published Monday mornings or Tuesday mornings when Monday is a holiday. There is no Monitor the week after Christmas and the week after the Annual Convention and Exposition. The MCUL reserves the right to edit submissions for clarity and space.