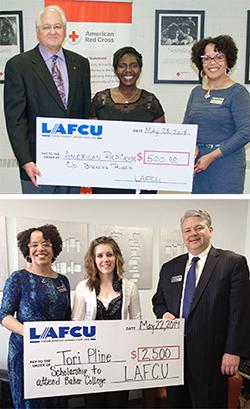 TOP: From left are John H. Cauley Jr., regional executive officer of the American Red Cross Central and Northern Michigan Region; Breanna Riddle of Lansing, and Kelli A. Ellsworth-Etchison, LAFCU vice president of community and business development.
BOTTOM: from left are Ellsworth-Etchison, LAFCU vice president of community and business development, Tori Pline of Pewamo, and LAFCU Executive Vice President Patrick Spyke.
… LAFCU awarded two young women with scholarships for winning the 2014 LAFCU "Write to Educate" scholarship contest. The recipients both won a $2,500 college scholarship, and selected a charity to receive a $500 donation. The college-bound high school seniors Tori Pline of Pewamo, and Breanna Riddle of Lansing, are planning to pursue careers in nursing. Pline received the scholarship to attend Baker College, and chose SafeCenter for her donation. SafeCenter provides assistance to victims of domestic and sexual abuse in Clinton and Shiawassee counties. Riddle recieved the scholarship to Lansing Community College and selected the American Red Cross for the $500 donation.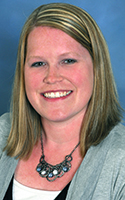 Tucker
... Andrea Tucker, financial education coordinator from Marshall Community CU, was awarded a scholarship to the National Youth Involvement Board's Annual Conference. The scholarship was funded by MCUL & Affiliates, specifically for a Michigan credit union attendee and the recipient was chosen by NYIB representatives. The NYIB annual conference is in Grand Rapids this year, from July 30 through Aug. 1. For more information about the NYIB conference see www.nyib.org.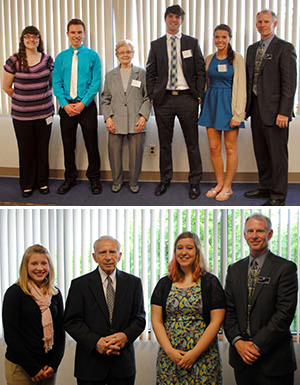 TOP: Rudolph Heino High School Scholarship winners, from left, are Emily Durie, Jacob DeSantis, Alice Heino, Carter Kovalcik, Nicole Burkel, MSGCU President and CEO Pete Gates. (Not pictured: Monica McCoskey)
BOTTOM: Larry Swantek Educational Studies Scholarship Winners from left are Megan Gougeon, Larry Swantek, Antonia Paul and MSGCU's Peter Gates.
… Michigan Schools and Government CU awarded college scholarships to seven student members. Each recipient received a one-time award of $2,500. The five recipients of the Rudolph Heino High School Scholarship are Nicole Burkel of Paul K. Cousino High School, Jacob DeSantis of De La Salle High School, Emily Durie of International Academy of Macomb, Carter Kovalcik of University of Detroit Jesuit High School, and Monica McCoskey of North Farmington High School. The recipients of the Larry Swantek Educational Studies Scholarship are Megan Gougeon, who attends Oakland University and Antonia Paul, who attends Western Michigan University. "The accomplishments of these seven winners are truly impressive," MSGCU President and CEO Peter Gates said. "We were also honored to have two special guests in attendance. Larry Swantek and Alice Heino, wife of the late Rudolph Heino, were present to congratulate the scholarship winners. It was a wonderful event."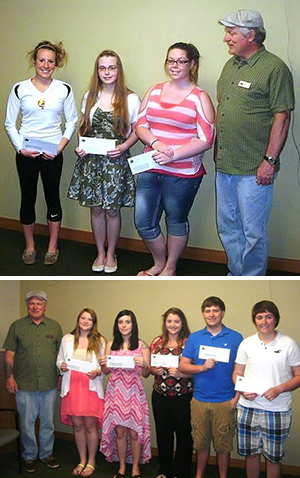 TOP: Filer CU presents current student winners with their scholarships.
BOTTOM: Filer presents previous student scholarship recipients with their awards.
… Filer CU presented $12,000 in scholarships this year including $7,000 for new recipients and $5,000 to last years' recipients. Applicants receive $1,000 and may apply for a second $1,000 scholarship if they meet certain criteria, which include maintaining a minimum GPA. Filer chooses from member applicants of any age who will be attending one of the many accredited colleges within an 85-mile radius. The restriction is with the belief that members who are trained locally will continue to reside and work in the area, thus helping the local economy.
… Forest Area FCU Community Grant Program awarded $2,500 to EG Ministries to help with the costs of a weekend backpack food program. The program will use the money to purchase food to fill backpacks for children to take home on the weekends. Each backpack will contain six meals for that child to help assure that no child goes hungry. Forest Area started the Community Grant Program to fund projects such as those that support arts and culture, basic human needs, the local environment, health and safety improvement projects, recreation and support for seniors and youth.
… Michigan and Schools Government CU announced its growth in assets, membership and physical presence today: the organization surpassed $1.5 billion in assets, 90,000 members and is also planning a new branch location in Livonia. This will be the 12th MSGCU branch in southeastern Michigan and the first in Wayne County. "While the financial numbers tell a great story, we are particularly pleased about the 20 percent growth in our membership. We are humbled by the confidence in our services this growth rate demonstrates," MSGCU President and CEO Peter Gates said. "Achieving a financial milestone is certainly an accomplishment, and having the opportunity to contribute to Southeast Michigan's economic growth through continued lending and job creation is equally as positive." Since 2010, MSGCU has created 112 new jobs in Macomb and Oakland counties.
… Personal finance website NerdWallet recognized Genisys CU for its consumer-friendly products and services. Genisys was named a top credit union in the Great Lakes region in NerdWallet's Consumer Banking Index. "With their helpful line of products and services, Genisys clearly puts their members first," NerdWallet analyst John Gower said. "That's why they are a top credit union for the Great Lakes region."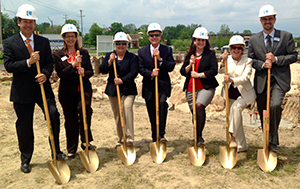 Consumers CU employees take part in the ceremonial groundbreaking for its newest branch in the Grand Rapids area.
… Consumers CU has begun construction on two new branch locations in Grand Rapids. A formal groundbreaking took place in early June at the Gaines Township. Both offices will feature the latest in banking technology, including touchscreen access to financial education and an online and mobile banking center for account access and demos. Each office in this new market will offer the full range of Consumers' services, including new accounts, loans, credit cards, mortgages, investment services and business services.
… Raymond Dudus, chairman of the Michigan First CU board, died on May 23. Dudus, 69, started serving the membership in 1997 as a supervisory committee member when the credit union was known as Detroit Teachers CU. From there, he was elected to the board of directors in 1999 and served as the chairman from 2003 until his passing. Dudas' obituary is available at Weise Funeral Home.
| | |
| --- | --- |
| Amburgey | Dorogi |
… MSUFCU announced the promotions of Samantha Amburgey to chief information officer, and Dennis Dorogi to vice president of remote services. As CIO, Amburgey will take the lead in moving MSUFCU forward with advancing technology. In his new role, Dorogi will oversee MSUFCU's e-services and call center departments. "Ms. Amburgey and Mr. Dorogi will use their extensive experience in their departments and their great abilities to manage these departments, to lead the technology of the future of the Credit Union and provide superior service to members," MSUFCU's President and CEO Patrick McPharlin said.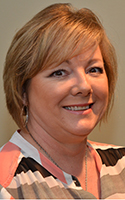 Rutkoski
… Michigan Business Connection announced that Lisa Rutkoski has joined the organization as a small business loan originator. Lisa comes to MBC with a diverse background and more than 14 years of service in the automotive and medical industries where her duties included business administration, financial accounting, billing, documentation and customer service. "Her finesse and great people skills along with her organizational skills for handling day-to-day operations make her a great addition to MBC," MBC President Bill Beardsley said. Rutkoski will be responsible for working with credit unions and processing small business loans, providing credit union training and support and will also work directly with credit union business borrowers.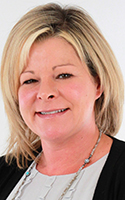 Brinks
… Lake Michigan CU announced the hiring of Holly Brinks as mortgage loan originator, joining its Lakeshore lending team. Brinks has 19 years of experience as a real estate specialist. Brinks is excited about contributing to LMCU's Lakeshore lending team. "I'm working with a great local team of underwriters and processors that make it easy for me to concentrate on the needs of my clients. The mortgage environment is constantly changing, but LMCU's superior product mix and highly competitive rates make it even easier for me to recommend the right loan for any given situation."
… Public Service CU's Romulus Middle School program has enhanced its math curriculum and is preparingstudents early to think about money and how saving will benefit them.Public Service has a vision of providing the opportunity to learn at an early age financialresponsibility and teamwork. "Ibelieve that preparingchildren at a young age about personalfinance and fiscal responsibility will arm our young people with the tools necessary to develop lifelong habitsthat will lead to financialsecurity," Interim Superintendent Marjie McAnally said. "Inreviewing the resultsof 2013 ConsumersFinancial LiteracySurvey it was stated that 40 percent gave themselves a C, D or F on personal finance knowledge. Thirty-three percent learned personalfinance mainly from parents or at home, while 78 percent say they could benefit from professional advice and answersto everyday financial questions."
Submissions to Monitor may be
emailed
. Bryan Laviolette is the editor of Monitor. Contact him
by email
or call (800) 262-6285, ext. 233. The newsletter of the Michigan Credit Union League is published Monday mornings or Tuesday mornings when Monday is a holiday. There is no Monitor the week after Christmas and the week after the Annual Convention and Exposition. The MCUL reserves the right to edit submissions for clarity and space.