Adams: Camp, Levin Deserve Credit for Protecting CU Tax Exemption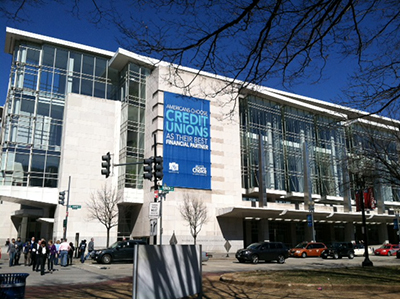 The Washington Center, site of the CUNA GAC.
With more than 4,000 credit union advocates in Washington for the CUNA GAC, U.S. Rep. Dave Camp, chairman of the House Ways and Means Committee, released his long-awaited tax reform proposal. Notably, it kept intact the credit union tax exemption.
MCUL & Affiliates CEO David Adams thanked Camp, a Midland Republican, and Rep. Sander Levin, a Royal Oak Democrat and ranking member of the House Ways and Means Committee, for protecting credit unions in the draft of the tax code proposal.
But while Adams said Camp and Levin deserve credit for protecting the tax exemption, he added that Michigan's entire delegation to Congress also offered their support for the tax exemption. In particular, Michigan's three other influential committee chairs, Fred Upton of Energy and Commerce, Mike Rogers of Intelligence and Candice Miller of House Administration, are all credit union supporters and likely offered Camp input on the credit union tax exemption.
In the Senate, Sen. Debbie Stabenow, D-Lansing, as a member of the Senate Finance Committee, has been strong and clear in her support. MCUL recognized her on Wednesday as its MCUL Federal Legislator of the Year.
The battle is not over yet, though, Adams said. MCUL will work on a campaign to thank members of Congress for their support in the coming weeks.
"As we always say, this is a process, not an event," Adams said. "But for now, we should ready ourselves to give thanks to our Michigan delegation who played such an important role in helping to preserve our critically important tax exempt status."
Adams pointed out that Camp and his team started with a clean sheet of paper when they wrote the proposal. They eliminated 228 sections of tax code and added provisions that would increase the tax burden on banks.
"I point this out not because I support eliminating any of those sections or imposing higher taxes on banks but because credit unions should understand how comprehensive this report is," Adams said.
"These reforms are being proposed that affect individuals and groups negatively, while the credit union tax exempt status will be safeguarded because it is deemed to be good public policy," he added. "We should appreciate the role that grassroots lobbying played in maintaining the exemption.
Adams also thanked the state's industry leaders, as well as MCUL staff and board members, for their participation in the process, for providing PAC support and allowing credit union resources to be used for grassroots political advocacy.
Submissions to Monitor may be
emailed
. Bryan Laviolette is the editor of Monitor. Contact him
by email
or call (800) 262-6285, ext. 233. The newsletter of the Michigan Credit Union League is published Monday mornings or Tuesday mornings when Monday is a holiday. There is no Monitor the week after Christmas and the week after the Annual Convention and Exposition. The MCUL reserves the right to edit submissions for clarity and space.