Own Your Money Tour Visits Noel Night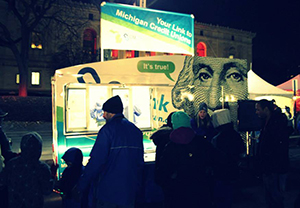 DETROIT – The CU Link Michigan Own Your Money Tour made its final stop for 2013 at the 41st Annual Noel Night in the Midtown area of Detroit on Saturday, Dec. 7. The stop at Noel Night capped off a successful start of the tour that included the Iceman Cometh Challenge in Traverse City, the Michigan High School Athletic Association State Football Championships at Ford Field and a variety of activities to support Black Thursday/Friday and Small Business Saturday holiday shopping across the state.
The trailer was well positioned at Noel Night in front of the Detroit Institute of Arts. Visitors were treated to a photo booth, cell phone charging station, face painting, and a variety of CU Link Michigan-branded giveaways.
While the tour has ended for 2013, additional stops are in the works for 2014. Credit unions are encouraged to support this effort by providing assistance in the form of volunteers. Credit unions can keep up to date with future events by liking the CU Link Facebook page and following CU Link @Twitter.com/CreditUnionLink.

Submissions to Monitor may be
emailed
. Bryan Laviolette is the editor of Monitor. Contact him
by email
or call (800) 262-6285, ext. 233. The newsletter of the Michigan Credit Union League is published Monday mornings or Tuesday mornings when Monday is a holiday. There is no Monitor the week after Christmas and the week after the Annual Convention and Exposition. The MCUL reserves the right to edit submissions for clarity and space.