Huizenga Appointed Chairman of Key House Financial Services Subcommittee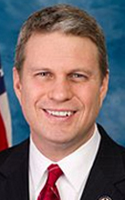 Huizenga
U.S. Rep. Bill Huizenga, a strong credit union supporter, has been appointed chairman of the House Financial Services Subcommittee on Monetary Policy & Trade.
Financial Services Committee Chairman Jeb Hensarling announced the appointment, along with several others on Thursday.
"As chairman, my goal is to conduct vigorous oversight of the Federal Reserve and ensure monetary policy is formulated in an open and transparent manner," said Huizenga, R-Zeeland.
"In a short period of time, Bill has proven himself to be an effective leader and bridge builder on the Financial Services Committee," Hensarling said. "I am looking forward to Bill continuing to be a pragmatic, solutions-oriented legislator as Chairman of the Monetary Policy and Trade Subcommittee."
MCUL & Affiliates CEO David Adams said Huizenga's appointment as subcommittee chair is good news for Michigan credit unions.
"Congressman Huizenga has been a great friend to Michigan credit unions in his first two terms in Congress and going back to his time in the state Legislature," Adams said. "He has supported increased member business lending and is an advocate for reduced regulations and protection of our tax status. We look forward to working with him on legislation aimed at helping credit unions do more to help their members."
As chairman, Congressman Huizenga will continue the subcommittee's oversight of how the Federal Reserve's Board of Governors conducts monetary policy as well as general oversight of the Federal Reserve System. The subcommittee will also review the nation's international monetary and trade policies to ensure they promote domestic economic growth and create an open and competitive global marketplace.
The Subcommittee on Monetary Policy and Trade has jurisdiction over legislation in the House pertaining to:
The impact of monetary policy on the economy, financial actions on interest rates, the allocation of credit, and the structure and functioning of domestic financial institutions

International trade

International investment policies, both as they relate to United States investments for trade purposes by citizens of the United States and investments made by all foreign entities in the United States

The Export-Import Bank, International Monetary Fund (IMF) and the World Bank

Coins, coinage, currency, and medals, including commemorative coins and medals, proof and mint sets and other special coins, and counterfeiting
Congressman Huizenga currently serves as the vice chairman of the subcommittee.
Submissions to Monitor may be
emailed
. Bryan Laviolette is the editor of Monitor. Contact him
by email
or call (800) 262-6285, ext. 233. The newsletter of the Michigan Credit Union League is published Monday mornings or Tuesday mornings when Monday is a holiday. There is no Monitor the week after Christmas and the week after the Annual Convention and Exposition. The MCUL reserves the right to edit submissions for clarity and space.