Michigan CU Business Loans Soar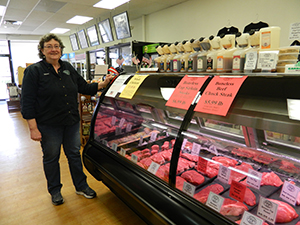 A business loan from Lake Trust CU made Mert's Specialty Meats, co-owned by Shirley Decker-Prescott, a reality.
Michigan credit unions showed their support for small business growth through a significant increase in total amount of business loan dollars as compared to the same time last year. The latest numbers that include the quarter from January to March of 2014 show Michigan credit unions recorded $1.7 billion in total outstanding business loans according to the NCUA. This is up more than 20 percent from the same time last year.

"Supporting our communities is a vital component of the credit union difference. Helping small businesses grow and thrive is a key part of that mission," MCUL & Affiliates CEO David Adams said. "In fact, during the Great Recession, credit unions stepped up to lend to and support business growth when other financial institutions turned businesses away."
One of the small businesses made possible through a credit union loan is Mert's Specialty Meats in Okemos, which opened in 2011. Shirley Decker Prescott co-owns the business with her husband, Mert Prescott, and son, Brandon Decker. After both Shirley and Mert lost their jobs in the grocery industry, they made a plan to open their own specialty meat company, but had trouble getting the funding. With the help of the Michigan Business Connection, Lake Trust CU granted the loan, and Mert's Specialty Meats was born. Three years later, it's thriving.
"We have customers every day who thank us for being here," Shirley Decker Prescott said.
Growing the economy by funding small businesses is a key priority of the credit union industry. In fact, the total number of business loans granted by credit unions has steadily grown over the past 10 years. In 2004, Michigan credit unions recorded $200 million total in outstanding businesses loans. In March of 2010, that number had grown to $875 million in outstanding total business loans and then to $1.7 billion in March of 2014.
Small business loans are just one of the ways credit unions support their communities. Auto loans through Michigan credit unions also increased in the first quarter. New vehicle loans totaled $1.8 billion. That's up from $1.6 billion a year ago, an increase of more than 10 percent. Used vehicle loans are also up from a year ago, from just more than $5 billion as of the first quarter last year to $5.8 billion in March of this year. That's a 15 percent increase.
What's more, credit unions continue to commit to their communities by recruiting new members. The latest numbers show 4.6 million Michiganders are credit union members, showing an increase of 83,245 members from a year ago. Credit unions are proud to support these members in making solid financial decisions on savings, loans and investments. Credit unions reported 9.1 million savings accounts, up from 8.9 million last year.
Credit unions are also helping more people live their dream of home ownership. The total number of fixed-rate mortgages is up from $7.1 billion a year ago, to $7.9 billion in the first quarter of 2014. That's a 10 percent increase.
Audio of First NCUA Listening Session on RBC

MCUL & Affiliates is providing audio recordings from the first NCUA Listening Session that dealt primarily with the regulator's Risk Based Capital proposal. Once available, MCUL will provide recordings of the subsequent two meetings.
The NCUA's second Listening Session of the year was July 10 in Chicago. A third session is set for July 17 in Alexandria, Va. The first session was June 24 in Los Angeles.
NCUA also plans to post recordings of the sessions, but it will take several weeks because they have to be transcribed in accordance with federal closed-captioning laws.
In addition to the full recording, the above link includes sound clips sorted by topic so listeners can easily find the parts to which they want to listen.
CUNA is making available the recordings of the sessions.
The NCUA, along with other regulatory agencies, issued interagency guidance on home equity lines of credit (HELOC) nearing the end of their draw periods. The guidance describes core operating principles that should govern oversight of these products and components of a risk-management approach that considers the potential exposures.
The guidance addresses the review that examiners will conduct on credit unions' risk management programs for end-of-draw provisions. Additionally, the guidance addresses the need for management to implement policies and procedures for managing HELOCs nearing the end of draw periods, in line with the size and complexity of their portfolio. The prudent risk management expectations listed in the guidance includes:
1. Developing a clear picture of scheduled end-of-draw period exposures
2. Ensuring a full understanding of end-of-draw contract provisions
3. Evaluating near-term risks
4. Contacting borrowers through outreach programs
5. Ensuring that refinancing, renewal, workout and modification programs are consistent with regulatory guidance and expectations, including consumer protection laws and regulations
6. Establishing clear internal guidelines, criteria and processes for end-of-draw actions and alternatives (renewals, extensions, and modifications)
7. Providing practical information to higher-risk borrowers
8. Establishing end-of-draw reporting that tracks actions taken and subsequent performance
9. Documenting the link between allowance for loan and lease losses – ALLL – methodologies and end-of-draw performance
10. Ensuring that control systems provide adequate scope and coverage of the full end-of-day draw period exposure
There's Still Time to Register for ASFM Golf Outing

This year's "A Stronger Financial Michigan" Golf Outing – formerly CURE Golf Outing – is set for July 16 at the Forest Akers Golf Course in East Lansing. For the 13th year, Michigan credit unions will take to the course to raise scholarship money for the ASFM Michele Myrick Scholarship Fund. The scholarship fund provides financial assistance to participants of the MCUL & Affiliates Hike the Hill and the CUNA GAC grassroots lobbying trips to Washington. Last year, more than 100 credit union industry leaders participated, helping raise more than $33,000 for the scholarship program.
You can find the registration and sponsorship brochure for the event by visiting the
ASFM Golf Outing website
. Golfers can now also
register and pay online
. Registration at the outing begins at 9:30 a.m. Play is scheduled to begin with a shotgun start at 11 a.m., followed by dinner and awards at 4:30 p.m. Awards will be presented for closest to the pin, first place and runner-up teams and longest drive. The cost is $175 per person, $600 per foursome, and includes green fees, golf cart, bag service, range balls, lunch and dinner.
Credit unions that cannot make the tournament can still show support by becoming sponsors. Sponsorships are open to all supporters of the credit union movement and are available at several different levels. The ASFM Golf Outing is the premier fundraiser for the ASFM Defense Fund scholarships. There is still time purchase sponsorships for the outing. If you have any questions regarding the golf outing, contact Political Affairs Coordinator Melissa Osborn at
Melissa.Osborn@mcul.org
.
Enter to Win Maxwell, Herring, Desjardins Awards

Community field trips. Financial education prowess. Food drives. Cancer fundraisers. These are some of the accomplishments of the credit union Maxwell, Herring, and Desjardins award winners.
Although it may not come naturally to share accomplishments, credit unions that receive awards also gain an opportunity to have a greater impact, so take some time to brag about the credit union's amazing good works. So, nominate yourselves and tell about the amazing good works the credit union has done over the past year.
Registration is now open for the 2014 Maxwell, Herring and Desjardins awards. Entries for the awards must be submitted to the MCUL by Aug. 1.
Start thinking about the credit union's accomplishments and submit entries to be recognized as a leader in areas such as financial education, social responsibility and philosophy in action. Receiving an award is one way to market the credit union and show members a commitment to community.
Entries from Michigan have fared very well on the national stage. Last year, six national awards went to Michigan credit unions.
All the information needed to enter is available on the awards section of the MCUL website. Visit the MCUL & Affiliates MHD Awards page to find downloadable entry forms, entry guidelines and samples of the types of credit union good works in each award category. In addition, there is an FAQ section for the most common questions.
The Dora Maxwell Social Responsibility Community Service Award recognizes model credit union efforts to strengthen local institutions and materially improve the lives of nonmembers through community outreach programs (other than personal finance education).
The Louise Herring Philosophy in Action Member Service Award recognizes credit unions that demonstrate in an extraordinary way the practical application of that philosophy for their members.
The Desjardins Award has two categories.
The Desjardins Youth Financial Education Award recognizes model credit union efforts to teach personal finance concepts and skills to members and nonmembers under age 18.
The Desjardins Adult Financial Education Award recognizes model credit union efforts to teach personal finance concepts and skills to members and nonmembers age 18 and older.
Please see the attached CUNA Award Chart for more information and entry examples for the 2014 Awards.
If you have any questions concerning the awards, don't hesitate to call Kathryn Hall at (800) 262-6285, ext. 470, or you can reach her by email at Kathryn.Hall@mcul.org
2015 Wegner Awards Nominations Deadline Nears


Credit union supporters have until July 31 to nominate individuals and organizations for the Herb Wegner Memorial Awards to be presented by the National CU Foundation. Winners will be honored at NCUF's annual awards dinner on March 9, 2015, in conjunction with the CUNA GAC in Washington.
The nominations are for the following awards:
The Lifetime Achievement Award honors an individual who has dedicated their life to promoting the credit union philosophy, created innovative concepts and provided leadership that has had a significant and lasting impact on the local, national and international credit union movement.
The Individual Achievement Award honors an unsung hero for their innovative concepts and/or accomplishments that are ongoing and current contributions to the credit union community for their work within the past three to five years. Accomplishments must have had a significant impact or a potential impact on the local or national or international credit union movement with measured results. Nominations must cite a specific subject of achievement such as financial literacy, service to the underserved, alternatives to predatory lending, and/or new products.
The Outstanding Organization/Program Award honors an organization, program or business for their innovative concepts, products and services that have had a significant impact on the local or national or international credit union movement with measured results.
"Don't delay to nominate the finest individuals and organizations or programs for what are widely considered the highest national honors in the credit union movement," said Danielle Brown, NCUF Director of Development and Donor Relations.
Nominations can come from individuals or organizations. The following are the three steps needed to make a nomination:
1. Complete the Wegner Awards nomination form on the NCUF website. ncuf.coop
2. Gather at least five letters of recommendation citing examples of the nominee's achievements relevant to the award criteria.
3. Send the nomination form and recommendation letters electronically to NCUF by July 31.
Questions about the Wegner Awards can be directed to Danielle Brown at dbrown@ncuf.coop or (608) 556-2406.
Plan to Take Part in International Credit Union Day, Oct. 16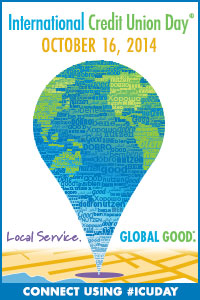 Credit unions around the world will take part in International Credit Union Day on Oct. 16.
The message for this year's celebration is "Local Service. Global Good."
Doing good is something credit unions take seriously, locally and globally. This cooperative spirit of people helping people has led to life-changing opportunities in the form of small business start-ups, home ownership and education. Share in this powerful credit union vision and celebrate with more than 200 million people worldwide to establish credit unions as our best financial partner.
CUNA has an ICU resource page set up where credit unions can get the marterials needed to take part in ICU Day.
Credit unions on Twitter should use the hashtag #ICUDay when they tweet about the event.
Gov. Snyder Presents Corporate Community Leader Award to American 1 CU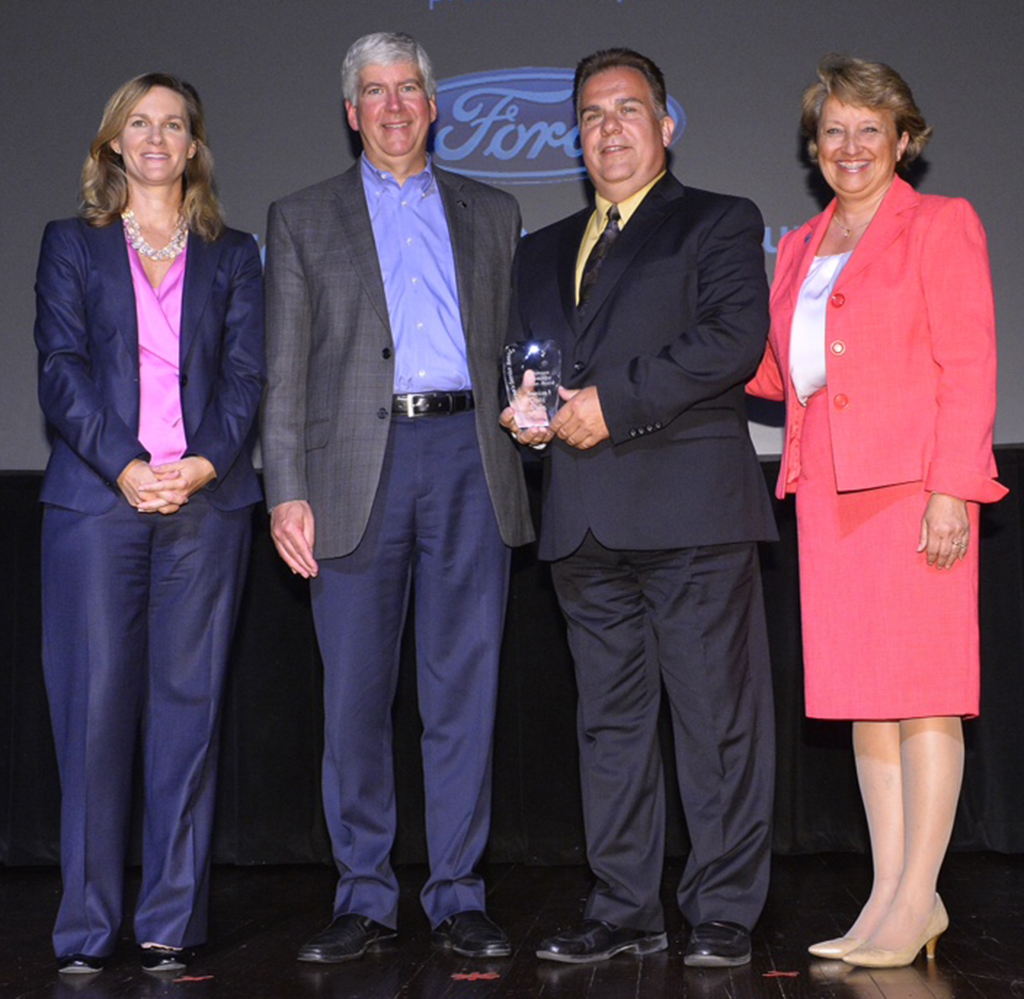 Gov. Rick Snyder presents the Corporate Community Leader award to Terry Krieg, a member of the American 1 CU board. From left are Mary Culler, Ford Motor Co. director of governmental affairs, Snyder, Krieg and Carolyn Bloodworth, Michigan Community Service Commission Board chairwoman.
American 1 CU received the 2014 Corporate Community Leader award from Gov. Rick Snyder. The award, part of the Michigan Governor's Service awards, honors the credit union's service to the community. The awards were presented June 30 during a ceremony at the Gem Theatre in Detroit.
The awards honor exemplary volunteer service by individuals, organizations and a business. The Corporate Community Leader award honors businesses that demonstrate excellent corporate citizenship by giving back to their community through corporate volunteer programs, monetary contributions, in-kind gifts, and employee-driven volunteer service.
In 2013, American 1 donations and sponsorships to the community totaled more than $100,000 between corporate donations and employee fundraising contributions. American 1 hosts 12 annual events for the public, with the income from booth fees and concessions going to local nonprofits. American 1 offers a scholarship program for high school seniors where credit union members donate $25 to the program to skip one month's loan payment; in 2013, 15 $1,000 scholarships were awarded to local students.
"We're thrilled and honored to be recognized by the Governor with the award for Corporate
Community Leader," Vice President of Marketing Kristi Edgar said. "Being a member-owned, local financial institution it's the mission of our board of directors and the entire American 1 team to give back to the communities we serve.
The story was featured on Mlive.com/Jackson.
MSUFCU startUP Loan Helps Food Court Wars Winner Open Doors in Lansing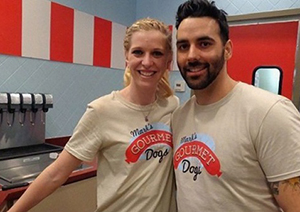 Krysta and Mark McGee, won the Food Network series "Food Court Wars" for their business, Mark's Gourmet Dogs.
Lansing entrepreneurs Mark and Krysta McGee of Mark's Gourmet Dogs, recipient of MSFUCU's startUP loan, were selected as winners on the Food Network series "Food Court Wars."
The pair competed on the show to win a food court space for a year at the Lansing Mall, beating out Grand Grillin for the top prize. Working with the Small Business Development Center at Lansing Community College, the pair created a business plan. With the help of MSUFCU and the startUP loan, the McGees had the chance to make their dreams a reality.
"MSU Federal Credit Union's startUP loan was exactly what we needed to get the doors open," Mark McGee said.
"We're thrilled to see our members achieve their goals and dreams by getting their businesses off the ground," MSUFCU's President and CEO Patrick McPharlin said. "By offering our startUP loan to Mark's Gourmet Dogs, we helped enable them to grow their business. We hope to provide the same opportunities for other business ventures in the Greater Lansing area."
The story was also featured in CU Times.
Last Chance to Sign Up – Becoming a Strategic Thinker and Leader on Mackinac Island

CU Solutions Group will offer a training session called Becoming a Strategic Thinker and Leader Aug. 13-14 at Mission Point Resort on Mackinac Island.
The workshop will focus on ways in which credit union people can become strategic thinkers and leaders. Led by Stacie VanDenBerghe, education and training consulting director for CU Solutions Group, the conference will provide the skills needed to become a strategic partner in the industry and change perspectives on the importance of numbers that drive performance. The workshop also covers the importance of strong leadership, consistency and empowering the high performers in the credit union.
The workshop costs $699 per attendee and is limited to the first 30 who sign up. CU Solutions Group has negotiated deeply discounted hotel rates, ranging from $139 to $199 per night. To reserve spots, email VanDenBerghe at slv@mcul.org or call (517) 204-8858.
People and Performance Institute Heads to K-Zoo

Credit union professionals should be saving the dates of Oct. 1 and 2 for the MCUL & Affiliates 2014 People and Performance Institute. Details are being finalized and online registration will be available soon for the highly popular event that is headed to the beautiful Radisson Plaza Hotel and Suites in Kalamazoo for the first time.
The People and Performance Institute is geared for credit union staffers who work closely with other credit union staffers and is ideal for managers, supervisors, in-house trainers and HR professionals.
The event will feature an opening keynote on "Culture" delivered by Tansley Stearns, chief impact officer from the Filene Research Institute and a second day keynote titled "Joy on the Job" with Crystal Jonas, president of Tap Your Genius Inc.
Those interested in booking hotel accommodations for the event may call the Radisson directly at (269) 343-3333. The hotel is holding rooms at a negotiated rate of $119 single/double occupancy, plus applicable taxes.
Act Fast and Secure Accommodations for Fall Leadership Event

Credit unions are being encouraged to book hotel rooms now and register volunteers for the MCUL & Affiliates Fall Leadership Development Conference being held at the beautiful Grand Traverse Resort and Spa in Acme, near Traverse City, Sept. 19-21.
Past attendees are always quick to secure accommodations for the popular fall event, which will feature 15 breakout sessions, including a "Meet the Regulator Panel" presented in cooperation with NASCUS, along with a "Compliance Update" and a session on the "Bank Secrecy Act for Directors." Another event highlight is the "Denim and Diamonds" themed dinner banquet taking place Saturday evening, which provides quality networking time for attendees.
Registration remains at the reduced rate of $399 per person for the first four attendees and $350 for the fifth or more, for the sixth straight year. Hotel rooms are being held at a negotiated rate on a first-come basis until Aug. 27. Credit unions are encouraged to bring the entire board of directors to this highly regarded event which requires no out-of-state travel and to consider hosting board planning meeting while at the conference.
Executive Summit Returns to Beautiful Bay Harbor Resort


Dozens of credit union CEOs and executive management team members have already begun to register and book accommodations for the MCUL & Affiliates Executive Summit, taking place Sept. 17-19 at the Inn at Bay Harbor, near Petoskey.
The event features an optional golf outing on Wednesday, Sept. 17 or a pre-event session titled, "Get More Strategic About Loan Growth and Profitability." The information-packed agenda includes Stan Hollen, president/CEO of CO-OP Network who will provide an update on industry payment topics and shed light on attracting younger consumers via branch services and shared branching as a platform for adding member services. Emerging technologies related to debit will also be explored, including EMV standards and CO-OP's recommendations for credit union debit programs in today's market.
The event is being presented in partnership with CUES, who will be hosting a networking reception. The Inn at Bay Harbor features a variety of room accommodations, with limited availability based on size and view. Attendees are encouraged to secure hotel reservations early and register now.
Watch for IRA Event Information in the Mail

Credit unions should be watching the mail for more information about the popular IRAs: Essentials and Beyond Essentials Training event taking place Sept. 23-24 at the Bavarian Inn Lodge in Frankenmuth.
Featuring Deb Shipman, senior IRA training consultant for Ascensus, the first day will cover "IRA Essentials" and give attendees a solid foundation of IRA knowledge. Exercises are included throughout the day to help participants apply information to job-related situations. The second day of training, "Beyond Essentials," will help build attendees' knowledge of IRA basics to address some of the more complex IRA issues their credit unions may handle. This is an advanced session and previous IRA knowledge is assumed.
Each one-day session is priced at just $199 per person, per day, and includes an IRA manual, continental breakfast and lunch.
CMG Offers Help to Build Lending Portfolios

CUNA Mutual Group is offering a free webinar aimed at helping credit unions grow their lending portfolios.
CMG's research shows that 91 percent of consumer credit is extended outside of credit unions, meaning there is tremendous opportunity to show consumers why it pays to go to a credit union for their lending needs.
The webinar will help credit unions learn how to run a Loan Generation Marketing campaign.
The free webinar is titled Auto Loan Recapture, Universal Auto & Next Car Purchase: Recapture Loans and Target New Opportunities.
CMG is offering two webinars, one on Wednesday, July 16 at 3 p.m. (ET) and the other on Tuesday, July 22 at 3 p.m. (ET).
Click here to register for the seminar.
... Card Strategies and Innovation will be discussed during a webinar being hosted by The Payments Authority on Tuesday, July 15 from 2-3 p.m. (ET). The session will cover many new card payment technologies including contactless payments, instant issuance cards, card personalization, personalized card rewards, one-time password generation, prepaid debit cards, EMV chip cards and the new Google Wallet debit card. Registration is $129 per connection.
...The MCUL & Affiliates webinar, Enhancing Ledger Efficiencies: ALM and More, originally scheduled for July 10, is now taking place July 22 from 1-2 p.m. (ET). The webinar will provide useful information on enhancing ledger efficiencies, improving asset-liability management, containing costs and effectively managing key ratios and performance goals. Registration is $129 per connection and includes a complimentary archive which may be downloaded, saved and shared for future reference.
CUBE TV is the MCUL's online video portal, with regular updates of topics and information for CUs:
CU National Update
: For the week of July 14th, CUBE TV's Laura Michels details the House Financial Services Subcommittee on Oversight's letter to the NCUA regarding its risk-based capital rule, that Square is entering the business lending world, how a shared branching video and America's Credit Union's website are spreading CU awareness, the deadline for the Herb Wegner Memorial Awards is approaching, and that American 1 Credit Union was chosen as the 2014 Corporate Community Leader as part of the Michigan Governor's Service awards.
Education & Events: See what you missed from the 2014 Annual Convention and Exposition. There are several videos from the event posted on CUBE TV.
CU Industry Advocates: In this shareholder update, MCUL & Affiliates CEO David Adams shares how credit unions continued the positive trends in 2013 with a sizeable boost in membership and consideration at an all-time high of 80 percent, which now outpaces banks. CU Solutions Group and its five divisions – marketing, membership enhancements, technology, performance management and Michigan Solutions – turned out a very strong performance in 2013.
CUs in the News: CUNA Chief Economist Bill Hampel and Deputy General Counsel Mary Dunn discuss with CUNA's Pat Keefe NCUA's proposed rule on risk-based capital, including CUNA's initial analysis of the rule's key parts for credit unions.
CU Compliance Connection: The CFPB has finally released the Integrated Mortgage Disclosure requirements that have been in the works for over two years. For a review of the disclosures requirements please attend this CU Compliance Connection presentation.
Special Reports: MCUL & Affiliates teamed up with Gov. Rick Snyder and Money Smart Week to give kids a lesson in financial literacy.
Michigan Priority Report
: For the June edition of Priority Report, MCUL & Affiliates CEO David Adams takes a look back at a successful Annual Convention and Exposition and discusses some of the top initiatives the league is working on including the Risk Based Capital proposal, a win on the state foreclosure process and the latest on moving Michigan to an electronic vehicle titling system. We also highlight the upcoming Executive Summit, Instant Issuance from Richardson Business Solutions and the upcoming release of ChannelPro, our newly updated content management system.
Each week, MCUL Public Affairs adds new links to the Press Room area of its website featuring credit union media coverage in a variety of formats statewide and nationally. If your credit union has been featured in the media, let us know. Email a link to Bryan.Laviolette@mcul.org.
Milan News Leader
: Gov. Rick Snyder recognizes
American 1 CU
with corporate leadership award
Plymouth Patch: Community Financial helps communities, families celebrate summer
The latest articles are kept in the Press Room, but other clips are still available in the archive.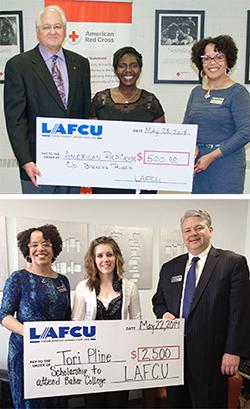 TOP: From left are John H. Cauley Jr., regional executive officer of the American Red Cross Central and Northern Michigan Region; Breanna Riddle of Lansing, and Kelli A. Ellsworth-Etchison, LAFCU vice president of community and business development.
BOTTOM: from left are Ellsworth-Etchison, LAFCU vice president of community and business development, Tori Pline of Pewamo, and LAFCU Executive Vice President Patrick Spyke.
… LAFCU awarded two young women with scholarships for winning the 2014 LAFCU "Write to Educate" scholarship contest. The recipients both won a $2,500 college scholarship, and selected a charity to receive a $500 donation. The college-bound high school seniors Tori Pline of Pewamo, and Breanna Riddle of Lansing, are planning to pursue careers in nursing. Pline received the scholarship to attend Baker College, and chose SafeCenter for her donation. SafeCenter provides assistance to victims of domestic and sexual abuse in Clinton and Shiawassee counties. Riddle recieved the scholarship to Lansing Community College and selected the American Red Cross for the $500 donation.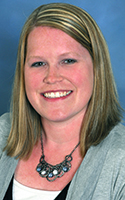 Tucker
... Andrea Tucker, financial education coordinator from Marshall Community CU, was awarded a scholarship to the National Youth Involvement Board's Annual Conference. The scholarship was funded by MCUL & Affiliates, specifically for a Michigan credit union attendee and the recipient was chosen by NYIB representatives. The NYIB annual conference is in Grand Rapids this year, from July 30 through Aug. 1. For more information about the NYIB conference see www.nyib.org.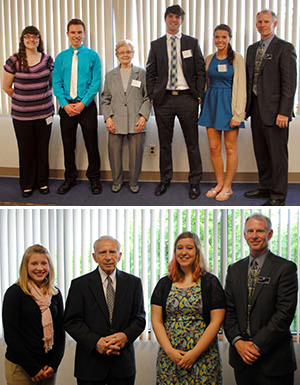 TOP: Rudolph Heino High School Scholarship winners, from left, are Emily Durie, Jacob DeSantis, Alice Heino, Carter Kovalcik, Nicole Burkel, MSGCU President and CEO Pete Gates. (Not pictured: Monica McCoskey)
BOTTOM: Larry Swantek Educational Studies Scholarship Winners from left are Megan Gougeon, Larry Swantek, Antonia Paul and MSGCU's Peter Gates.
… Michigan Schools and Government CU awarded college scholarships to seven student members. Each recipient received a one-time award of $2,500. The five recipients of the Rudolph Heino High School Scholarship are Nicole Burkel of Paul K. Cousino High School, Jacob DeSantis of De La Salle High School, Emily Durie of International Academy of Macomb, Carter Kovalcik of University of Detroit Jesuit High School, and Monica McCoskey of North Farmington High School. The recipients of the Larry Swantek Educational Studies Scholarship are Megan Gougeon, who attends Oakland University and Antonia Paul, who attends Western Michigan University. "The accomplishments of these seven winners are truly impressive," MSGCU President and CEO Peter Gates said. "We were also honored to have two special guests in attendance. Larry Swantek and Alice Heino, wife of the late Rudolph Heino, were present to congratulate the scholarship winners. It was a wonderful event."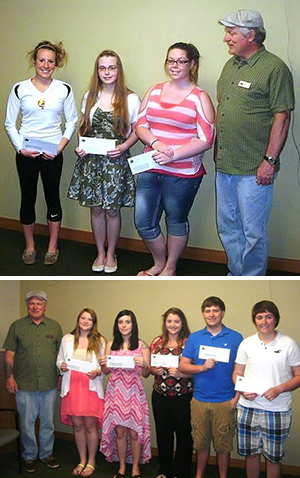 TOP: Filer CU presents current student winners with their scholarships.
BOTTOM: Filer presents previous student scholarship recipients with their awards.
… Filer CU presented $12,000 in scholarships this year including $7,000 for new recipients and $5,000 to last years' recipients. Applicants receive $1,000 and may apply for a second $1,000 scholarship if they meet certain criteria, which include maintaining a minimum GPA. Filer chooses from member applicants of any age who will be attending one of the many accredited colleges within an 85-mile radius. The restriction is with the belief that members who are trained locally will continue to reside and work in the area, thus helping the local economy.
… Forest Area FCU Community Grant Program awarded $2,500 to EG Ministries to help with the costs of a weekend backpack food program. The program will use the money to purchase food to fill backpacks for children to take home on the weekends. Each backpack will contain six meals for that child to help assure that no child goes hungry. Forest Area started the Community Grant Program to fund projects such as those that support arts and culture, basic human needs, the local environment, health and safety improvement projects, recreation and support for seniors and youth.
… Michigan and Schools Government CU announced its growth in assets, membership and physical presence today: the organization surpassed $1.5 billion in assets, 90,000 members and is also planning a new branch location in Livonia. This will be the 12th MSGCU branch in southeastern Michigan and the first in Wayne County. "While the financial numbers tell a great story, we are particularly pleased about the 20 percent growth in our membership. We are humbled by the confidence in our services this growth rate demonstrates," MSGCU President and CEO Peter Gates said. "Achieving a financial milestone is certainly an accomplishment, and having the opportunity to contribute to Southeast Michigan's economic growth through continued lending and job creation is equally as positive." Since 2010, MSGCU has created 112 new jobs in Macomb and Oakland counties.
… Personal finance website NerdWallet recognized Genisys CU for its consumer-friendly products and services. Genisys was named a top credit union in the Great Lakes region in NerdWallet's Consumer Banking Index. "With their helpful line of products and services, Genisys clearly puts their members first," NerdWallet analyst John Gower said. "That's why they are a top credit union for the Great Lakes region."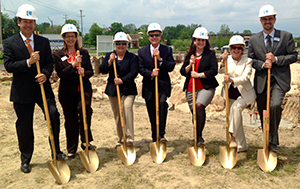 Consumers CU employees take part in the ceremonial groundbreaking for its newest branch in the Grand Rapids area.
… Consumers CU has begun construction on two new branch locations in Grand Rapids. A formal groundbreaking took place in early June at the Gaines Township. Both offices will feature the latest in banking technology, including touchscreen access to financial education and an online and mobile banking center for account access and demos. Each office in this new market will offer the full range of Consumers' services, including new accounts, loans, credit cards, mortgages, investment services and business services.
… Raymond Dudus, chairman of the Michigan First CU board, died on May 23. Dudus, 69, started serving the membership in 1997 as a supervisory committee member when the credit union was known as Detroit Teachers CU. From there, he was elected to the board of directors in 1999 and served as the chairman from 2003 until his passing. Dudas' obituary is available at Weise Funeral Home.
| | |
| --- | --- |
| Amburgey | Dorogi |
… MSUFCU announced the promotions of Samantha Amburgey to chief information officer, and Dennis Dorogi to vice president of remote services. As CIO, Amburgey will take the lead in moving MSUFCU forward with advancing technology. In his new role, Dorogi will oversee MSUFCU's e-services and call center departments. "Ms. Amburgey and Mr. Dorogi will use their extensive experience in their departments and their great abilities to manage these departments, to lead the technology of the future of the Credit Union and provide superior service to members," MSUFCU's President and CEO Patrick McPharlin said.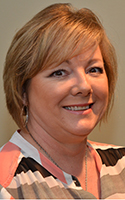 Rutkoski
… Michigan Business Connection announced that Lisa Rutkoski has joined the organization as a small business loan originator. Lisa comes to MBC with a diverse background and more than 14 years of service in the automotive and medical industries where her duties included business administration, financial accounting, billing, documentation and customer service. "Her finesse and great people skills along with her organizational skills for handling day-to-day operations make her a great addition to MBC," MBC President Bill Beardsley said. Rutkoski will be responsible for working with credit unions and processing small business loans, providing credit union training and support and will also work directly with credit union business borrowers.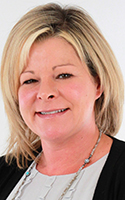 Brinks
… Lake Michigan CU announced the hiring of Holly Brinks as mortgage loan originator, joining its Lakeshore lending team. Brinks has 19 years of experience as a real estate specialist. Brinks is excited about contributing to LMCU's Lakeshore lending team. "I'm working with a great local team of underwriters and processors that make it easy for me to concentrate on the needs of my clients. The mortgage environment is constantly changing, but LMCU's superior product mix and highly competitive rates make it even easier for me to recommend the right loan for any given situation."
… Public Service CU's Romulus Middle School program has enhanced its math curriculum and is preparingstudents early to think about money and how saving will benefit them.Public Service has a vision of providing the opportunity to learn at an early age financialresponsibility and teamwork. "Ibelieve that preparingchildren at a young age about personalfinance and fiscal responsibility will arm our young people with the tools necessary to develop lifelong habitsthat will lead to financialsecurity," Interim Superintendent Marjie McAnally said. "Inreviewing the resultsof 2013 ConsumersFinancial LiteracySurvey it was stated that 40 percent gave themselves a C, D or F on personal finance knowledge. Thirty-three percent learned personalfinance mainly from parents or at home, while 78 percent say they could benefit from professional advice and answersto everyday financial questions."
For detailed information on each listing, visit the MCUL website classifieds page.

Vice President of Lending, Financial Plus CU, Flint
MSRs, University of Michigan CU, Ann Arbor
Cash Services Coordinator, Educational Community CU, Kalamazoo
Branch Liaison, Detroit Metropolitan CU, Detroit
Part- and Full-time Tellers, Tri-Cities CU, Grand Haven
Part-time Teller, Honor CU, Dowagiac
Contact Center Supervisor, Catholic FCU, Saginaw
Consumer Loan Consultant, Michigan Schools and Government CU, Troy
Assistant Branch Sales Manager, Michigan Schools and Government CU, Troy
Assistant Branch Sales Manager, Michigan Schools and Government CU, Shelby Township
Part-time Teller, Michigan Schools and Government CU, Shelby Township
Part-time Teller, Michigan Schools and Government CU, Chesterfield Township
Part-time Teller, Metro North FCU, Waterford
Part-time Teller, Honor CU, Gwinn
Lending Sales and Solutions Professional, Public Service CU, Romulus
Content Marketing Coordinator, MCUL & Affiliates, Livonia
Employment and For Sale ads may be submitted by email to Monitor@mcul.org or by fax to (517) 482-3762. Classifieds are FREE for affiliated credit unions. The deadline for classifieds is noon on Friday.
Submissions to Monitor may be
emailed
. Bryan Laviolette is the editor of Monitor. Contact him
by email
or call (800) 262-6285, ext. 233. The newsletter of the Michigan Credit Union League is published Monday mornings or Tuesday mornings when Monday is a holiday. There is no Monitor the week after Christmas and the week after the Annual Convention and Exposition. The MCUL reserves the right to edit submissions for clarity and space.