Michigan CU Business Loans Soar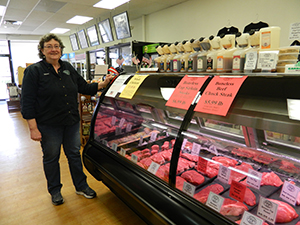 A business loan from Lake Trust CU made Mert's Specialty Meats, co-owned by Shirley Decker-Prescott, a reality.
Michigan credit unions showed their support for small business growth through a significant increase in total amount of business loan dollars as compared to the same time last year. The latest numbers that include the quarter from January to March of 2014 show Michigan credit unions recorded $1.7 billion in total outstanding business loans according to the NCUA. This is up more than 20 percent from the same time last year.

"Supporting our communities is a vital component of the credit union difference. Helping small businesses grow and thrive is a key part of that mission," MCUL & Affiliates CEO David Adams said. "In fact, during the Great Recession, credit unions stepped up to lend to and support business growth when other financial institutions turned businesses away."
One of the small businesses made possible through a credit union loan is Mert's Specialty Meats in Okemos, which opened in 2011. Shirley Decker Prescott co-owns the business with her husband, Mert Prescott, and son, Brandon Decker. After both Shirley and Mert lost their jobs in the grocery industry, they made a plan to open their own specialty meat company, but had trouble getting the funding. With the help of the Michigan Business Connection, Lake Trust CU granted the loan, and Mert's Specialty Meats was born. Three years later, it's thriving.
"We have customers every day who thank us for being here," Shirley Decker Prescott said.
Growing the economy by funding small businesses is a key priority of the credit union industry. In fact, the total number of business loans granted by credit unions has steadily grown over the past 10 years. In 2004, Michigan credit unions recorded $200 million total in outstanding businesses loans. In March of 2010, that number had grown to $875 million in outstanding total business loans and then to $1.7 billion in March of 2014.
Small business loans are just one of the ways credit unions support their communities. Auto loans through Michigan credit unions also increased in the first quarter. New vehicle loans totaled $1.8 billion. That's up from $1.6 billion a year ago, an increase of more than 10 percent. Used vehicle loans are also up from a year ago, from just more than $5 billion as of the first quarter last year to $5.8 billion in March of this year. That's a 15 percent increase.
What's more, credit unions continue to commit to their communities by recruiting new members. The latest numbers show 4.6 million Michiganders are credit union members, showing an increase of 83,245 members from a year ago. Credit unions are proud to support these members in making solid financial decisions on savings, loans and investments. Credit unions reported 9.1 million savings accounts, up from 8.9 million last year.
Credit unions are also helping more people live their dream of home ownership. The total number of fixed-rate mortgages is up from $7.1 billion a year ago, to $7.9 billion in the first quarter of 2014. That's a 10 percent increase.
Submissions to Monitor may be
emailed
. Bryan Laviolette is the editor of Monitor. Contact him
by email
or call (800) 262-6285, ext. 233. The newsletter of the Michigan Credit Union League is published Monday mornings or Tuesday mornings when Monday is a holiday. There is no Monitor the week after Christmas and the week after the Annual Convention and Exposition. The MCUL reserves the right to edit submissions for clarity and space.