Plan to Take Part in International Credit Union Day, Oct. 16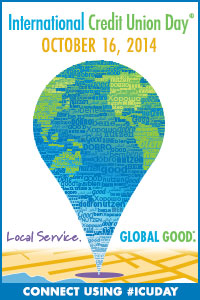 Credit unions around the world will take part in International Credit Union Day on Oct. 16.
The message for this year's celebration is "Local Service. Global Good."
Doing good is something credit unions take seriously, locally and globally. This cooperative spirit of people helping people has led to life-changing opportunities in the form of small business start-ups, home ownership and education. Share in this powerful credit union vision and celebrate with more than 200 million people worldwide to establish credit unions as our best financial partner.
CUNA has an ICU resource page set up where credit unions can get the marterials needed to take part in ICU Day.
Credit unions on Twitter should use the hashtag #ICUDay when they tweet about the event.
Submissions to Monitor may be
emailed
. Bryan Laviolette is the editor of Monitor. Contact him
by email
or call (800) 262-6285, ext. 233. The newsletter of the Michigan Credit Union League is published Monday mornings or Tuesday mornings when Monday is a holiday. There is no Monitor the week after Christmas and the week after the Annual Convention and Exposition. The MCUL reserves the right to edit submissions for clarity and space.