From the Archives: October 2012
MCUL & Affiliates Makes Progress on Strategic Plan

By David Adams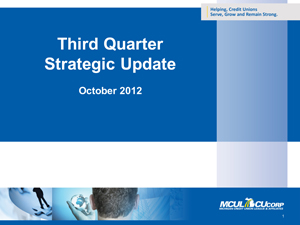 This is MCUL & Affiliates' strategic plan update for the third quarter of 2012. The update is intended to provide our policymakers and staff with a snapshot of our plan progress as of Sept. 30, 2012. This third quarter update uses our 2012 plan format and will give stakeholders both a sense of third-quarter accomplishments as well as our focus as we move into the fourth quarter of the year.
Click here to download the strategic plan.
In our plan includes information on specific strategies and activities associated with each of the six priority objectives. Note that in 2012, assisting challenged credit unions, expanding regulatory and compliance support, legislative and regulatory lobbying efforts with an emphasis on the 2012 election, greater integration with the Illinois CU League, an expanded CU Link Campaign and enhancing MCUL's website functionality are new areas of significant focus.
In the area of credit union net income and financial strength, MCUL is focused on activities to help protect credit union income sources, reduce expense, assist credit unions with pricing strategies as well as to provide greater targeted assistance to capital-challenged credit unions.
This year, CUcorp budgeted $100,000 to assist capital-challenged credit unions. Various levels of work have been completed with all 10 credit unions on the CU Assistance Plan using $59,000 of the fund to date. Activities range from education sponsorships, to strategic planning to ROA restoration. Staff is currently assessing a new methodology to determine credit union financial health in 2013. The result will be a three-tiered list.
The MCUL worked with OFIR to finalize the business equity investment authority order and is now working on efforts to put a CUSO structure in place to implement the initiative. MCUL/CUcorp plans to work aggressively with our credit union community on a structure and business plan that will take advantage of this new opportunity.
To date, 31 education sessions have been offered to provide insights on new products, reviewing current fees, non-interest income, interest rate risk and future growth strategies. Almost 1,000 credit union professionals have attended these sessions.
A second high-priority objective for MCUL is regulatory compliance. We continue to execute well on our plan to provide advocacy and information on regulatory issues and to support expanded compliance information needs through programs like CUBE TV, InfoSight and fee-based consulting.
As the end of the year approaches, MCUL Regulatory Affairs is focusing on a number of Consumer Financial Protection Bureau and NCUA proposals including:
Emergency Liquidity – Comments submitted Sept. 28
Troubled Condition Definition – Comments submitted Oct. 1
MCUL opposes both of these proposals.
MCUL is currently reviewing new proposals from the NCUA including: raising the SAS threshold to $30 million; modifying the definition of "rural district" for Field of Membership purposes; allowing federal credit unions to invest in TIPS; and, improving regulation of pay-day lending alternatives.
With the 2012 election cycle coming to a close, the development of pre- and post-election lobbying plans to educate state and federal elected officials have been one of MCUL's top priorities. The emphasis is on identifying key races and increasing MCUL and credit union involvement.
On the federal issues, the primary focus remains member business lending, with nine Michigan U.S. House members cosponsoring their version of the bill and both senators strongly supporting the Senate version. On the House supplemental capital legislation, we have seven cosponsors. On the ATM Fee Disclosure bill, we had 10 Michigan cosponsors, and it has passed the House unanimously (371-0).
On the state side, discussions continue with the House and Senate Banking Chairs on the 90-day foreclosure delay, which sunsets again in December. Sen. Darwin Booher has offered legislation to extend it for two years and we are working with him and the House on carve-out language for institutions with 250 or less foreclosures in the preceding calendar year.
PAC fundraising efforts are on target for the year with state PAC raising $154,000 and the federal PAC raising $157,000. We should hit both targets by year's end.
Another priority for the MCUL is our effort to collaborate with other state associations, especially the Illinois CU League. In December of last year, we signed a master agreement with the Illinois league to guide our implementation with CUBE TV, League InfoSight, Policy Pro and Education Events as well as on the business side with a $1 million stock swap between CUSG and ICUL Services Corp. and a joint marketing agreement to market each other's services. We're making steady progress here.
With the CU Link (formerly CU Difference) and CRI Objective, we're focused on expanding a high-quality cooperative advertising campaign, creating a new brand descriptor, CU Link, implementing media strategies and coordinating various social mission-directed programs. For 2012, the board approved a plan to expand the funding and reach of the campaign including an allocation of $500,000 to incent credit unions to more fully integrate the CU Difference message with their own marketing efforts.
CU Link has been a great success. We have 190 participating credit unions, 84 at full-share, with just under $1 million from credit unions. With matching funds, the total media budget for this year is $2.5 million. 70 credit unions have agreed to integrate their marketing with the campaign and are implementing various elements including print ads, TV spots, radio and Gas Station TV.
The fall flight of the CU Link media buy is under way in Detroit, Flint, Grand Rapids and Lansing and continues through October. The supplemental media buy on business lending is running from Oct. 8 through Dec. 23, on radio and in business publications. Ads will appear in Crain's Detroit, Corp!, MiBiz, Grand Rapids Business Journal, Business Update and Greater Lansing Business Monthly. Invest in America radio spots will begin after the election and run through the end of the year to take advantage of the holiday retail influence of cell phones and the volume of end-of-year retail car deals.
CRI/Financial Education has moved under the Education Department for greater synergy with education strategies. Our Community Reinvestment Initiative continues to produce a high-quality annual report that communicates the wide array of community involvement and social mission activities of credit unions. MCUL shares this with state and federal lawmakers as a way to emphasize the unique structure and mission of credit unions.
As the year comes to an end, the education department is focusing on scheduling events for 2013; collaborating with Michigan CUES, Illinois CU League and many business partners. In addition, we offered a "Back-to-School" half-off webinar sale and a webpage was built with prices of our 2013 events so credit unions could budget for the events in their 2013 budgets. There were three events in mid-September including the Chapter Leader's Retreat, Executive Summit and Fall Leadership Development.
To date, 75 Webinar Recordings have been purchased by credit union professionals. Webinars on demand continue to grow as a convenient source of educational content. Seventy-eight webinars on demand are available for credit union professionals with 621 participants through the third quarter.
The league used Facebook to promote CU Lunch Local, the "cash mob" event headed up by Michigan CU Capital on Oct. 16, by sharing and cross-promoting posts on Facebook and Twitter for the event. The new MCUL website in the planning stages will have a prominent social media feature, including a live Twitter feed.
The fourth-quarter edition of Contact focuses on small business lending and its impact on the economy. The issue highlights the importance of the legislation to raise the MBL cap, with accompanying credit union lending success stories and the untapped potential that exists in business lending for credit unions. Planning for the 2013 editorial calendar for Contact is under way, as well as looking at adding additional multimedia elements to Monitor.
As we look at our key performance metrics, we see some strong results. Affiliation remains at its highest point at 97%. Member satisfaction according to our member survey data is also high and improving. We have begun to develop metrics to measure our relationships with credit unions of various asset sizes based on survey data, product usage and attendance at MCUL events.
The league also has several other key performance metrics on strengthening credit unions, providing compliance support, strengthening the credit union charter, achieving our regionalization objective, implementing and expanding our CU Difference and CRI activities as well as delivering results on education and information metrics.
I can report on solid financial progress for the MCUL through the first three quarters of 2012. The balance sheet remains strong with Member Net Assets just less than $58 million, of which more than $28 million is invested in a 50/50 mix of stocks and bonds with the balance invested in our profitable subsidiary companies.
The league is doing well on projected income, showing that we are keeping our member dues low while increasing our investment balances and the returns on those balances. For the second year in a row, in July, 50% of 2012 dues were refunded to member credit unions.
Subsidiary income is strong. CUcorp continues to have positive operating results with YTD EBITDA of $3.3 million which is $1.8 million ahead of budgeted earnings of $1.5 million. Year-to-date net income closed at $1.9 million and exceeded budget by $500,000. CU Solutions Group continues with positive results as well, closing the first half of the year with net income of $5.9 million compared to budget of $5.4 million.
After-tax subsidiary for CUcorp and CU Solutions Group income provides a good subsidy of MCUL operations to help keep dues low.
The CUcorp Board approved an investment and marketing agreement with Michigan Business Connection. CUcorp acquired a 10% ownership stake in the CUSO. We have begun promoting this new relationship in Michigan.
The MCUL board approved the purchase of CU Policy Pro for all Michigan-affiliated credit unions through a wholesale licensing agreement with League InfoSight. A plan is currently being developed to roll out the product in the fourth quarter.
For CU Solutions Group, during the next 30-60 days, primary focus will be on: 1) finalized partnership with Chrysler for Invest in America, 2) Sprint member verification process, 3) launch of the Gas Station TV and SaveUp partnerships and 4) business development.
Product sales for CU Solutions Group have been strong across virtually all product lines with overall sales growth surpassing 4%. Virtually all financial targets are on track to be met or surpassed by year end.
The MCUL has had a very successful year in 2012 and we are executing well on our key priorities. I appreciate the efforts and commitment of our staff, policymakers and credit union community as we collectively look forward to a dynamic year in 2013.
View the "Michigan Priority Report" on CUBE TV for a video summary of MCUL & Affiliates CEO David Adams' October Priority Report introduction.