From the Archives: November 2012
Advertising Boosts Awareness of Credit Unions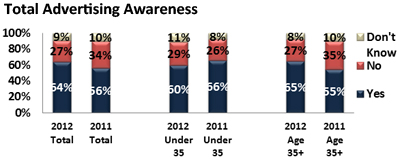 Awareness of credit unions jumped to 64 percent of Michigan consumers in 2012, fueled by our largest-ever advertising spend of $2.5 million.
The survey provided the best evidence yet that the amount of the advertising spend does matter. Total Advertising Awareness was tested in August when the media spend was equal to the previous year, then tested a second time in October after the full $2.5 million ad spend was complete. In August, total awareness was 54%, compared to 64% in October. Among consumers over age 35, awareness increased significantly to 65% in 2012.
At the same time, bank awareness stood still at 74%. While bank awareness is higher overall, the increase in credit union awareness means credit unions captured a larger share of impressions in the marketplace during this advertising cycle.

Credit union messages seem to be getting through to consumers. Messages emphasizing "free checking" and "savings adding up" at credit unions were recalled by more than half of the consumers surveyed, at 61% and 53% respectively.
One finding of note is that nonmembers are beginning to see that credit unions have better interest rates. 2012 advertising included messages about loans being, on average, 1 percent lower than banks. In the survey, more consumers now believe that credit unions are "somewhat better" or "much better" than banks on interest rates. The increase is further evidence that the advertising message was noticed by consumers.
An overall indicator of credit unions' strong service to members is the trust and confidence that members have in their institution, compared to consumers who use banks. Among credit union members, 82% are "very confident," compared to 49 percent for banks. As far as trusting their credit union to do what is in the members' best interests, 68 percent "trust entirely," compared to 29 percent for banks.
Survey results will be used in planning for the 2013 CU Link cooperative advertising campaign to determine effective messaging, strategies and tactics to reach the primary target audience.