From the Archives: November 2012
FinancialEdge Community CU Takes Special Partnership to the Public with New Branch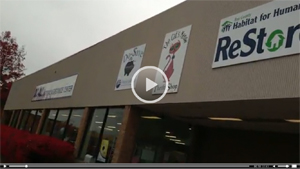 FinancialEdge Community CU took the next step in its groundbreaking partnership with Do-All Inc., a company that helps people with disabilities and other barriers to employment, by opening up a credit union branch inside a company-operated thrift store that is staffed by Do-All trainees.

"This is the first project of its kind in the United States that we're aware of," said FinancialEdge Marketing Manager Pam Swope who was the driving force behind the project.

Last year, the credit union opened a branch, called Do-$ave, inside Do-All's main facility in Bay City. That branch, also staffed by Do-All trainees, is only open to staff and trainees at Do-All.

Timed to coincide with International Credit Union Day on Oct. 18, Do-All and FinancialEdge opened a Do-$ave branch inside Do-All's largest thrift store, called the Cat's Meow and located in the neighboring town of Essexville. Unlike the first Do-$ave branch, this one is open to the general public.

"We both have the same vision and goals for this partnership," Do-All President/CEO Chris Girard, whose family has been involved in Do-All for three generations.

FinancialEdge CEO Jeremy Coberley said the partnership with Do-All, which has been a credit union SEG for many years, is a perfect extension of the credit union's mission.

"Credit unions are about helping people in the community," Coberley said.

Besides giving the trainees the opportunity to learn new skills, FinancialEdge hopes to reach an underserved population, the less-affluent people who typically shop at thrift stores such as the Cat's Meow.

"The branch inside the resale store allows us to reach a segment of the community that can benefit from the financial services and customer-centric approach that credit unions provide," Swope said.

The new branch will be open on Thursdays from 10 a.m. to 3 p.m. to start, but more hours could be added as needed. But even when it's not open, Swope said the branch will attract the attention of Cat's Meow shoppers.

The Michigan CU Foundation supported the project with a $5,000 grant and the National Credit Union Foundation gave $10,000.

"When FinancialEdge brought this project to (the foundation), we really knew that we were looking at something special," MCUF Executive Director Beth Troost said.

Now Swope is eager to share the program with the rest of the credit union movement. Both partners on the project are interested in helping start similar programs around the country.