From the Archives: February 2013
Speaker Announces State House Committee Chairs and Rosters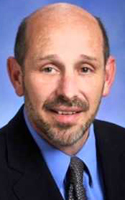 Callton
On Thursday, Speaker of the House Jase Bolger, R-Marshall, released the list of 2013-14 legislative committee chairs and membership rosters. Second-term Rep. Mike Callton, R-Nashville, was appointed to chair the House Financial Services Committee. Rep. Callton represents the residents of Barry County and part of Ionia County, including the city of Portland. Rep. Callton is the owner of Nashville Chiropractic Center and is a chiropractor by trade. This will be Rep. Callton's first term serving on the committee. Click here to access Rep. Callton's legislative webpage.
"The MCUL is very pleased with the appointment of Rep. Mike Callton as Chair of the House Financial Services Committee for the 2013-14 legislative session, and congratulates him and all of the members of the newly appointed panel," MCUL CEO David Adams said. "We look forward to building upon the positive and productive working relationship that MCUL enjoyed with the Committee last session."
Additionally, Rep. Pat Somerville, R-New Boston, was appointed vice-chair of the committee, also serving on the panel for the first time. Other new members on the committee include freshman Rep. Tim Kelly, R-Saginaw Twp., second-term Rep. Joel Johnson, R-Clare, third-term Rep. David Nathan, D-Detroit, appointed to be minority vice-chair of the panel, second-term Rep. Marilyn Lane, D-Fraser, freshman Rep. Colleen Lamonte, D-Montague, and second-term Rep. Stacy Erwin-Oakes, D-Saginaw. Rep. Nathan previously served on the committee in his first term, but not during last session. Reps. Jeff Farrington, R-Utica; Lisa Posthumus-Lyons, R-Alto; Peter Pettalia, R-Presque Isle, and Woodrow Stanley, D-Flint, also return to serve another term on the panel. Overall, the panel is very strong for credit union issues, with most members being very familiar with the industry through their own background and membership, and participation in chapter and legislative events.
On the House Tax Policy Committee, second-term Rep. Farrington was tapped to chair that prestigious panel. Rep. Farrington served as a majority member of the committee during the previous legislative session and played an important role in the personal property tax legislation enacted at the end of 2012. Rep. Farrington is an active supporter of community institutions and a frequent participant in the Metro East Chapter legislative events.