From the Archives: February 2013
Cooperative Advertising Campaign Needs Your Support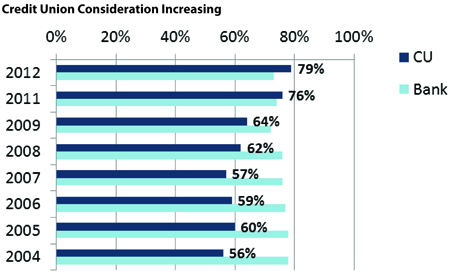 Source: 2012 Cooperative Advertising Survey
Thanks to contributions of more than 100 credit unions, nearly $780,000 has been set aside to help fund the 2013 CU Link Cooperative Advertising campaign. With matching funds and a direct contribution from MCUL, that brings the media budget to about $1.8 million so far.
But MCUL & Affiliates would like to be able to do more on behalf of credit unions, and that means your support is needed.
During the 2012 campaign, research results showed a clear jump in consumer awareness based on our record media budget of $2.48 million, from 56% in 2011 to 64% in 2012. Awareness was tested mid-campaign, when about half the media money was spent, and results were flat. The jump in awareness was seen after an additional $1 million in advertising was run. This is the best evidence we have seen that the amount of the media spend has a direct and measurable impact on awareness.
For the 2013 campaign, a "surround" media strategy will be used to reach out through more channels: outdoor, online, search and Pandora are planned, in addition to television and radio, so that those media dollars will go farther and do more for us than ever before. View details of the campaign here.
If you have not contributed to the campaign, now is the time to make your commitment to this initiative that promotes all the best advantages of credit unions for consumers and supports our advocacy efforts for lawmakers. We hope to raise $1 million from credit unions, which would become a media budget of $2.3 million with MCUL & Affiliates matching funds and other contributions.
To contribute, contact your league representative or send a check made payable to MCUL – Your DMA to:
MCUL
P.O. Box 8054
Plymouth, MI 48170-8054
Fair share contribution amounts were included on the 2013 MCUL invoice. If you need a copy of your invoice, contact your league representative.