From the Archives: February 2013
AC&E Registration Open, Lending and Marketing Conference, Spring Leadership Development Conference, Compliance From A to Z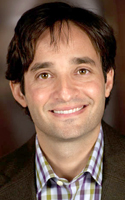 Linkner

Registration Now Open for AC&E; Book Hotel Rooms
This spring, credit union professionals will head to the MCUL & Affiliates 2013 Annual Convention and Exposition, May 16-18, at the Detroit Marriott at the Renaissance Center. A sneak peek of event highlights includes the opening keynote presentation "Executing Imagination" by Josh Linkner, who is The New York Times' bestselling author of "Disciplined Dreaming," CEO and managing partner of Detroit Venture Partners and founder, chairman and former CEO of ePrize based in Michigan. Other event highlights will include a general session presentation on "You Make the Difference" by Steve Gilliland, author of the bestselling book Enjoy The Ride, along with outstanding educational sessions, recognition honors awards and breakfast, a CUES luncheon and many great networking experiences. Online registration for the event is available here and hotel rooms may be reserved now by calling (877) 901-6632 and mentioning the Michigan Credit Union League & Affiliates to receive the negotiated room rate of $152 per night, plus applicable taxes. Reservations will be charged a deposit equal to one night plus tax. Cancelations after April 30 will not be refunded.



Lending and Marketing Professionals Head to Grand Rapids for Latest Insights
The MCUL & Affiliates Lending and Marketing Conference has built a solid reputation and attracts a loyal group of participants who have come to rely on the event for the latest industry insights delivered by an outstanding line-up of speakers. Taking place in downtown Grand Rapids at the Amway Grand Plaza Hotel, Feb. 12-13, the conference features two complete agendas that attendees may choose from to customize their own unique learning experience. Lenders will be pleased to find a broad cross-section of topics including a CFPB mortgage issues update, while marketers will be drawn to sessions such as brand building and social media compliance. The high-energy event includes complimentary admission to view the Titanic Exhibit at the Grand Rapids Public Museum, sponsored by Mortgage Center, and attendees are encouraged to bring along a donation to the West Michigan Food Bank as part of a Corporate Social Responsibility initiative being featured at the conference. To learn more about the event agendas, pricing, event activities, hotel accommodations or to register, click here.



Mailing Sent to CEOs With Spring Leadership Development Conference Information
The MCUL & Affiliates Spring Leadership Development Conference is the perfect training and networking resources for CEOs, executive professionals, board of directors and credit union volunteers, and online registration is now open for the event, which takes place March 15-17 at the Soaring Eagle Casino and Resort in Mount Pleasant. The agenda offers a broad selection of training options regardless of experience level or background and guests are also welcome to join attendees at this very popular Michigan destination that is great for fun and relaxation. New this year, a limited number of rooms are being held at the nearby, family-family, Soaring Eagle Hotel and Water Park which has recently opened. The conference will feature Tim Harrington delivering the keynote address, "Are You a Credit Union of the Future?", as well as updates on compliance related issues and the Consumer Financial Protection Bureau, marketing insights, CUNA Volunteer Achievement Program topics and plenty of networking time. A packet of literature was recently sent to all affiliated credit union CEOs to distribute to their volunteers. To learn more about the event, optional sessions and fun activities, along with pricing information and hotel details, click here.

Have-to-Have Information Presented at One-Day Compliance From A-Z Event


Hearts may not be all-a-flutter when thinking about credit union compliance topics, but this Valentine's Day MCUL & Affiliates will give attendees at the Compliance From A-Z event something to love ... valuable insights and important compliance information to protect credit unions from legal liability. The one-day event takes place Feb. 14 following the Lending and Marketing Conference Feb. 12-13, at the Amway Grand Plaza Hotel in downtown Grand Rapids. Designed for busy credit union employees throughout an organization, timely have-to-have training topics include "10 Steps to Building and Maintaining a Successful Regulatory Compliance Program," "Compliance in Advertising," "Social Media and Website Compliance," "Servicemembers SCRA," "Impending Changes to Mortgage Lending," "Top Compliance Mistakes," a "State Law Update" and a "Compliance Roundtable" closing session. Compliance From A-Z is priced at just $199 per person. To register or learn more about making hotel accommodations, click here.