From the Archives: March 2013
Looking Back on a Remarkable Year, Looking Ahead to More Good Things for CUs

By David Adams
As you know, MCUL & Affiliates exists to help credit unions grow, serve and remain strong. That's why this newsletter touches on a number of different priorities and initiatives that we're working on to accomplish those goals and better meet the needs of our credit union community.
First, you should know that there is a lot to be proud of when it comes to how our credit unions weathered the financial crisis and continue to play a role in the state's economic turnaround. Year-end data is now in and 2012 was another banner year for the credit union industry.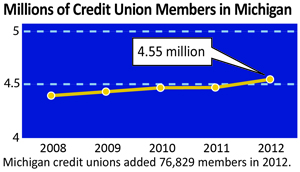 Michigan credit unions added more than 76,000 new members in 2012 – a remarkable number, especially when you consider that is more than the previous nine years combined. Consumers continue to turn to credit unions in record numbers for all their financial needs, because they are choosing to truly own their money and experience the credit union difference in the form of superior loan products, better service and lower fees.
Along with membership gains, the data shows some very big increases when it comes to credit union lending. In 2012, Michigan credit unions financed 65% more first mortgages than in 2011, the strongest growth rate in many years. This also speaks well to the continued recovery of the housing market, as does the fact that credit union member foreclosures were down 11.8% in 2012. Foreclosures are still a big challenge for credit unions, but it is good to see some drop in the numbers.
Student loans at Michigan credit unions grew by 42% in 2012, with total outstanding loans nearing $100 million. And our credit unions continue to support small businesses in their communities with total member business loans up 4.3% for the fourth quarter and up 17% for all of 2012, topping $1 billion in loans outstanding for the first time. It's clear that from college students exploring their career paths to small business owners carrying out their business dreams, they all know they can trust Michigan credit unions to get them where they want to go.
Speaking of going places, some of the biggest lending increases we're seeing right now are in auto loans. With new auto sales up 13.4% in 2012 to the highest point since the start of the recession, Michigan credit unions posted an increase in new auto loans for the first time since 2009. Credit unions have captured 15.5% of the new auto loan market in the fourth quarter, up three percentage points from 2011. We know that there is tremendous pent-up demand for new cars and we certainly hope this growth will continue, which is great news for consumers and for our domestic auto industry. Through our partnership with General Motors in Invest in America, we recently marked a major milestone: the sale of 500,000 vehicles through the program, with the majority of them financed at credit unions. All of this activity took place during a four-year period between Jan. 1, 2009 and Dec. 31, 2012.

Here are some additional details from our analysis of the data:
The quality of loans at Michigan credit unions is increasing, as total delinquencies as a percentage of total loans dropped again in the fourth quarter down to 1.08, which is down from 1.49 and 1.79 in 2011 and 2010, respectively. This, in turn, has led to a decrease in loans charged off as a percentage of total loans, down to .77 from .97 in 2011.
Earnings continue to rise at Michigan credit unions, where the return on assets ratio has increased in each of the past four years now up to .91%. This is higher than the .86% reported by credit unions nationally.
As a result of solid earnings, credit union net worth increased in 2012 even as assets increased by 5.9%, bringing the total net worth ratio up to 11.08 percent. This is higher than the 10.44 figure for credit unions nationally.
In this month's Priority Report, you'll find details of many of the initiatives and solutions we're working on to keep driving these positive results forward. That includes the announcement of an exciting new Invest in America partnership called Credit Union Auto Club through our Membership Enhancement division, as well as offerings from Marketing Solutions to help ensure you reach your target audience in the most effective way. You'll also find details about Save to Win and SaveUp, two engaging ways to encourage savings behavior with your members, as well as hiring solutions from HRN and updates on upcoming league events. I welcome your feedback.
View the "Michigan Priority Report" on CUBE TV for a video summary of MCUL & Affiliates CEO David Adams' March Priority Report introduction.