From the Archives: July 2013
Money Matters Thumball™ Now Available Through MCUF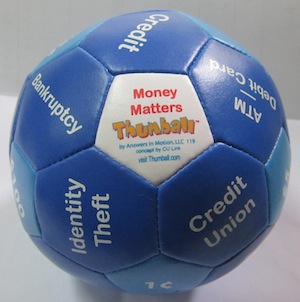 Financial education is important to credit unions. The Money Matters Thumball is a fun and interactive way for participants of all ages to share and discover key concepts for successful money management. Through a special initiative of the Michigan Credit Union Foundation, this exclusive custom designed financial education resource is now available to credit unions and other financial educators.
With the Money Matters Thumball, a game of catch is turned into a learning experience for all ages. The Money Matters Thumball may be used as a short ice-breaker or interactive game, or as a complete financial education activity using the definitions and discussion suggestions on the supplemental usage guide.
Youth, teens and adults can all relate to the Money Matters terms and dollar values on the ball at their own level. Young participants will be introduced to new financial concepts and can explore money values and math. Teens can examine money management components and explore personal financial choices. The Money Matters Thumball can even help adults engage in reviewing important financial considerations while identifying best practices and pitfalls associated with money.
Get the most out of your Thumball experience with the supplemental usage guide posted at www.mcul.org/thumball. This guide can be used to expand the exploration and includes definitions, discussion suggestions and resource links appropriate to youth, teens and adults related to the personal money management terms on the ball.
The Money Matters Thumball and the usage guide were developed by the Financial Education Council of MCUL & Affiliates. The Money Matters Thumballs are now available only from the MCUF. Each Money Matters Thumball is individually packaged with usage information and is marked with the "CU Link, Tap into the Power of Credit Unions" message.
A limited quantity is available to distribute for a donation of $15 each to the MCUF plus shipping costs. Order soon with the Money Matters Thumball Order Form.