New People and Performance Institute to be Hosted in Mount Pleasant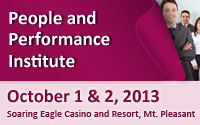 As people-centric cooperatives focused on serving members, the new MCUL & Affiliates People and Performance Institute is the perfect high-impact conference for helping credit unions be their best! Formerly known as the HR, Trainer and Supervisor Institute, the new event takes on a broader-focus for training staff, while offering more peer-to-peer networking and idea exchange for attendees as they gather at the Soaring Eagle Casino and Resort in Mount Pleasant, Oct. 1-2. Sessions such as "Mastering the Message," "From Hiring to Firing and Stuff In Between," "Supervisor Compliance," "Designing Training: Is There an App for That?" and "Empowered Decisions" are on the agenda, as well as "Why Behavior Matters," "Colleague Conversation Rules," two "Harvard Business Review Publication" topics and much more.
Attendees will also find a "Creative Leadership Workshop" taking place as part of the event on Oct. 2, which is included in registration. And the American Red Cross will be on hand for those who choose an optional session to become CPR (cardiopulmonary resuscitation) and AED (automated external defibrillator) certified, meeting the guidelines that align with the Occupational Safety and Health Administration's work place best practices. CPR training is discounted 50% to just $35 per person for conference registrants. Start registering staff today. To view the full conference agenda, learn more about the great line-up of speakers and to find registration and hotel information, click here.